According to reports on Monday morning, Major League Soccer is extremely close to changing their game schedule to match that of Europe, with a season running from August to May likely to come in for the 2014 season.
If this is true, it would be the single biggest change to MLS in recent history, with a 6-8 week winter break rumored to be placed throughout December and January as the logistical problems of having franchises in Toronto, Montreal, New England, Chicago and elsewhere in the North, can be somewhat averted.
However, as early as next season? I think not. That would mean no MLS between December 2013 and August 2014, but with the World Cup coming up throughout June and into July, maybe MLS bosses think now would be a good time to switch things up.
The reports surfacing in the New York Daily News cited a league source revealing talks have intensified in recent weeks as MLS commissioner Don Garber has been eager to adopt a European-esque schedule for quite some time. But Dan Courtemanche, MLS' Executive Vice President of Communications, has Tweeted out the following, suggesting no massive changes are imminent.
With pressure from Sepp Blatter and other FIFA officials in the past to switch the USA's domestic soccer schedule to a more traditional August-May FIFA calendar, it seems as though Garber and MLS are seriously contemplating the switch as of next season. Which is much sooner than many would ever have thought, and pretty outlandish. Maybe somewhere down the line this would work, but not next year.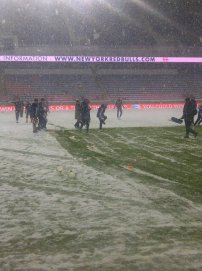 But, with many outraged in the MLS community at hearing these rumors, is this move actually a good one for MLS?
Let's break things down, right now, throughout the summer months MLS only has regular season MLB and NBA playoffs to compete with due to the March-Decemeber schedule. But when NFL, College Football, MLB Playoffs and plenty of other sports dominate in the fall months, MLS playoffs and the race for the Cup is very much shoved towards the back shelf in the minds of most American sports fans. If this schedule change is about attracting more fans to watch soccer, then it could be a winner, with an MLS postseason in April/May really capturing the imaginations of fans alongside the NHL's own playoff race.
However, there are many other reasons why this schedule wouldn't work.
As we mentioned, extreme winter weather is a massive issue that plenty of European leagues don't have to worry about. With the relatively moderate temperatures in Continental Europe, compared with huge sub-zero numbers in Toronto, Montreal, Chicago and many other MLS cities in the Winter, no other league across the globe has to deal with these kind of temperature fluctuations. Just how will games be played in late November, early December or even late January or early February? I can't see it working.
Apart from weather issues, the MLS would also be competing with several other sports that would likely see attendances at stadiums and TV viewership fall drastically. With NFL, NHL and College Football in full swing throughout the fall, MLS has a hard enough time as it is holding onto fans and nurturing new ones, so this calendar would stunt the development of North America's fastest growing major league sport. Maybe switching the calendar to an August-May schedule running up to the 2018 World Cup in Russia would be a good idea, as MLS will likely have to shut down over the summer.
Surely MLS aren't thinking of leaving domestic fans without soccer from December 2013 to August 2014 if they do adopt the schedule for next season? Because that's the reality.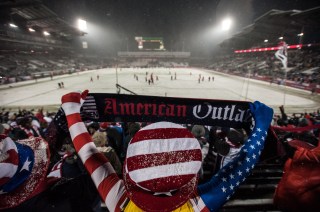 Personally, I just can't see this schedule change being good for MLS on multiple levels. FIFA executives, President Sepp Blatter, even USMNT coach Jurgen Klinsmann and now seemingly MLS commish Don Garber think an August-May schedule in MLS would be best for everyone…
I guess they know best. But if this report is more than just tittle-tattle leaking out of MLS' HQ on Fifth ave. in NYC, I'd be extremely worried for the future growth of the league. Going head-to-head with Europe's top soccer leagues and the biggest American sports will be one heck of a struggle.
Why would MLS want to risk all the good work they've done so far, just to appease FIFA and some other executives who have it in their head that every soccer league should work in the same way. North America differs from Europe and Europe differs from elsewhere. It's okay to have different schedules and for everything to mesh together, MLS should stay as it is.
I think many of us would argue that domestic soccer in the USA has never been healthier. So, if it aint broke, don't fix it.