Rumors are circling about Red Bull being in the market for a Premier League club to add to their growing portfolio of sports teams.
With soccer teams the New York Red Bulls, Red Bull Leipzig, Red Bull Brasil, Red Bull Ghana and Red Bull Salzburg already under their belt and various other sporting entities, reports of further expansion could be true given the company's aggressive business model in the past.
But, in all seriousness, this report is coming from the Mirror, hardly England's most believable tabloid… if there is such a thing.
So, let's get to the facts, apparently a source close to Red Bull believes the energy drink company is actively seeking out investment opportunities in the Premier League, and believes if they acquire or invest heavily in an English club, they'll have more chance of success of reaching out to a wider audience across Europe and the rest of the world. This is what an apparent 'insider' on the deal had to say.
Red Bull want a team to take into the Champions League,"It is the only market they have not reached yet. Ideally this would be in the London area, but both Everton and Liverpool interest them too because it would not take much to get them to that level.
Many have suggested that buying a Championship team and investing heavily to gain promotion to England's top flight is better, but that doesn't seem to interest Red Bull. They want to go for a top team rather than wasting money and never clambering out of England's second-tier, which, let's face it, is almost a lottery as up to 15 teams each season have a realistic chance of taking the three promotion spots to the PL.
Premier League seems to be the main aim, but would Liverpool or Everton really sell out their prestigious history and brand just for a quick cash solution? I think not. Perhaps the money from Red Bull would buy/pay for the stadium expansion both teams are hoping for. Maybe they'd then be renamed "Red Bull Anfield" or "Red Bull Goodison."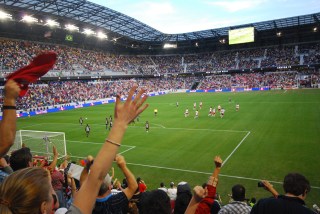 Again, I'm not sure how well that would go down.
Some of the teams in London could be a more viable option, but without a huge influx of cash, can we really see the likes of West Ham, Crystal Palace or anybody else other than Tottenham, Arsenal or Chelsea making the Champions League anytime soon from England's capital? I think not. However, if it ever did happen, surely there would be some kind of link up between MLS' very own Red Bull side, the New York Red Bulls, in terms of player loans and other spin offs. That would be great for RBNY.
Anyway, if Red Bull want to invest in a Premier League team, they may want to buy a Championship team desperate for cash, that would be their best bet. Look at Cardiff City's Malaysian owner Vincent Tan rebranding the Bluebirds with red kits and Malaysian dragons on the logo. And then there's Hull City, bought by Egyptian Assem Allam wanting to drop AFC from Hull City's name and rebrand them as "Hull City Tigers." Both came up from the Championship last season after struggling financially, and are now lording it in the PL.
Both ownership groups at Hull and Cardiff seem to think a rebrand, in colors and name, is completely fine. Obviously the fans aren't best pleased, but if the teams are performing well in the PL and the owners are splashing the cash to bring in top players, can the supporters really have too many complaints?
Creating a new image, new logo and new nickname seems to be all the rage amongst PL clubs, so surely teams won't mind slapping the "Red Bull" brand in front of their team name…
So, which will it be? Red Bull Everton or Red Bull Liverpool?