On Sunday night at JELD-WEN Field, robust tackles and last-ditch defending was the name of the game, as Portland ground out a crucial 1-0 win over Cascadia rivals Seattle in a rambunctious affair in PDX.
And that's putting it mildly.
From the first whistle Seattle and Portland went at it, big time, and that commitment boiled over into several over zealous challenges, one of which saw Timbers midfielder Diego Chara take out Clint Dempsey in the 19th minute. The USMNT captain hit the ground hard, with his left shoulder taking the bulk of the impact. Initially Dempsey dislocated the joint, but after getting it strapped up and playing on for 77 bruising minutes, the official diagnosis is a sprain on his AC joint.
(MORE: Alhassan goal, 'let them play' officiating defines ugly Portland-Seattle derby- Video)
Sounders head coach Sigi Schmid was not a happy man speaking to reporters after the game.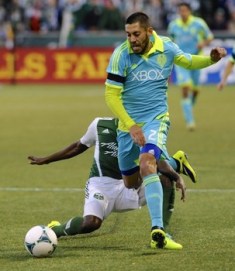 "He tried to play on, play through it and Chará commits four fouls in the first half and never gets carded," Schmid said. "I think that's a key turning point in the game. You look at the times Dempsey got fouled, that crap has got to stop. The referee has to protect him and they don't. It doesn't matter if a foul is early in the game or late in the game."
He has a point.
Referee Hilario Grajeda let the game flow, but the fact that he didn't call out plenty of hefty challenges lead to discrepancies escalating throughout the clash, which eventually led to Osvaldo Alonso sent off for a straight red card for elbowing Will Johnson in the face. That was a deserved red card, as the famous red mist descended on Alonso in the heat of the battle. And what a battle it was. Alonso will now face a lengthy suspension, while despite all his passion, Adam Moffat failed to get things going in Seattle's engine room. The Timbers definitely won the battle in midfield.
Despite the Timbers prevailing, a draw was probably a fair result after the Sounders twice hit the crossbar through Dempsey and Steve Zakuani. Yet with Dempsey nursing yet another injury and possibly adding his name to Seattle's long-list of absentees, the Sounders are limping towards the playoffs with a banged up squad and Sigi Schmid all fired up.
Expect more fiery affairs like Sunday nights clash in the postseason, Portland proved they have grinders like Johnson and Chara to win the battle and rattle the opponents. Can Seattle dig deep to grind out wins? Or will we hear more complaints from Schmid in yet another postseason collapse?