There will be lots of tension inside Panama City's Estadio Rommel Fernandez – but all of it on Panama's side.
Panama has to beat the United States tonight (9:30 p.m. ET kickoff on beIN Sport) and look for help from Costa Rica in order to make history and keep dreaming about a World Cup; it would be the first appearance in the finals for the small, Central American nation.
They'll only have a chance to get there with a win Tuesday, combined with a Mexico loss at Costa Rica. (The matches kick off simultaneously.) That would leave the Panamanians in fourth place as the CONCACAF final round of qualifying closes, putting them into a playoff with New Zealand.
(MORE: Mexico's chances of a point against Costa Rica? Pretty good)
The United States has little to play for as a team, having already clinched its World Cup berth a month back, and having already secured first place in the group. But this remains a critical opportunity for the bubble types of the U.S. player pool, guys who will be increasingly desperate to impress manager Jurgen Klinsmann and better position themselves for the 23-man World Cup roster.
"We know what's at stake for Panama, we know what's at stake for Mexico, but we have to take care of our own situation, and we badly want to take three points out of this game," said Klinsmann, echoing the approach he has adopted since, literally, minutes after the United States clinched its spot.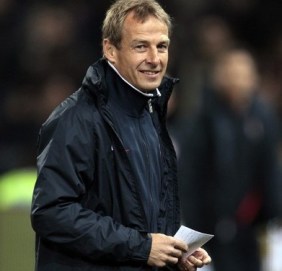 It is all part of his bigger plan to create a more aggressive U.S. mindset, one less content with status quo. He wants the United States to be more of a bully, to squash the teams it might have merely beaten before. So finishing out the 2014 qualifying campaign with a win plays snugly into that narrative.
"World Cup qualifying is very serious business," he said Monday from Panama City. "Everyone who is here is very highly focused and wants to show a great game. Obviously, we are very happy that we have already qualified. But I have already told the players last week, we are already preparing things for Brazil, so whoever goes on the field needs has to show the best he can in order to build their case for Brazil.  We only have a few games going forward [before Brazil 2014], there is not much that we can go 'try out and see,' so all of our players are 100 percent focused."
Klinsmann's men certainly heard the message on Friday, steering comfortably through a young Jamaican squad with a 2-0 win in Kansas City. Panama, with far more motivation, presents slightly more of an obstacle. The nation's World Cup dream took a potentially fatal blow on Raul Jimenez's instantly famous goal turned a draw into a loss in Mexico City, so the desperation will be firmly on Panama's side.
(MORE: Revisiting Jimenez's stunning, spectacular goal for Mexico vs. Panama)  
Some of the obstacle factor for Panama and top man Blas Perez has been removed as Klinsmann sent four players home, mostly because of injury concerns. The U.S. starting lineup tonight will be missing its four best players, goalkeeper Tim Howard, midfielder Michael Bradley and forwards Clint Dempsey and Landon Donovan.
In addition, starters Jermaine Jones and Omar Gonzalez are missing, and starting left back DaMarcus Beasley is questionable with a hamstring issue.
(MORE: Klinsmann makes several roster changes ahead of Panama match)
(MORE: Klinsmann says Brad Guzan deserves a qualifier start)