There are few stories in the Premier League that are more intriguing than Southampton's start to the season. Unbeaten in their last four matches and having only conceded two goals this season, the Saints currently sit fourth in the Premier League table.
So I decided to sit down with NBC Premier League pundit Robbie Earle and get to the bottom of just what makes this side so interesting.
THOUGHTS ON SOUTHAMPTON'S FOUR MATCH UNBEATEN RUN?
It's interesting about Mauricio Pochettino (right) because when he took the job from Nigel Adkins – who was a well-thought-of coach – there was a bit of uproar in England about Johnny Foreigner coming in.
But 12 months on and people have seen a huge change in the way the club is run and they way they've moved forward. Yes, we're only seven games into this season but I think we can all see where Southampton have big hopes. So credit to the chairman Nicola Cortese, he was brave in making the decision to hire Pochettino and it's paying off in a big way.
WHAT DO YOU LIKE ABOUT SOUTHAMPTON?
I like that they have a number of young English players who they're developing, which isn't the case at a lot of the big clubs. There's Calum Chambers, Luke Shaw, Adam Lallana, James Ward-Prowse. And I think Pochettino has brought in the right kind of quality additions who can help these young players flourish. It looks like some real thought has gone into assembling a diverse club and it has an interesting chemistry to it.
They have some young guys, some old guys, some fast guys, some powerful guys – it's just a really nice mix of skill-sets and one that seems to make for a happy ship. I imagine going to training at that club and there being down there being a really healthy environment, one that's competitive in all the right ways.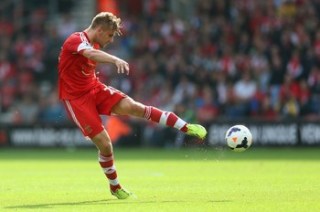 WHICH YOUNG PLAYER DO YOU RATE HIGHEST ON SOUTHAMPTON?
I like Luke Shaw, he's one who's destined for a bigger club. This is the club where Gareth Bale and Alex Oxlade-Chamerlain started before they moved on and possibly Shaw is the next one. I like his technical ability and the understated way in which he plays. You know, with some of these young there are dips in performances but Shaw is level and consistent. He seems to accept his responsibilities and take everything in stride.
HOW DO SOUTHAMPTON KEEP HOLD OF THEIR YOUNG TALENT?
The mindset of being a feeder club is starting to change. In an ideal world I'm sure Southampton would like to breed good talent and keep them forever. But they're not there yet. And in fairness I think if five or six of the top clubs come knocking, players are still going to want to leave.
That being said, if they somehow find their way into Champions League football over the next five to ten years there's no need to leave because everything starts going up. Competition goes up. Money goes up. Salaries go up. And really, that's what drives players in the end. In the meantime, they need to try their best to hold on to this talent or else make sure that they sell them for the right amount of money and continue reinvesting in the academy.
SOUTHAMPTON'S GOAL IS TO MAKE THE CHAMPIONS LEAGUE – HOW SHOCKING WOULD THAT BE?
It would be about as shocking as if Crystal Palace wins the league (laughing). In all seriousness, Southampton finishing Top 4 would be an unbelievable turn out. If they can finish in the Top 10 or even the Top 8 it would be a massive step forward for them.
But let's be realistic. Their ambition should be 10th place and upwards. And then every year, they should look to take little steps forward. I'm not one to knock ambition but it will take time for Southampton to get there.
IS IT REALISTIC FOR 6-7 PREMIER LEAGUE CLUBS TO HAVE CHAMPIONS LEAGUE ASPIRATIONS?
Well, I like the optimism. The Premier League used to start every season with four or five teams saying 'we're aiming for the Champions League' while nine or ten others would say 'we just want to stay in the league. But within the last two years the league has moved on with the influx of things like money and foreign coaches. The perception has changed. Clubs are no longer saying 'I want to survive,' they're saying 'I want something more.'
A good example is Tony Pulis at Stoke City. He didn't lose his job because his club were going to be relegated, he lost it because he lacked ambition in his style. Stoke wanted more. The fans wanted more. Clubs are investing more and demanding things improve.
Merely trying to stay in the league is a mentality that could earn you £50-60M but to have that outlook each season is a turn off. You want to develop a club. Improve each year. As Pulis found out, merely surviving just isn't good enough anymore.
TALK ABOUT THE PARITY IN THIS YEAR'S PREMIER LEAGUE
The parity makes it such an attractive league. With all the managerial changes we're seeing an even playing field where, seven matches in, even clubs like Liverpool have the respect of all top teams. They're competitive. Arsenal are competitive. And even though they sold their best player, Tottenham have replenished the ranks and are competitive.
Add to this the fact that, in the Premier League, players give all they have for every match for the entire 90 minutes. I'm not sure that happens in other leagues like Serie A and La Liga. But in the Premier League, the fans won't allow anything less than 100%. So you have these teams that just keep trying and trying and trying.
We saw that mentality when Sunderland played Manchester United. They just fired their manager and have some injuries, but they never quit. They just kept biting and biting and biting – being ultra competitive. I'm not sure you always see that in other big leagues in Europe. So that's the kind of thing that keeps the league so attractive – you never quite know what will happen until the final whistle.