Between today's earlier posts and previous rounds' results, you could piece together most of the picture for UEFA's World Cup playoffs – that eight-team, four-match tournament that will decide Europe's final World Cup qualifiers next month. Croatia, Portugal, and Sweden came into the day knowing they were in, making today's results (loss at Scotland, win vs. Luxembourg, loss vs. Germany) irrelevant. And with England's clincher, Spain's walk, Bosnia's new history and Turkey's loss, four other teams went into the pile:
Ukraine (7-0 winners at San Marino) stayed second in England's group (H);
France (3-0 vs. Finland) secured their spot behind Spain (Group I);
Greece (2-0 cruise past Liechtenstein) finished behind Bosnia and Herzegovina on goal difference (Group G);
and Romania (2-0 over Estonia) were the beneficiaries of Turkey's loss in Holland's group (D).
The one remaining spot will go to Iceland, whose 1-1 draw at Norway proved enough to snag second place in Group E.  The nation has never qualified for a World Cup or European Championship, and if it weren't for Switzerland's 1-0 win over Slovenia, they wouldn't have taken the next step toward Brazil 2014. But with Granit Xhaka's goal in Bern (securing a Swiss win) and Kolbeinn Sigþórsson's opener in Oslo, the country of around 320,000 people is within two games of becoming the smallest nation ever to compete at a World Cup.
But with UEFA breaking qualifying into eight groups, one team was left outside-looking-in on the playoff pileup. Denmark, who finished second in Italy's group, saw their hope of returning to a World Cup come to an end, their record against the top five teams in their group the worst among the confederation's second place finishers.
Go-go Wiki screenshot: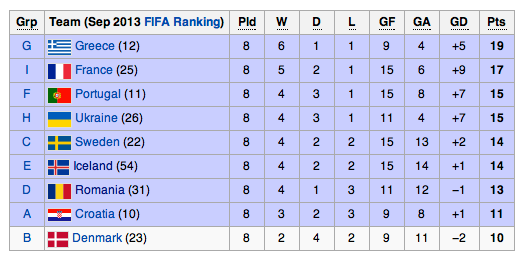 With the playoffs set, that FIFA Ranking (in parenthesis in the table, above) is what matters. The top four teams per that ranking will be drawn against the bottom four. That means Croatia, Portugal, Greece and Sweden will be "seeded" (as the rankings stand now); France, Ukraine, Romania and Iceland will not. Ukraine and Swededn could yet swap spots, when new rankings come out.
Though the other teams have their virtues, France is clearly the team to avoid from the unseeded lot, though their status in the second pool isn't without some controversy. Yesterday, the French Football Federation said they hoped to appeal to FIFA regarding their ranking. Their case: Because they were in UEFA's only five-team qualifying group, they had two less qualifiers through which they could improve their ranking.
Why Sweden (or Ukraine) should have to pay for that is unclear. Regardless, expect France, for the second cycle in a  row, to be involved in a much-publicized World Cup playoff:
[youtube http://www.youtube.com/watch?v=s_uieTTzSSk]