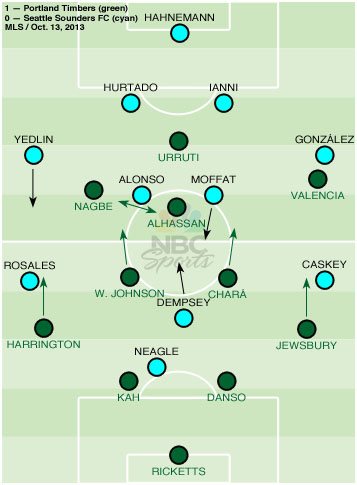 PORTLAND, Ore. — In one of the most stunning turnarounds in Major League Soccer history, the Portland Timbers are tied atop the Supporters' Shield standings one year after finishing third from bottom. First-year head coach Caleb Porter began instilling a unique philosophy, by MLS standards, at the start of the season, and the ascent since has been exponential.
The Timbers defeated Seattle Sounders FC on Sunday, perhaps turning the tables on a relationship in which the Sounders have been widely seen as the "big brother" to the Timbers, who work in a smaller town, with a smaller budget and without the backing of an NFL conglomerate.
While the Sounders exhibit a smash-and-grab style both on and off the field, playing a direct style and making big-name signings such as Clint Dempsey, Eddie Johnson and Obafemi Martins, Portland has relied on its coach's tactical acumen and team-building ability to get to the top.
"A real soccer game, at a high level, is going to be a little bit more of a chess match, a little bit more of a probably slower tempo," Porter said on the Soccer Made in Portland podcast in March. "I want control in a game. Control allows us to increase our chances of winning. Shape allows us to have control. Possession allows us to have control. Pressure allows us to have control because we're deciding what's happening in the game."
Never shy about speaking to the press (his post-game talks regularly take well over 10 minutes), Porter has outlined his philosophy as a desire to dominate games through possession and pressure.
Attacking with numbers
Portland's basic shape is best described as a 4-3-3. Players are encouraged to interchange and work within the framework of the system to express their creativity, depending on their technical ability and soccer IQ.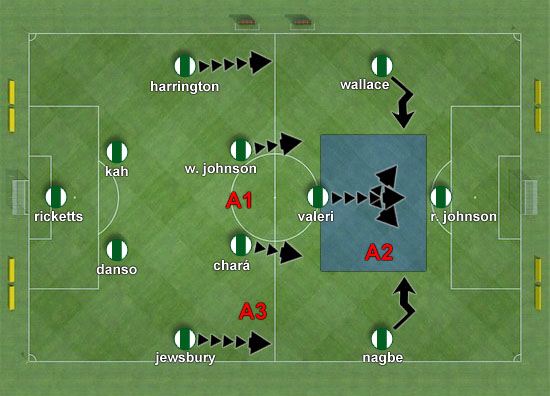 For example, Darlington Nagbe has more freedom than any other player because he plays best when he roams free. The others around him remain aware of his movement and fill in spaces as necessary. On Sunday, although Nagbe started as the left winger, he swapped positions with Kalif Alhassan in the middle very often.
The three biggest keys to the Timbers' attack are: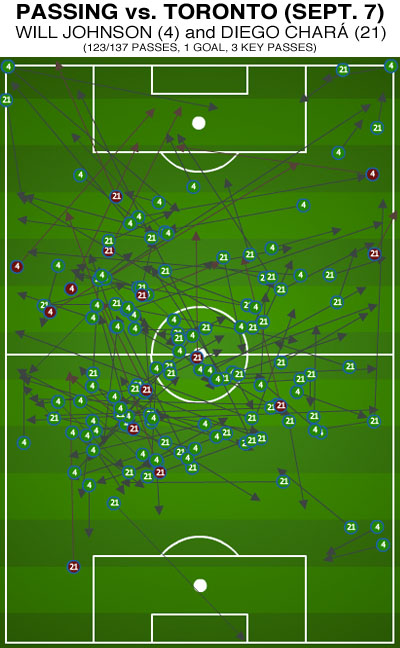 • A1: The double pivot between Will Johnson and Diego Chará. They form the base of every attacking movement and defensive sequence, encouraged to get forward often and win balls high up the field. Porter has said that both players' natural tendency is to press into the attack, and this system allows them to step into higher spaces.
For two months earlier this season, the two could not start the same match due to multiple injury concerns. Between July 7 and Sept. 7, Portland had its worst stretch of the season, winning just twice, while losing five games and tying two.
In their first game back together, the Timbers defeated Toronto FC, 4-0, and the two central players combined for 90 percent passing accuracy, including three key passes that led directly to shots, and one goal from Johnson. Since then, they have once again started every game as the double pivot points, and Portland is 4-0-2.
• A2: Overloading the central channel. This is where Porter's technical and tactical coaching ability comes out in the final product, as his players are comfortable playing in tight spaces and know when to move the ball out of the middle.
The most dangerous space on the field to attack is the area on top of the opponent's penalty area, as the vast majority of goals created through the run of play find this space at some point during the build-up.
In this instance from Sunday's game, Nagbe once again pulls inside and switches spots with Alhassan. Johnson and Chará push up, Maximiliano Urruti drops back as more of a false nine than a traditional target striker, and José Valencia also tucks in.
The move draws all five Sounders midfield players back, opening spaces for the Timbers to get wide and behind the back line.
Nagbe's movement causes trouble for opponents because he is so good on the ball and always aware of his surroundings. He knows when to overload, when to create space, when to pass and when to shoot. His finishing ability from distance has netted him nine goals in 2013, a franchise single-season record, as well as some of the best goals in MLS since he's been in the league.
His overdrive work rate helps, too. Against Seattle, he completed all but four of his passes and made 12 loose-ball recoveries and two interceptions. His activity centered mainly on his left-sided starting position, but he covered ground all over the field.
Combined with Diego Valeri's passing ability (although the Argentine Designated Player has been injured recently), Portland has the keys to unlock the central channel of any defense.
• A3: Getting the outside backs involved. In the play above, Jack Jewsbury and Michael Harrington step into the attacking half and offer opportunities for width (as do Valencia and Alhassan). With so many players inside the width of the 18-yard box, the ball will eventually have to go wide to move out of pressure.
When that happens, Jewsbury and Harrington can either get to the end line and find service into the box, or they can combine with wide players to exploit isolation opportunities. For example, if Urruti turns and plays the ball into space for Jewsbury to run onto, the defender can play with Valencia to get past the lone Seattle defender on that side.
Those three points lead to a style that is especially difficult to defend when Portland goes up a goal, and one that is useful in coming from behind if the opponent scores first. The Timbers are 10-0-6 when scoring first, but they have also come back to take two wins and five ties in 12 games when conceding first.
"Every game, we're going for three points," Porter said after Sunday's win. "Even though we've had draws, we've not gone into any game — home or away — trying for anything other than getting three points."
The overriding principle throughout Portland's attacking philosophy is having possession of the ball. From back to front, Porter stresses the importance of having the ball and keeping it on the floor, moving it to create unbalance in opponents' shape. If a team has the ball, it can throw numbers forward.
"Everybody wants to have the ball," Porter said in March. "Everybody wants to attack. If you ask anybody, even the center backs, they would rather have the ball and attack than defend all game."
Winning possession high up the field
The other half of Porter's philosophy, aside from possession, is defensive pressure. After some early-season rust that saw Portland concede eight goals in its first four games, the Timbers have four shutouts in their last six matches.
Some of it is down to goalkeeper Donovan Ricketts' shot-stopping ability — he has won MLS Save of the Week nine times — but most of it is the knowledge of when and how to defend.
"The harder you work when you lose the ball, the quicker you get the ball back," Porter said. "There are two ways to defend: you defend the goal, or you defend the ball. We defend the ball."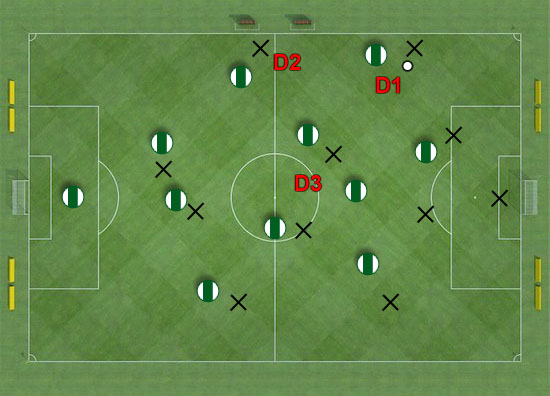 When an opponent tries to build from the back, Portland's defensive pressure can again be broken into three keys that are closely connected:
• D1: Immediate chase and pressure. Without initial pressure on the ball from a first defender, the rest of the team's work to get into position is rendered useless.
• D2: Cutting the field in half to make play predictable. This falls onto the center forward. He has to be in position to cut off square passes through the middle of the field that would relieve the initial pressure.
• D3: Funneling play into defensive numbers-up spaces or forcing a long, 50/50 ball. The first defender's body shape on approach to pressure must discourage play into a teammate that would relieve pressure (usually wide because Portland's numbers concentrate in the middle). The center forward, again, must cut off simple switches through the middle.
Finally, the central players have to bait opponents into playing the central pass. Instead of touch-tight marking, perhaps that means dropping off a couple steps and moving to pressure as the ball is in transit, then converging on the intended target so he has no outlet.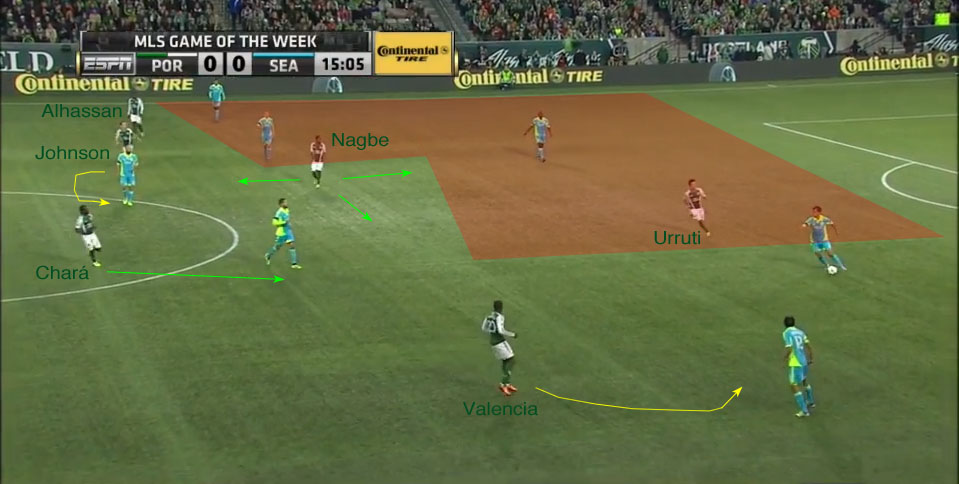 In real time, this is how high-pressure defending looks. Urruti both applies initial pressure (D1) and cuts the field in half (D2) with his body shape on approach — the red space is off-limits to the passer on the ball. Valencia bends his run to discourage the wide pass, Johnson moves to get goal-side of the weak-side central midfielder, and Nagbe and Chará are in position to converge on the ball in transit (D3).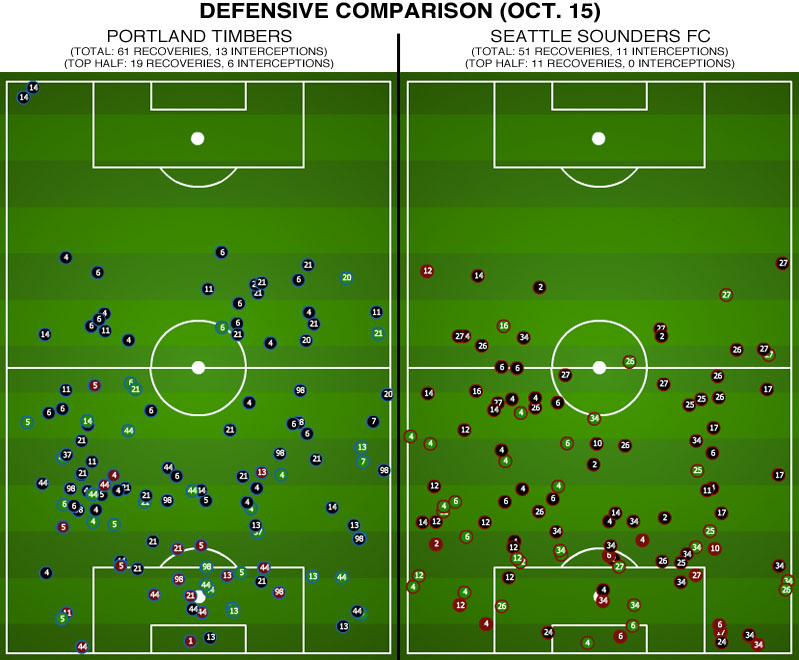 But at times, especially against the stronger teams in the league such as the Sounders, Portland cannot expect to win the ball high up the field every time. It did quite often, making 19 recoveries and six interceptions in the top half of the field, but Seattle put quite a bit of pressure on Ricketts' goal throughout the game.
"We want to be a team in the front half. We want to be pressing and locking teams in, on the ball, but I've also prepared them to be in the back half as well. So basically, I've prepared them for Plan A and Plan B," Porter said afterward. "I've tried to prepare these guys to be composed and mature when we're playing with a lower block and not able to push the game. … I think that's been a big reason why we're grinding out results because earlier in the year, we were either up the field and pushing, playing well, or we're just getting run through. So we've kind of downshifted just a little bit and balanced our team — just a little bit — so we're a little bit more set up to win games. This time of year, it's going to be tight games, most likely."
The double pivot was again crucial in that aspect of the game on Sunday. In the defensive phase, it becomes a pair of traditional holding midfielders, shielding the back four. Johnson made 12 recoveries, while Chará had 10 and added six interceptions.
One aspect of Portland's game that still needs work is defending set pieces, or "box defending," as Porter calls it. Of the 33 goals the Timbers have conceded, 17 have been from dead balls: four penalty kicks, three direct free kicks, one long throw-in, three corner kicks and six free kicks served in.
The Sounders defeated Portland on an Eddie Johnson header from a Mauro Rosales free kick on Aug. 25, and Ricketts came up with another Save of the Week candidate Sunday before Dempsey hit the crossbar, both on set pieces. In the run-and-gun MLS style of play, that's a weakness that could be exploited by opportunistic teams in the playoffs.
Buying in doesn't cost a thing
One final aspect of Porter's system that isn't tactical, but it's vital: buying in. Porter has gotten more out of every player on his roster than any coaches who have had those players before, with the possible exception of injured center back Mikael Silvestre.
In his press conference on Sunday, Porter spoke at length about how his players have bought into the philosophy of possession soccer, a sentiment that important players such as Johnson, Alhassan and Ricketts echoed afterward in the locker room. Their selflessness to the team cause has been the single biggest aspect of this team's success.
"There have been so many guys that have just transformed as players," Porter said. "The talent was always there. … They're good guys, they're talented, they have character, and you get them bought in, you get them together, you get them in the right roles, this is what can happen. … You look at the best teams in the world: teams that raise trophies are teams that have chemistry, teams that remain humble."
In March, he tried to tamper expectations a little, while still clearly believing in what he was trying to build.
"We're trying to change habits within guys that have never played consistently under pressure," Porter told Soccer Made in Portland. "It's a psychological thing, too. I mean, how many teams really play? Some say they do. So you've got guys that are used to, when they're under pressure, hit the panic button and kick it. … I think the biggest challenge is, you get guys that just haven't been encouraged to play enough, or haven't been told how you play. That's the toughest part. All of a sudden, you're getting them at a certain age — and they want to learn, they really do — but if you're 26 years old, and you've never done it, even if you want to learn, it's hard to do it all of a sudden."
As a college coach, Porter was used to reversing serious developmental flaws in the players he recruited. But at that level, coaches have closer control over their rosters. Rebuilding a professional team has to take contracts, ownership and a salary cap into consideration. Most of the Timbers' important players were only role players last year, whether they played in Portland or elsewhere, and have stepped up into major areas of responsibility this season.
'We play the way we play so we're in a position to win'
From the players he brought in and the players who remained from last year's disappointment of a season, Porter has built the most tactically sophisticated team in a doldrums of a league as far as soccer IQ goes. The Timbers have beaten direct teams with their active, evolving system of tactical problem solving, which allows them to win games in multiple ways.
"If there's a fight, we're up for a fight," Porter said on Sunday. "There's no problem with that. We can out-football teams, but also, we can outfight teams. This team's not soft. … And yet, we still were able to mix in some good football, and you could still see — for periods — our way of playing, maybe not as much as I would like, but it's hard to be disappointed to get that result."
Portland's ascent has been remarkable. Building a team to play an attractive, possession-based style takes time, but the club has shown patience from top to bottom since the start of the season. Comparing Porter's quotes from just two months ago, when Seattle beat his team at CenturyLink Field, to quotes from Sunday shows the belief (and perhaps stubbornness) it takes to find success.
"We play the way we play so we're in a position to win and, to some extent, to score the goal," he said after the 1-0 loss on Aug. 25. "We're right there. We were toe to toe with that team, and it was an even game. The difference was they found a goal in one moment."
On Sunday: "When you believe that you can win games, you put yourself in position to win these games. … There's no reason why we would be inferior [to Seattle]. There's no reason why we should be the little brother. We should be a legitimate contender. We should be capable of beating the Sounders, and it not being a miracle. It's very satisfying, a year later, that here we are … and I think it says everything about how far we've come as a club."
Portland is at the top of the league, tied with the New York Red Bulls. The Timbers are one of the teams to beat in MLS, 12 months after being just a team that regularly got beat in MLS.