Before the recent international break, I caught up with a player many will regard as 'the forgotten man' of Americans Abroad.
Tim Ream.
With the U.S. national team leaking a few goals down in Panama on Tuesday and looking shaky at the back in recent games without first-choice duo Matt Besler and Omar Gonzalez, could Bolton Wanderer's defender Ream make a surge back into Jurgen Klinsmann's World Cup squad between now and next June?
In the latest edition of Spotlight USA — where I catch up with USMNT players plying their trade in England — I spoke with Ream about his USMNT hopes, if he regrets moving to Bolton, a return to MLS and much more.
A player who excelled in his debut MLS season, Ream was dubbed an up and coming star after being given his USMNT bow by former head coach Bob Bradley. After impressive displays for the New York Red Bulls in MLS and abroad in the Emirates Cup, plenty of European teams started to sniff around Ream and the 26-year-old ball-playing center back soon transferred from the Red Bulls to Bolton Wanderers in January 2012.
Fast forward 18 months or so, and Ream is slowly but surely picking his career back up.
Following a disastrous second half of the 2011-12 PL campaign that saw Bolton relegated on the final day of the season, Ream found it hard to adjust to life in England's second-tier and was only a bit-part player as the Trotters narrowly missed out on making the playoffs in 2012-13. New manager Dougie Freedman took over from Owen Coyle, the man who'd signed Ream, and the young Scottish manager has finally given Ream a chance to shine.
(MORE: ARCHIVE – SPOTLIGHT USA)
And things have started off a lot brighter for the composed defender in 2013-14, with the former RBNY star playing in both midfield and at the back as Bolton continue their climb from the lower reaches of the Championship towards the playoff places. With a recent appearance in the U.S. national teams friendly win over Bosnia in September and a few European friendlies against Scotland and Austria coming up, now is Ream's time to shine if he has any chance of becoming the 'comeback man' instead of the 'forgotten man.'
Ream's personal quest to make the USMNT World Cup squad starts here. He needs a good season and some good performances for his club and in the upcoming U.S. friendlies in November, but his talent and temperament is undoubted. He just need a good break or two to force his way back into Klinsmann's plans.
So, as I said, I caught up with Tim for out latest Spotlight USA after training, and here's what the hugely likeable pro had to stay.
On this season, better than last year?
I think last year it was definitely a struggle for me in terms of adjusting to the style that is the Championship. But now I've taken the opportunity that was given to me a couple weeks back and I'm playing well and playing consistently, which is what I always tried to do. I'm definitely glad that I was given the chance, and I'm happy with that way I've been playing.
On playing in midfield and defense:
There were three games there where I was playing center mid, and I think with injuries and some guys falling out of form, they felt the need to switch things around. I think it's one of those where I'm happy to be playing and wherever they see fit and wherever I can help out the team, I'm happy to do that.
On Bolton's chances to move towards promotion in 2013-14:
Absolutely, I think after the result at Blackpool, the way we played and the way we defended as a team, attacked as a team and created as team, it's just a matter of time before we start banging goals in the back of the net and moving up the table. We definitely have the guys in the squad that can do that for us. It's just a matter of getting that first win and those first three points.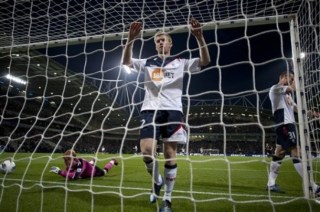 On the difference from playing in Premier League to the Championship:
It's similar to the difference between MLS and the Premier League, it's quicker still in the Championship and you don't have as much time on the ball. It's definitely more physical than the Premier League, and those are all things that after adjusting pretty quickly after moving from New York to the Premier League, it was kind of a shock to the system to then be in the Championship and having to adjust again. The physical nature of the game and the lack of time on the ball that guys are given is a big difference.
On Matt Besler and Omar Gonzalez playing for USMNT:
Obviously you're happy for any guy who gets a call in and does well. Obviously those two guys have proven their worth in MLS, and have continued to do so at the international level, I'm really happy for them. They're great players and I think it's well deserved for them to be called in, and it's definitely an added bonus that they're bringing more exposure to MLS because of it.
On if he regrets leaving MLS to play in England with Bolton:
Do I regret moving? Absolutely not. No, I felt at the time not that I couldn't get better [in MLS], but I wanted to get better and become a more rounded player, quicker. As a result of going through those struggles last year, I think that I've been able to do that. So whether that equates to be in the national team squad again or not, that's not my decision. I just have to continue to get on the field and get minutes and be consistent.
On being involved in the USMNT setup against Bosnia:
It was a good experience as are all international friendlies, qualifiers or Gold Cup games. They're all great experiences and to be around a lot of those guys again and just to catch up and be able to spend some extended amount of time with them. And the staff as well and reacquaint myself with how they do things was definitely a big positive for me.
On the Scotland and Austria friendlies next month:
Those friendlies are always at the back of your mind. Obviously, as I said before I have to continue to keep playing well and be on the field consistently to get that call, so, obviously I have to focus 100 percent on what's going on here. In the back of your mind you're always looking for that next call in and when that next game is so you can be involved.
On the USA's qualification to the World Cup: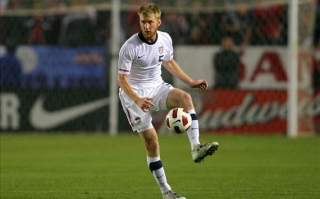 Unfortunately I wasn't able to watch the game [the WC win vs. Mexico which clinched qualification] I mean I did follow it online as best I could through posts and all that kind of stuff. it was a massive result, and that propelled us to qualify. I think everyone is finally seeing what Jurgen is trying to do with the team. It's finally at the forefront and people are finally seeing what he can do with the squad that he has to choose from. I think it's great. And as a result, there's big expectations going into the World Cup. Mexico was meant to be the heavyweights in CONCACAF, and we beat them 2-0. And we've gone swing for swing with some of the top teams in Europe and around the world. Like I said, expectations are high and I think the team can do really well and go as far as they want. I think the sky's the limit to be honest with you.
On meeting up with the likes of Geoff Cameron, Jozy Altidore and other U.S. starts in England outside of soccer:
It's difficult to get everywhere and see all these guys, especially with them all in the Premier League and us in the Championship. We obviously don't get to come up against each other unless you get to play them in the FA Cup of the League Cup. We were able, last fall, to have a thanksgiving dinner with Timmy Howard and Maurice Edu and that whole group. So, we see them every once in a while but probably not as much as we'd all like.
On Juan Agudelo's move to Stoke and helping him adjust to life in England:
Absolutely. When he was over before and training with West Ham, we had a game down in London and I was able to meet up with him then and hang out with him a bit. I'm sure we will catch up and hang out a bit, we always got on really well after coming into the league together and then getting introduced to the national team at the same time, and pretty much being involved in all the same games. Him and I have a pretty good friendship and a good relationship and I will probably send him a few messages on Facebook as the time nears and he starts to come over and moves over. I'm sure we will meet up and have a good time.
On settling in and enjoying life in England:
Anybody will tell you it's much easier to enjoy life and be settled when you're playing on a regular basis. I think last year was a tough year, I think we felt that we had gotten settled once we were over here but obviously then you get relegated and then you're struggling in the Championship. I think last year was pretty unsettling. But now that I'm playing again, you feel more settled. But that can change in an instant, if you get dropped and you're not playing a lot of games.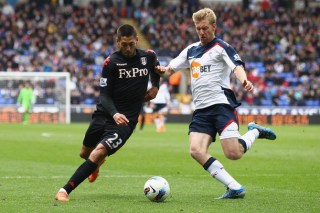 On a possible return to MLS:
I think all the guys that have played in the league and moved on would like to come back. I'm no different. When that time is, I don't know. But yeah, I definitely see myself moving back at some point. Probably not as earlier as Clint's done it, but you can't really argue with what he's done! So, he's obviously a huge talent and a big pick up for the league. He did it for his own reason, which is great. When the time comes for me and my family, it will be the same. But a lot of guys are starting to ask me more about the league, different cities, and it's not just the American guys who want to go back and play it's a lot of these guys over here, even in their prime, who are thinking about going over there and playing in MLS.