A win is a win, right?
That was the case for the United States on Tuesday, as they rallied late in the game to break Panama's hearts by overturning a 2-1 deficit heading into stoppage time to win 3-2.
In doing so, as I'm sure you're probably aware by now, the U.S. knocked Panama out of a playoff and gave Mexico a shot at redemption as they looked down and out. It was a night of high-drama across CONCACAF, and the USA were heavily involved even though they'd sealed their qualification last month.
(MORE: Mexico survives; tears for Panama; Honduras, Costa Rica and United States get results in regional World Cup qualifying)
Anyway, World Cup permutations to one side, Jurgen Klinsmann gave plenty of the U.S's fringe players a chance to shine in Panama, with varying degree of success. Let's see how they rated.
Brad Guzan (6) – Didn't have a whole lot to do, but a few slip ups here and there. Have to think he could do better on Panama's second goal after only pushing the ball back into danger. Can Guzan oust Howard? On this showing, the jury is still out.
Brad Evans (4) – Really struggled with the pace of the Panamanian attack, and was rightly substituted by Klinsi in the second half. A few forays forward didn't detract from a difficult evening for the Seattle man.
Clarence Goodson (5) – The San Jose centerback skippered the U.S. when Altidore departed, but he was hardly a rock at the heart of team USA's defense. A few lapses on the ball and guilty of losing his man on Panama's second prove behind Besler and Gonzalez, Klinsmann needs more defensive cover.
Michael Orozco (6) – Another set piece goal from the Puebla man, but it was hardly a stellar display. Caught out for the second and looking a little shaky at time, his equalizer in the second half was an opportunistic finish. Much more comfortable in central defense than at full back.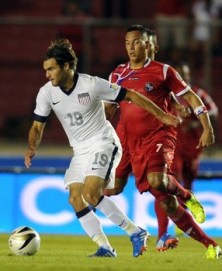 Edgar Castillo (5) – Again, another who was caught out for Panama's second as he pushed up to high and also gave the ball away for the first goal. However, the Club Tijuana defender worked his but off all night long and was able to get up and down the flank to try and support the attack. Another defensive worry for the U.S. 
(MORE: Watch – Relive CONCACAF drama as USA hand Mexico World Cup lifeline)
Sacha Kljestan (7) –  The Anderlecht man delivered a typically tireless display in the middle, as he kept things ticking over nicely and tried to keep the U.S. playing despite Panama's constant pressure. Solid display.
Mix Diskerud (6) – Tried ever so hard to stamp his authority on the game, but whether it was the final pass or making that decisive run forward, it just didn't come off for Mix. The Rosenborg man has to keep improving between now and May to guarantee his spot on the plane.
Kyle Beckerman (5) – Despite another workmanlike display in front of the back four, I think Beckerman is getting a little found out at international level. Playing well in the Gold Cup is one thing, but dominating WC qualifiers on the road is extremely difficult and Real Salt Lake's captain just gave the ball away too many times. And considering his main job is to protect the ball, that's an issue.
Alejandro Bedoya (6) – Put in a shift, as always on the wing but found himself isolated for large swathes of the match. He was switched to right back and struggled to adapt, but being thrown in at the deep end like that isn't easy. Seems as though Klinsmann is still undecided, as am I. Can't fault his effort.
(MORE: The best night ever in CONCACAF qualifying? See how the drama unfolded on Twitter…)
Graham Zusi (6) –  Two goals in two World Cup qualifiers for Zusi, and the SKC man is looking sharp for the USMNT in front of goal. He rose like a salmon to bury Brad Davis' cross and break Panama's hearts in injury time. Zusi tried to get on the ball as much as possible but his defensive work out on the left flank needs work, as he exposed Castillo many times.
Jozy Altidore (6) – Captain for the night, Altidore led the line tirelessly with scraps to feed on for most of the game. Reminiscent of his form for Sunderland, the 23-year-old worked his socks off without much reward.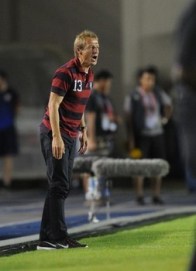 SUBS
Aron Johannsson (7) – Grabbed his first USMNT goal with a wonderful low strike in stoppage time, seems like the Icelandic-American is peeking at the right time for a World Cup callup.

Brad Davis (7) – Exactly what Klinsmann would've wanted from Houston's stalwart, with David producing a pinpoint cross for Zusi's late equalizer. Calm, composed and a dead ball specialist, Davis could be vital in the pressure cooker of the World Cup.
Terrence Boyd (6) – The young Rapid Vienna striker did well to set up Johannsson for his first U.S. goal and bullied Panama's defense late on. Full of running and able to stretch the backline, great option off the bench.
COACH
Jurgen Klinsmann (7) – I was impressed with Klinsmann's decision to shuffle his pack and give some others a chance to shine. He saw where the deficiencies are, defense, and figured out the likes of Boyd and Johannsson could be valuable off the bench. The German coach is also becoming a dab-hand at making subs, a great skill to have for any manager.