Bruce Arena took eight defenders to World Cup 2006. Bob Bradley took just seven to South Africa four years later – although Ricardo Clark or Maurice Edu could both man a center back spot in a pinch.
Something interesting this year is that versatile men like Geoff Cameron and Fabian Johnson give U.S. manager Jurgen Klinsmann some similar latitude – although perhaps in reverse. Cameron plays right back for Stoke City, remember. Johnson spent most of his early appearances as an outside back, but has gradually drifted further forward.
He is better on the left, but who can also play right back (where he started in the World Cup clincher vs. Mexico). Either way, he's on the charter.
Here we go:
DEFENDERS
(Estimated number of spots available: 7-8)
Start making plans, guys … you're going to Brazil!: Fabian Johnson, Omar Gonzalez, Matt Besler, Geoff Cameron, DaMarcus Beasley.
Besler and Gonzalez are the central defensive pairing until further notice. Klinsmann says Cameron's best spot is center back, and he did fine last week against Jamaica, even if it wasn't the most worthy test.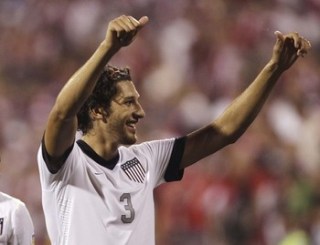 We will add Steve Cherundolo to the list as soon as he gets into a U.S. game again, maybe one of these November dates in Europe. Clearly, the right back spot remains an issue, which is why we're still talking about a 34-year-old defender who has been a bit brittle recently, and who hasn't been in a U.S. match in months.
Left back remains an issue as well, although Beasley has shown he can handle it adequately.
Clarence Goodson is very close to this list "Going to Brazil" list, proving time and again that he can be trusted when called upon. The problem for San Jose's newly established central force is that John Brooks, the talented young German-American who was so solid in his recent debut, may have more upside. Brooks may get the opportunity over the coming months to lap the veteran Goodson.
If Goodson / Brooks take a spot, and if Cherundolo remains in the mix, then there may be just one little, itty bitty spot between Edgar Castillo, Brad Evans and Michael Parkhurst. All have had their moments, especially Castillo lately. But all have deficiencies, either in one-on-one defending (Castillo) or in ability to get up the flank consistently to impact the game (Evans and Parkhurst).
Where does that put Michael Orozco, scorer of a couple of pretty huge goals? Well, injuries do happen, but he appears to be behind four or perhaps even five center backs at the moment.
You might notice that Timothy Chandler's name has disappeared from the conversation. It's just a hunch, but I get the feeling that Klinsmann has finally moved on, just not convinced that this guy – who has lost his starting spot with FC Nürnberg is serious about having an international career.
On the bubble: Clarence Goodson, John Brooks, Steve Cherundolo, Brad Evans, Michael Parkhurst, Michael Orozco, Edgar Castillo
Still in the conversation … but just barely: Tony Beltran, Justin Morrow
(MORE: Where the goalkeepers of the U.S. player pool stand) 
(MORE: Where the goalkeepers of the U.S. player pool stand)