Compared to the overwhelming options in the center third of the field, this one is a relative piece of World Cup cake.
As three veteran players have done plenty to prove their worth, U.S. manager Jurgen Klinsmann really has two questions to answer: First, does he take four or five strikers? And then, who are the extra one or possibly two (once we get past Clint Dempsey, Jozy Altidore and Eddie Johnson, all of whom have their gold chip in pocket)?
FORWARDS
(Estimated number of spot available: 4-5):
Start making plans, guys … you're going to Brazil!: Clint Dempsey, Jozy Altidore Eddie Johnson
Dempsey may be struggling to make his mark on MLS, but he has a long and telling history of manufacturing big moments in the U.S. shirt. Don't be afraid to buy the extra pair of flip flops, Deuce, you'll be feeling the sand of Rio on those Texas toes.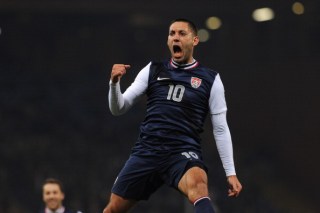 So will Altidore, no matter how far he sinks into the swampy mire at Sunderland. Hopefully, all that gets better. But if it doesn't, Klinsmann will not forget about Altidore's fabulous summer, or that he put away four vital goals in final round qualifying, including back-to-back game-winners against Panama and Honduras.
Eddie Johnson scored some big goals this year, including the game-winner as his Americans clinched a World Cup berth against Mexico. (Can't you still hear the Columbus crowd crowing: "Dos a cero!") He is the most athletic of U.S. strikers and has great instincts and timing around the six, quite something to have at the ready when in need of a late goal. So he's on the charter.
The really interesting thing is that Herculez Gomez would have been on this list just a few months ago. But a summer injury allowed Johnson to slip inside Gomez on depth chart, and now the Xolos de Tijuana man (uh … should it be "Xolos de Tijuana hombre?") may have to hold off a late challenge from Aron Johannsson, 22, who looks to have tremendous upside.
"Upside" doesn't get you on a World Cup roster, but two impressive performances in qualifiers last week and on Tuesday will move the Icelandic-Alabaman significantly in that direction.
For you Chris Wondolowski fans: I love the guy, and he represents MLS as well as anyone I have ever known. But I ask you once more, which guy do you subtract from this list? Until you can name that guy, this isn't a debate.
On the bubble: Herculez Gomez, Aron Johannson, Terrence Boyd
Still in the conversation … but just barely: Chris Wondolowski, Juan Agudelo
(MORE: Where the goalkeepers of the U.S. player pool stand) 
(MORE: Where the defenders in the U.S. player pool stand)