Sometimes the choices can be confusing … and sometimes they can get downright dizzying.
When it comes to the U.S. midfield, there are so man moving parts at work here, easily more than any other position in the U.S player pool, so many ways Jurgen Klinsmann can configure his midfield personnel.
For starters, does he want to go back to something that looks more like a modified 4-3-3, which seems to be the U.S. manager's preferred structure? That might mean trying to "force" a winger or two onto the roster, even if they haven't exactly shined consistently.
Then he has a handful of midfield figures with talent, but also with flaws affixed to their games; so which flaws are less flawed than others? And how does that choic tie back into the formation discussion?
Similarly, he has several versatile men, Mix Diskerud and Sacha Kljestan as the best examples. Does he arrange a system more friendly to interchangeable parts or rely more on the specialists? How do these other choices affect whether Klinsmann takes an extra defensive midfield specialist (Kyle Beckerman?) or perhaps an extra attacking midfield type (Jose Torres or Joe Corona?).
Speaking of specialists, what about Brek Shea, a real wild card here, one of the few men in the U.S. pool who can motor past someone on the flanks. But wouldn't Shea, still languishing on Mark Hughes' bench at Stoke, come with his own issues?
And then there are the 'tweeners, Landon Donovan and Clint Dempsey. At some point, this is just an academic exercise; what does it really matter whether Donovan or Dempsey are listed as "midfielders" or "forwards?"
Then again, how these guys are ultimately used (more than their technical roster designation) does begin impacting the fates of others.
It's all quite interesting, not to mention a big overwhelming, no?
MIDFIELDERS
(Estimated number of spot available: 8-9)
Start making plans, guys … you're going to Brazil!: Graham Zusi, Jermaine Jones, Michael Bradley, Landon Donovan
Truly, those are the only figures who can tell their friends and families to start looking for good flight deals. Everyone else (and there's a lot of "everyone else" here) is wading around in the mire of Klinsmann's ample wiggle room.
Bradley (pictured) is this team's most irreplaceable part. Period.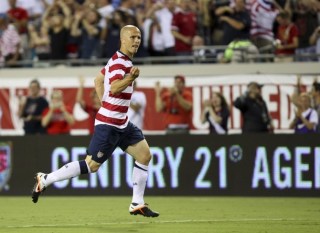 Jones is on the charter – whether you like it or not. His turnovers are maddening. He's a bad foul waiting to happen. He cannot be trusted to faithfully, consistently keep that screening position, sometimes bursting forward imprudently and forcing Bradley to make the fierce recovery run. We all know that. So does Klinsmann.
But the manager has long adjudged Jones' leadership and contagious fearlessness as highly worthwhile, so he tolerates the man's flaws.
Zusi? The only debate is whether he's a starter; the creativity and speed of thoughts at international level can sometimes suffer, but his technical work is so usefully smooth. Some of that choice (starter or backup?) depends on how Klinsmann uses Donovan.
Speaking of "using Donovan:" His best spot is second forward, running off the target striker. But who can provide a little speed on the flank? Because Zusi just doesn't have that one-on-one burner pace. Not that Donovan has much of it, not anymore, but he does have that signature burst.
Klinsmann has perhaps10-plus options for four or five spots, based on the men called into matches this year. (Remember, he has said there "aren't many surprises coming around the corner." Translation: If someone is healthy but wasn't called for any of the recent qualifiers, his World Cup hopes would be better aimed toward 2014.)
Bedoya's usage over the last five days is pretty interesting. If you look at the guy's body of work, his best days were against that jayvee level Gold Cup opposition. He doesn't really scream "international caliber," does he? And yet, Klinsmann's decision to give Bedoya two starts seems to underscore the manager's desperation to find some flank play.
Same probably goes for Brad Davis, one of the few professional who seem to be finding their place internationally as he drifts past 30. Again, it's about the lack of options – and trying hard to find them.
Torres or Corona? Klinsmann will probably take one of them.
Kljestan or Diskerud? Same thing – one goes, and Diskerud is slightly ahead, although Kljestan kept himself in the argument with a decent night in Panama.
Danny Williams, now a lineup fixture at Reading? He was a U.S. starter just one year ago, remember. Injuries and a bad spell allowed Beckerman to lap him in the pool. But what now?
On the bubble: Alejandro Bedoya, Kyle Beckerman, Joe Corona, Brad Davis, Mix Diskerud, Joshua Gatt, Sacha Kljestan, Brek Shea, Jose Torres, Danny Williams
Still in the conversation … but just barely: Maurice Edu
(MORE: Where the goalkeepers of the U.S. player pool stand)