After Mexican broadcaster Televisa reported the news this morning, soccer's slice of the internet blew up with speculation that Victor Manuel Vucetich was out as Mexican national team coach. But with only one report in hand and no independent verification, all news was being prefaced with "if this is true." Follow international soccer long enough, and your "if this is true" pile will soon dwarf your "this actually happen" list.
It's time to move this story from one pile to the other, now that ESPNFC has their own verification. Vucetich, who ended his highly successful reign with Monterrey to take the national team's job, will be fired after two matches in charge of El Tri. According to both reports, Club America head coach Miguel Herrera will be tasked with getting Mexico through next month's playoff against New Zealand and into the 2014 World Cup.
Herrera's in the middle of a period of wild success with the Mexico City giants, the reason why he's in position to assume Vucetich's post. He guided them to the title of Liga MX's winter-spring tournament (Clausura) and has the club six points clear through 12 games this fall.  If there's a coach of the moment in Mexican soccer, Herrera was it before being linked with the Tricolor's post.
His club also has a number of players who, while not called up in the last round, could be brought in for the playoff,; players such as defenders Francisco Javier 'Maza' Rodríguez and Paul Aguilar and midfielder Juan Carlos Medina. Current America players Miguel Layun and Raul Jimenez were called up for matches against Panama and Costa Rica.
The appointment would make Herrera Mexico's fourth coach of the qualifying cycle, an insane amount of turnover for a team that was favored to win the Hex 10 games ago. Jose Manuel "Chepo" de la Torre managed the team's first seven final round matches before being dismissed after a home loss to Honduras. Luis Fernando Tena coached the squad to a loss in Columbus to the United States before Vucetich was appointed as permanent boss. The former Monterrey man defeated Panama at home before losing on the road to Costa Rica.
Given those results, Vucetich's sacking would be impetuously harsh. His Mexico team wasn't the first to lose to Costa Rica, a team that's qualified for the World Cup. Though they did need a miraculous, late finish from Jimenez to claim full points against Panama, Vucetich's Mexico had essentially held serve, something they'd failed to do under de la Torre. Perhaps Mexico still weren't playing up to lofty (and justified) expectations, but Vucetich's small sample had shown progress, at least in the results.
Now he's set to be replaced by a man who, while very successful in recent tournaments, has a résumé which pales in comparison to Vucetich's. The 45-year-old Herrera has won one Mexican championship, though he's in position to claim another. Vucetich has five Primera Division titles to his credit. He's also won CONCACAF Champions League three times (in a row), two Copa Méxicos, two second division titles (early in his career), and has two manager of the tournament awards.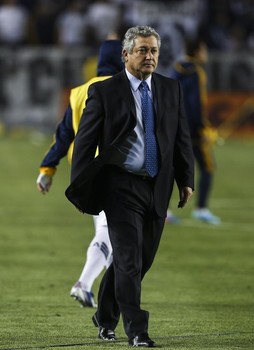 Perhaps most telling, when comparing the two, is the time they've spent at Monterrey. Herrera coached the Rayados from 2004 to 2007, taking them to two tournament finals but failing to claim a championship. Vucetich, who took over Monterrey in 2009, won five major honors during his time in Nuevo Leon. Of course, domestic records can only tell us so much about international success (de la Torre's accomplishments in Mexico are very impressive); however, the side-by-side comparison between doesn't falter the incoming boss.
It all leads to the impression Mexico's grasping at straws – struggling to accept the reality of their circumstances.  That's not something you could have said about the Vucetich hire, which carried the impression of a revered boss joining the team in its time of need (much as Javier Aguirre did last cycle, replacing Sven Goran Eriksson). Now, the FMF's resorted to change for change's sake.
Herrera may not be the man who couldn't win at Monterrey — he may have matured from the young man who fell short four jobs ago — but there's little reason to believe he's a better option than Vucetich. This is a man whose 12-year coaching career is about to embrace its eighth job. In the face of Vucetich's success of Monterrey, that speak poorly of Mexico's decision-making process.
Rather than continuing to look at coaches as the problem, it's time for the FMF consider something's broken with this squad. Sometime after the successes of the 2011 Gold Cup and 2012 Olympics, Mexico did a face plant from which it's been unable to recover, and given the constant has been the players, it's time to stop placing blame with the coaches. Whether it's chemistry, fit, motivation, or just a prolonged blip in performance, these players are not the star most thought they'd be. It's a problem that's transcended coaches.
But instead of taking that approach, the FMF seems to be adopting a two wrongs make a right view. If the squad's broken, let's break the coaching situation, too. Maybe the match between two fractured parts, a technical area as aimless as the talent on the pitch, will allow them to luck into the World Cup.
With Herrera, it may work, but odds are Vucetich would have come up with a solution. He just needed more than a month.