Ever find yourself thinking, I need more Robbie Earle in my life?
Me too. So I sat down with the NBC Sports Premier League pundit to discuss one of the marque matches of this weekend, Newcastle v. Liverpool.
Let's get stuck in.
EXPLAIN LIVERPOOL'S 3-5-2 AND HOW NEWCASTLE CAN BREAK IT DOWN
The 3-5-2 seems to be the preferred choice of many of the Italian teams now. It generally means that a manager wants his two wide defenders to get into midfield positions and cause overload situations. For Liverpool, this has been the role of Jose Enrique and Jordan Henderson over the last few weeks (since Glen Johnson has been injured).
To break down Liverpool's 3-5-2 Newcastle will want to make them vulnerable by pushing three forwards high up the pitch, forcing the Reds into a man-marking situation. With Loic Remy, Yoan Gouffran, Papiss Cisse and Hatem Ben Arfa, Newcastle have four good options for these three positions. By keeping a high line and pressuring the back three of Liverpool, Newcastle will look to get the ball into those trouble areas high on the flanks.
If they're clever, the front three of Newcastle will be interchanging as well, forcing Liverpool to fall into a hybrid defense whereby they man-mark for portions of the match and pass-on players at other times. If played correctly it can be quite difficult to deal with.
It's an adventurous approach that a team like Manchester City is more equipped to handle but I think Newcastle have the elements in place to give it a go. I just hope that if Pardew does choose to press three high, he does it to start the match rather than a means to level the score late. Of course, it's easy for me to say, 'yeah, go on and be brave!' My job's not on the line.
DOES NEWCASTLE HAVE THE MIDFIELDERS WHO CAN MAKE THE THREE HIGH APPROACH WORK?
I think so. Cheick Tiote is a rock defensively and if he's closely flanked by more technical, box-to-box type players like Yohan Cabaye and Moussa Sissoko, Newcastle could certainly get it done. The challenge will obviously be stopping the Liverpool attack and quickly transitioning into offense. So players Cabaye and Sissoko will need to be up for it and they'll need to play some aggressive balls, sometimes hitting 40 yard diagonals that guys like Ben Arfa and Gouffran can take outside of the Liverpool back three.
Newcastle will have to remember that Liverpool primarily want to control the ball out of the back. They want to outnumber you and get it into those wide players. So if Newcastle's front three can press high and eliminate them from doing so, it will make it a lot easier on the midfield three to perform defensively.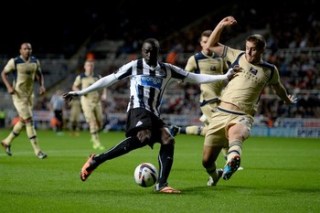 13 PREMIER LEAGUE MATCHES WITHOUT A GOAL FOR PAPISS CISSE, WHAT'S WRONG WITH THE STRIKER?
When Cisse came into the league he was a player who would try things. He scored a couple of outrageous goals like the one he had at Chelsea. He's an instinctive player and I get the feeling that there's too many thoughts going on in his head. Everything with Cisse has become a bit mechanical – his movements, his finishing, even his running style. When he came into the league I thought he looked very lively and athletic. Now, he looks a bit labored.
Confidence remains a difficult component of the game. When you're on top of your game things happen naturally. But when you're not, things slow down. The thought processes aren't that good and I feel that Cisse has been effected by some of the uncertainty at the football club.
Remember that every dressing room has 25 different characters. Some guys are hard, some guys are more sensitive to the teammates, the team, the rhythm. And Cisse looks to be one of those kind of players.
He's what I call a 'streaky striker'. If he scores one he's likely to go and score a goal a game for the next ten matches. Sometimes with a player like that you just need to put your arm around him, make him feel good about himself and then he'll start to produce.
WILL WE SEE LIVERPOOL IN A 3-5-2 WHEN GLEN JOHNSON RETURNS?
Yes. The 3-5-2 is actually perfectly situated for Glen Johnson because it's designed for a full-back who's suited to get into the attack. When he returns from injury you'll see Jordan Henderson be slotted elsewhere, possibly next to Steven Gerrard.
Thinking about Johnson and a 3-5-2 brings up an interesting point about Brendan Rodgers. To me, he's one of those coaches who looks at his squad and then decides what's the best system to get the most out of the individuals. I sometimes find coaches go the other way – they have a squad and try and shoehorn players into the system. This speaks volumes of Rodgers such that he's always looking for what's best for his players.
DOES STEVEN GERRARD SEEM A BIT OFF THE PACE THIS SEASON?
It's interesting you say that because I know Steven well – I played against him towards the end of my career and he's one of my favorite players – but he looked slightly unhappy in that Crystal Palace match. Something in Steven's body language just didn't look or feel quite right.
Rodgers has him playing in more of a sitting role now. This means Gerrard has to be a lot more disciplined than he's ever been and it also restricts his freedom to get up the pitch, which he loves to do.
In this sense, Rodgers has shackled him in a bit and I wonder if that's caused Gerrard to lose a little bit of his enthusiasm almost to say: 'I don't want to sit in, I want to be Steven Gerrard and win tackles, drive forward and score goals.' In his own mind, I don't think it suits Gerrard and on the field, he's not having the same impact.
But I do think it's better for the club as a whole because Rodgers is making him last. He wants to get the best out of Gerrard for as long as he can. And given the way Gerrard has played the game for so long, he is being reined in. It's almost like a recognition that you're not the player you were 10 years ago. I've been down that road myself and it's not easy. So I think Gerrard might be in the mold where he now realizes he's the elder statesman and needs change his game but isn't necessarily happy about it.
SO, IF YOU'RE BRENDAN RODGERS WHAT ARE YOU TELLING YOUR TEAM IN PREPARATION FOR NEWCASTLE?
Stay competitive. Stay consistent. Between now and the New Year, that has to be Liverpool's focus. They also want to stay healthy and keep evolving. Looking back at Liverpool over the last 18 months we've seen Rodgers bring in a few players who can help change the system and progression of how they play. He has what is arguably the best striking partnership in the league and a few established, tricky formations he can throw at teams. But for me, this match is about keeping a sharp mentality.
The mental application of the game is something I think Liverpool have been short of over the last few seasons. They haven't been in the title race since 2009 so the have to stay on an even keel and strive for consistency in their results.
Their biggest advantage this year is that they are out of the League Cup and aren't in the Europa League. This will allow Rodgers more time than any of his contemporaries to break down each and every Premier League opponent, including Newcastle this weekend.
AND WHAT'S ALAN PARDEW TELLING HIS TEAM?
They've done well on the road but they've been poor at home. It's time that they give St. James' Park something to cheer about. It's a 50,000 seat stadium that loves their team. You don't see any red or blue shirts walking around Newcastle, it's only black and white. The players get that. They're very close to the community. So that could very well be the message Pardew delivers to his squad: 'Ok, we've addressed our form on the road but now it's time to give the home crowd something to cheer about.'
And they've got the quality to do it. Newcastle are better when they're controlling the ball, and with offensive weapons like Cabaye, Tiote, Sissoko, Gouffran, Remy, Cisse and Ben Arfa, they can by all means do this. If they play right, they can hurt teams. So I'd look around the locker room and think, we've got something here. Yes, this is a team that needs a bit of a confidence boost so they need to look themselves in the mirror and believe they can make it happen.
They need to take it to Liverpool. Newcastle are much better when they're on the front foot, when they're aggressive. They have one of the best set of athletic players in the league. People who can increase the speed and tempo of the game that will affect the game. They've gone away from that a little bit of late so if Pardew can get it back into the squad, I think they can win games.
Historically, Liverpool v. Newcastle has been one of the blue chip fixtures in the Premier League, two clubs playing attacking football. For Newcastle, it's the kind of game where, if they can beat the second place team in the league, it could kick-start their season and ramp up their self-belief.