With qualification to the 2014 World Cup secured and Germany looking as strong as ever, this deal was always on the horizon.
On Friday it was announced that German national team manager Joachim Low has signed a two-year contract extension to lead Germany through to the summer of 2016.
After taking over from current U.S. national team head coach Jurgen Klinsmann, Low, 53, has led the Germans to a European Championships final in 2008, semifinal in 2012 and a World Cup semifinal in 2010.
The building blocks put in place by Klinsmann and Low in the buildup to the 2006 World Cup in Germany has been seamlessly carried on by his former assistant Low, and the coach known to dress rather suavely in tight-cut pants and fashionable scarfs will now lead the German national team through the 2016 European Championships in France.
Truth be told, his record for Germany is phenomenal with the highest winning percentage (68.69) in German national team history. Yes, okay, they haven't won a trophy to add to their World Cup titles of 1954, 1970 and 1990, but they're looking extremely strong. And if you look at those World Cup trophies they've won, there was a 16 year gap in-between all three… so Germany's next success is certainly overdue.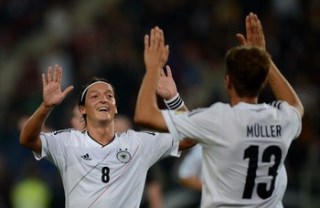 But back to Low's record, since he took the reigns from Klinsi in 2006 they've played 99 times, winning 68, drawing 16 and losing just 15 times. And in their last 17 games, Germany have lost just once with that defeat came against the USA in a 4-3 friendly loss in Washington D.C. back in June. He has a talented squad full of attacking delights such as Mesut Ozil, Thomas Muller, Toni Kroos, Andre Schurrle and Julian Draxler, as young attackers just keep turning up. And veterans Per Mertesacker, Bastian Schweinsteiger and Phillip Lahm keep things ticking over nicely.
He's got lucky with some of the talent he helped Klinsmann nurture, but Low has worked incredibly hard to mesh it all together as the Germans are a formidably strong unit from front to back. They have no weaknesses, and as you can tell from the Bundesliga's recent dominance of the UEFA Champions League he now has more top players to choose from than ever. Low has long been regarded the tactical genius behind the German soccer revolution masterminded by himself and Klinsmann, he's certainly shown that.
Low certainly deserves this new contract, but after finishing third and the last two World Cups and runners up to Brazil in 2002, surely Deutschland is aiming to win the World Cup in Rio next summer? With Low's new deal pinning the hugely successful coach down to the German national team for at least another three and a half years, German stability and success will continue.
All Low needs to do now is complete the final hurdle, and actually win something.
That's the hard part Germany haven't mastered thus far under his reign, Low now has two tournaments to put that right.