When watching soccer on TV, have you ever sat there and wondered what the man behind the microphone really thinks?
Maybe this will go someway to helping with that.
In the latest edition of "View from the Booth" NBC Sports' lead soccer announcer Arlo White talks and touches on plenty more Premier League news.
(MORE: View from the Booth Archive)
You can hear Arlo calling live games this weekend on NBC and NBC Sports Network, and watch every single game available live online via NBC Sports Live Extra,
Let's get to it.
The early game on Saturday sees Newcastle host Liverpool, those two teams have a history of producing plenty of goals, will it be an open game up at St. James' Park?
You can never guarantee goals in a fixture, but the omens are pretty good that we'll see plenty of goal mouth action at St James' Park on Saturday.
These sides have split the last 4 games they've played on Tyneside, sharing 18 goals in the process, with Liverpool registering massive wins of 5-1 in 2008, and 6-0 last season. In Daniel Sturridge and Loic Remy, we'll see the Premier League's top two goal scorers in action.
Luis Suarez look set to renew his partnership up front with Sturridge, and although Suarez has traveled back from South America, his spirits must be high after scoring for Uruguay in a victory over Argentina that at least sealed a World Cup play-off place. Both have scored in the last three Premier League matches.
Newcastle were a shambles in the first half at Everton recently, but since then they've managed to score 4 goals whilst conceding only one, and registered 3 points with a victory at Cardiff. It'll be interesting to see who partners Fabricio Coloccini at the heart of their defense. Mike Willamson seems to have steadied things in place of the struggling Mapou Yanga-Mbiwa, but the challenge presented by Suarez and Sturridge will undoubtedly unsettle whoever plays there.
It promises to be an open and entertaining game, and after his goal at Wembley sealed a place in the World Cup finals for England, don't bet against Steven Gerrard scoring his 100th Premier League goal if he takes the field in the North East.
Southampton are flying high, and are a team you tipped to do well at the start of the season. Can they keep their good form going against Manchester United at Old Trafford? Mauricio Pochettino's high pressure approach could cause United problems, as Liverpool found out at Anfield a few weeks ago…
West Brom hadn't won at Old Trafford since 1978. Southampton haven't won there since 1988, a run of 18 games. I'm sure the Baggies success has given many teams hope that they can go to the home of the champions and not just avoid a trouncing, but actually come away with points.
The Saints find themselves in the top 4 on the back of some tremendous defending, which starts by pressuring the opposition in their own half of the field. They haven't conceded a Premier League goal for a whopping 302 minutes and kept a clean sheet in that famous win at Anfield last month. If Pablo Osvaldo and Rickie Lambert start banging in the goals, the Saints have only scored 7 in 7 games, then Southampton could get even better.
I was at Manchester United's last game against Sunderland. At half time, Lee Dixon and I looked at each other and exhaled, with our eye brows raised. United trailed a winless, managerless, bottom of the table side 1-0, and hadn't impressed at all.
Suddenly, it turned into the Adnan Januzaj show. Will the young Belgian/Serbian/Turk/Croat/Englishman start on Saturday? We shall see. One thing is for sure, Wayne Rooney was lights out for England in their crucial qualifiers and he will be a major force in driving United back to form. I'm sure it irks him that despite scoring 3 Premier League goals so far this season, he's yet to find the net from open play.
What do you make of the whole situation at Cardiff City? I find it hard to believe Malkay Mackay will be fired after mastering a great rebuild over the summer and giving the Bluebirds more than a fighting chance of staying up. Discuss.
The appointment as head of recruitment of a 23-year-old friend of the owners son, who has no previous Football experience, sets alarm bells ringing. Cardiff fans must have been massively relieved that Malky Mackay not only stayed in his job, but was handed final approval on all transfers. But that assurance is bound to be tested in January.
Mr Tan is an interesting character. He has bank rolled Cardiff's ascent to the top flight for the first time in 50 years but also caused consternation when he changed the clubs traditional colours from blue to red. The fans weren't happy about it, but I'm sure they were placated by the success they were celebrating on the field. If Mr Tan's perceived eccentricities become destabilising, and the club start to lurch towards the bottom of the table, then the fans could turn.
You are at two terrific looking games at the weekend. Let's start on Saturday at Upton Park, West Ham take on Manchester City on NBC on What elements are you looking forward to?
There is so much to look forward to. Big Sam Allardyce turns 59 on Saturday and for someone who is often dismissed as a dinosaur in the modern game, he produced a tactical master class at White Hart Lane last time out as the Hammers thrashed Spurs 3-0. His 4-6-0 formation worked a treat. After soaking up the Spurs pressure with relative ease, his side grabbed three goals in 13 minutes towards the end to grab the points.
The pick of the goals was scored by Ravel Morrison. It had shades of Michael Owen in the 1998 World Cup Finals about it, perhaps without the searing Owen pace of yesteryear. Morrison could be a terrific buy for West Ham, and could yet burst into the England World Cup squad. Allardyce will be hopeful that Morrison's midweek spat with Wilfred Zaha whilst on Under 21 duty was just a blip, and that he can keep his head down and carry on his fast track development.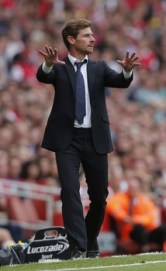 Manchester City are winless in three games on the road so far this season. They need a big road performance before accusations start flying around that they are a very good team with a very soft underbelly. Sergio Aguero was released early from International duty this week, as Argentina had already qualified, which could be a real boost for Manuel Pelligrini.
And Sunday, Villa take on Spurs at Villa Park on NBCSN, Villa need a clean sheet at home don't they?
If you look back to Boxing Day, Villa welcomed Spurs to Villa Park on the back of 3 consecutive clean sheets at home and on a run of one defeat in seven games. A Gareth Bale hat-trick later and Villa had been pounded 4-0. They haven't kept a clean sheet at home in the subsequent 13 Premier League games, and were thumped 4-0 again by Spurs in the League Cup in September.
Villa's home woe is extraordinary. They've only won 7 of their last 35 Premier League games. Paul Lambert has won more away games than home games as manager of Villa. It has to change. Villa Park must become a fortress again before Villa get sucked into another tussle towards the lower end of the table.
But the recent omens offer Villa fans some hope, and it's thanks in no small part to the US National team Goalkeeper Brad Guzan. He's kept two clean sheets in the last three games. His form has been so impressive, despite the porous defense in front of him, that his list of admirers is growing, including Arsenal according to reports this week.
Would the real Spurs please stand up. They are packed with talent, and all the summer signings are still bedding in. They've only scored six goals in seven games, and only four from open play in the whole season so far. How they respond to the home thrashing by West Ham will tell us a lot about the character of Andre Villas Boas' side.