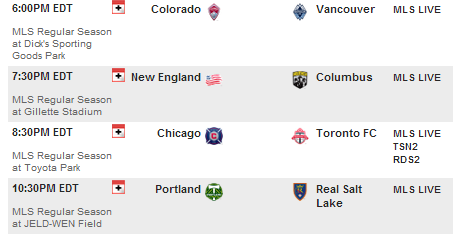 Who has clinched:
Just two teams – which is amazing, really, when you think about it – with just one full weekend remaining? Are you kidding me? New York and Kansas City are in … the rest as still trying to join them.
Who is eliminated:
"The rest" hoping to join, in this case, means a full 13 other teams. That's 13 teams still targeting 8 remaining playoff spots. Only four clubs have been officially eliminated: D.C. United, Toronto FC, Chivas USA and FC Dallas.
Matches tonight (listed above and to the right):
Real Salt Lake's visit to Portland is easily the evening's biggie; A winner out of this one in downtown Portland is in the driver's seat for a Western Conference crown. A draw leaves the possibility open for Los Angeles or Seattle to slip in.
Colorado's match against Vancouver could be for a playoff spot. In fact, Vancouver is out with a loss (although Oscar Pareja's young Rapids are not necessarily in with a win – not yet, at least.
Who is setup to clinch tonight:
There are a bunch of teams that could conceivable clinch on Saturday, but most involve complicated scenarios; all these complicated scenarios are here. The ones most plausible tonight include:
Portland will clinch its first MLS playoff berth with a win tonight at home against Real Salt Lake. As mentioned, that would also give Caleb Porter's team an inside track into a Western Conference championship – and what a turnabout that would be for a club that finished 8th of 9 teams last year and missed the playoffs by quite some measure.
Real Salt Lake would also clinch with a win on Saturday. Seeing as the match is at Jeld-Wen, that one falls on the "less likely" side, although certainly not without possibility.
Montreal can clinch with a win tonight vs. Philadelphia, paired with a Columbus Crew win over New England.
Colorado creeps very close to clinching with a win Saturday night at home over Vancouver, but still needs a Los Angeles to defeat or tie San Jose to book official passage in that case.
Who can be eliminated tonight:
New England, Columbus and Vancouver can all be tossed aside tonight … although it's pretty complicated in the Revolution's case. Long story short: if Jay Heaps' team cannot beat Columbus tonight, then they are in big, big trouble.
It's simple for Columbus, which will be eliminated without a win tonight at Gillette Stadium.
Same for Vancouver, which will be eliminated with a loss at Colorado and may also be officially scratched from the hopefuls list with a draw at DSG Park outside Denver.