Even when he doesn't mean to, he scores.  It's almost too easy.
Andros Townsend scored on a ball clearly meant as a cross, and Tottenham Hotspur won a tight tussle at Villa Park 2-0 over a foe they've controlled in recent years.
Following a good opening spell from Aston Villa in the first three minutes, a very physical midfield battle ensued, resulting in a number of back and forth attacks but no real build-ups.
The first major chance came in the 21st minute when Villa broke and won a free kick on the edge.  Ashley Westwood swung the ball in from a long way out into a very dangerous position, just out of the reach of a sliding Ron Vlaar and touched away by Hugo Lloris.
Villa continued to force Spurs into a host of mistakes thanks to hard pressure on every visiting player who happens to be on the ball.
The pressure also isolated Roberto Soldado completely, leaving him on an island with no source of creativity to feed the target man.
But the dream continued for Andros Townsend, and somehow Spurs got a huge break.
In the 31st minute, Townsend got a feed from Soldado in space well away from the goal on the right wing, and he sent in a cross that missed everyone, including Brad Guzan and ended up in the back of the net.  Guzan expected Soldado to get a touch to the ball, but because he missed the American was left out of position to keep out the cross.
There is no way Townsend meant it as a shot, and all he could manage after the goal was a chuckle and a smile as he was swarmed by teammates.
The goal, while unintended, sprang Tottenham to life, and finally their number 9 began to find help.  Five minutes later a Vertonghen cross found the head of Soldado who put it just over.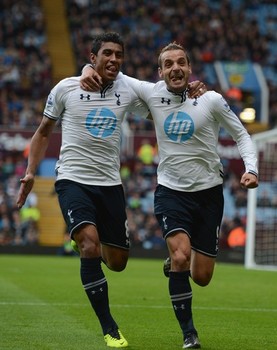 The game slowly opened up as Villa concentrated on running a controlled break.  Andreas Weimann got a cutback at the top of the penalty area in the 42nd minute but drove his shot just wide, having beaten a diving Lloris.  Townsend then nearly found a second as Spurs let fly before the halftime break but Guzan saved very well to his right.
The opening minutes of the second half were slow but the game quickly opened up once again after about five minutes.  Both teams peppered the opposing box, with Spurs creating chances well and Villa content to absorb pressure and play on the break.
Christian Benteke, who began the match on the bench still recovering form his hip injury, returned to Aston Villa action in the 61st minute.  He immediately proved difficult to deal with, as he touched a header over two minutes later on a pinpoint cross from Leandro Bacuna.
The boost gave Aston Villa new life, as they all of a sudden pounded the Tottenham box and lit up the home crowd at Villa Park.
Villa, however, got nothing to show for the pressure they put on the Spurs defense, and the visitors made them pay.  Roberto Soldado picked up his first goal from open play on the season after a brilliant first touch from Paulinho at the top of the box threaded Soldado through for a powerful close-range finish.
The goal left Villa stunned, after they were reaching out for an equalizer.  Instead, Spurs went two up and immediately looked up for a third.  Townsend again came close in the 75th minute but he curled it just over the top-left corner.  Paulinho somehow missed an empty net in the 80th minute as he whiffed on a dangerous Townsend cross.
The win is Spurs' third in a row at Villa Park, and they remain unbeaten in their last 10 against the Claret and Blue.  It pushes Villas-Boas's crew up to fifth in the Premier League table.  Villa remain in 12th, as their three-match win streak is snapped.
GOALS:
Tottenham Hotspur – Townsend 31′, Soldado 69′
LINEUPS:
Aston Villa: Guzan; Bacuna, Clark, Vlaar, Luna; Westwood, El Ahmadi (Sylla, 72′), Delph, Weimann; Agbonlahor (Tonev, 79′), Kozak (Benteke, 61′).
Tottenham Hotspur: Lloris; Walker, Chirches, Dawson, Vertonghen; Paulinho, Sandro, Townsend, Holtby (Dembele, 73′), Sigurddson (Lennon, 66′); Soldado (Defoe, 87′).