Like the rest of her teammates, Australia's Lisa De Vanna will see her efforts forgotten, the cruel nature of sports' bottom lines likely to overshadow the multiple tests she gave Hope Solo. With the U.S. goalkeeper responding each time, finishing the match with five saves, the final looks like most other friendlies the U.S. has hosted through a still-undefeated 2013. The 4-0 final was an apt illustration of the divide between the world's first- and eighth-ranked teams.
Expect more in the weeks to come. Today's match in San Antonio was the first of a three-game stretch, the U.S. Women's National Team closing October with friendlies against New Zealand (Oct. 27, 30). The Football Ferns, however, are unlikely to offer as much resistance as the still-overwhelmed Aussies.
Lauren Holiday got the U.S. on the board early, her shot from just inside the penalty area deflecting off an Australian defender on its way past Lydia Williams. Eight minutes later, a nice, controlled left-footed volley from Carli Lloyd saw Holiday's midfield partner score from roughly the same range, giving the U.S. the 2-0 lead they'd carry through halftime.
Abby Wambach got on the board in the second half, the FIFA World Player of the Year registering her 162nd international goal in the 56th minute. In stoppage time, Christen Press scored her seventh goal in 10 games, giving the U.S. a controlling four-goal win.
That control wasn't complete, however. The defense was caught out multiple times, occasions where the ever-working De Vanna was able to get on to direct balls from her teammates and past the States' defense. The two goals the team had in the second half could have possibly been more if it weren't for a handful of occasions where better execution and finishing would have made this into a truly overwhelming result.
But there are only so many qualms you can have about a four-goal win over quality opposition, and given the point of these matches is to continue improving ahead of 2015 World Cup qualifying, the performance (and its details) was more important than the final score.
And on that performance, here are five things that jumped out: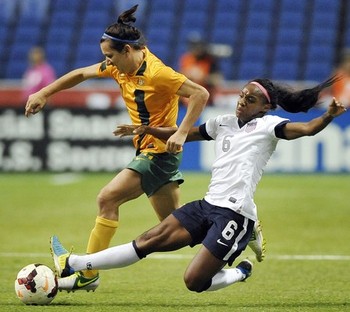 1. Defense gave Australia their chances
We covered De Vanna, somebody whose exceptional work rate can exploit problems in any defense. Thankfully, Lisa De Vanna isn't the greatest finisher in the world; otherwise, the U.S. would have gotten themselves into a shootout.
In her post-game interview, Hope Solo mentioned how excited she was to be playing behind a defense that was playing more two-way soccer, but the cost of that is sometimes being caught out. Maybe a fullback (Crystal Dunn) finds herself out of position. Maybe your central defenders end up isolated. There are costs to any approach, and if the U.S. truly is changing theirs — moving away from a philosophy that saw a natural central defender deemed an acceptable left back at the last World Cup — they'll be a period of adjustment. If this is the direction Tom Sermanni's decided to go, the U.S. will be better off for it, but they may also need Solo to paper over the cracks in the short-term.
Then again, this may have just been a bad day. Maybe we're reading too much into Hope Solo's words. Regardless, if the U.S. had been playing Germany, Sweden, or even Canada, the scoreline wouldn't have been as forgiving.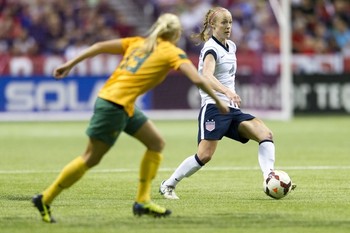 2. Was this Becky Sauerbrunn's best game of the Tom Sermanni era?
If the U.S. is going to play out of the back more, getting their defenders more involved in play, then Becky Sauerbrunn may become the central defender most likely to claim the spot next to Christie Rampone (who did not dress today). Though her range of passing was an issue under Pia Sundhage, Sauerbrunn is great playing the short passing game Sermanni may want. Out of all the people vying for the place next to Rampone, she is the most intelligent with the ball – somebody whose presence could allow both Holiday and Lloyd to push on, given Sauerbrunn and Rampone's comfort with the ball.
All of this was in Sauerbrunn's repertoire before today's game, but today was the first time she really asserted herself. Starting next to Whitney Engen, Sauerbrunn was more aggressive in possession than we're used to seeing her at the international level, flashing the type of game we're accustomed to seeing with FC Kansas City. There she was voted NWSL Defender of the Year in part because of the command she had over games, using not only her defensive instincts but also her offensive awareness to make an impact.
If that awareness starts to exert itself for the U.S., Sauerbrunn will have an advantage Rachel Buehler and Whitney Engen do not. The player domestic soccer fans have wanted to see get more time since she blossomed in Women's Professional Soccer? If today's any indication, she may finally be coming through for the national team.
3. Sydney Leroux out wide, huh?
Sydney Leroux is the best athlete on the team. She can play anywhere, if she wants. Under Pia Sundhage, the natural striker even had a (very brief) spell at right back.
On Sunday, she started wide in a 4-4-2. It's not her natural position, but it gave her a start she covets, and given the U.S. was extremely thin on wide midfielders coming into this game, a solution like this was necessary.
Unfortunately, she didn't have much of an impact. At least, we didn't see her have the kind of impact we often see the Boston Breakers star have in these types of games. Coming off a four-goal performance against Mexico on Sept. 3, Leroux was kept off the scoresheet on Sunday, and while 57 minutes in a role isn't enough to draw any conclusions, it's safe to say Leroux's turn out wide produced mixed results.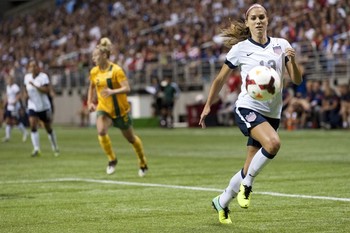 4. Alex Morgan looks healthy
The last time we saw Alex Morgan, she had a near-hip-to-ankle leg brace, trying to protect some injured knee ligaments. It wasn't anything major, but it was enough to slow her down over the last month of the NWSL season. The last time we saw a healthy Alex Morgan was mid-summer.
At least, until today. Morgan looked back to her normal self, constantly sprinting past the Australian defense to get onto balls lofted down the left side. It's the U.S.'s stock way to get Morgan involved. Thankfully, she's back to the point where she can pull it off.
The game also served as a reminder of how much Morgan benefits from playing with Abby Wambach. For Portland in the NWSL, those long balls would often see defenses collapse on her, close own all her options, leaving her with low percentage chances. She led the league in shots and shots on goal but didn't challenge for the scoring title, largely because, for much of the year, she was stranded up top.
Wambach, however, demands a defense only give so much attention to Morgan, and while that's not breaking news, it's interesting to note in light of what happened this past NWSL season. Though Thorns FC has Canadian international Christine Sinclair as a potential partner, for much of the year she was relegated to midfield. Was this game a reminder of how best to use Alex Morgan? If so, 2014 could be a big year for both her and her captain at club level.
5. So does Hope Solo
It seemed like she rushed back from wrist surgery. With the Seattle Reign off to a disastrous start in the NWSL, Hope Solo may have hurried back for a club that desperately needed one of their stars to show up. Between that and persisting questions about the flexibility of her surgically repaired shoulder (from which she hastily returned off to take part in the World Cup), Solo's health remains an issue.
Today, however, Solo looked fine. Actually, she looked more than fine. As De Vanna streaked through the U.S. defense on multiple occasions, she was left on her own to come up big. Just as she did before her surgeries, just as she's likely to do through the rest of this cycle, Solo stepped up.
She didn't hesitate to act. If there was any uncertain about what she could and could not do, it didn't show. Solo didn't hesitate to get down on that Alamodome turf.
Maybe it was a confidence thing, Solo looking shy upon returning for Seattle. Maybe there was rust. Or maybe there really were (are) lingering issues. Athletes break down.
Solo, however, looked like the player who'd claimed the title of world's best goalkeeper. When called upon on Sunday, she was back on that pedestal.