Who clinched … and who is now eliminated
As the weekend began, 13 teams were still in contention for 8 unclaimed playoff spots. Some were more "in contention" than others, so to speak. Still, that's an impressive number, all things considered. But the picture looks much different this morning.
We know the five playoff teams from the West, even if it's something less than official: Portland, Real Salt Lake, Los Angeles, Seattle and Colorado will take part in the post-season. San Jose maintains a mathematical chance but would have to score a ridiculous number of goals next week, and have help. That won't happen.
In addition to New York and Kansas City, who have clinched, five teams now remain eligible for three remaining spots out of the East: Montreal, Chicago, New England, Houston and Philadelphia.
Columbus and Vancouver were the teams officially eliminated over the weekend, along with (unofficially) San Jose. Here's how the standing look; pay attention to that telling red line, which indicates the teams now in playoff position: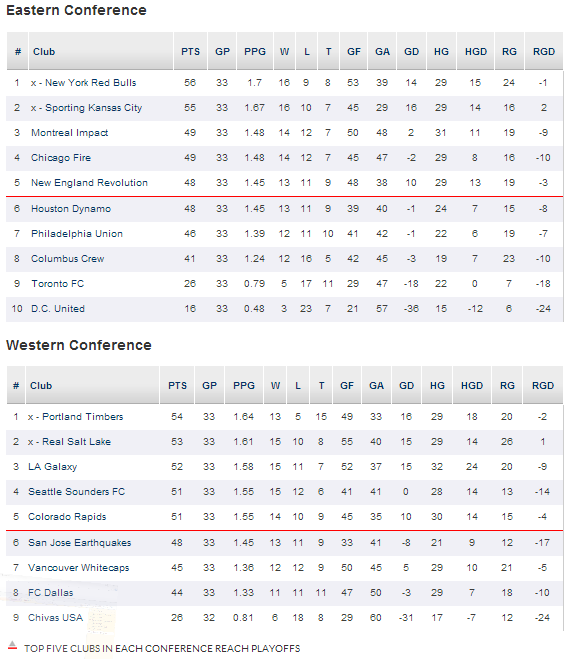 .
Still much to play for
Even in the West, there's still plenty to talk about with Round 35 coming up. Much of it is about teams seeking first, second or third. Remember, the fourth- and fifth-place finishers fact an extra playoff round, and one that puts them on the spot in terms of travel and packing matches into a small window going into the next round. That, and for some teams it's also about …
Supporters Shield race
New York seized the inside track with a resounding (and somewhat shocking) 3-0 win over Houston. Sporting Kansas City and Portland remain within striking distance, but they both finish on the road. New York is the only club that controls its own Supporters Shield fate – and Mike Petke's team has a winnable contest at home against just-hanging-on Chicago.
One MLS match is up Wednesday, then a full round of (nine) weekend matches will decide it all.
The quick goal – the quickest goal ever in MLS
When Deshorn Brown needed just 14 seconds after kickoff to score a few weeks ago, it was the second fastest goal in MLS history. Of course, Brown's goal came at a loiterers pace compared to Tim Cahill's doings. Cahill scored the fastest goal in MLS history, just seven seconds into New York's 3-0 win at Houston.
Here's his goal from BBVA Compass Stadium in South Texas on Sunday:
.
Yes, Seattle is in the playoffs
There surely wasn't any car honking in the streets, but Seattle did, in fact, qualify late Sunday night for the playoffs. It probably falls as cold comfort to Sounders fans, who have seen their team struggle so mightily over the last few weeks – and who cannot feel good about their team going into the post-season. (Although getting some players healthy will surely help.) Either way, it brings us to this …
The growing Dempsey debate
We might be talking even more about the Seattle Sounders unbelievable late-season collapse; Sigi Schmid's struggling club is winless in six, having lost four in a row after yet another setback over the weekend, a 2-0 loss to Dallas. We would be, except that the growing Clint Dempsey discussion is a bit distracting. The count is now up to eight. As in, eight with no goals and no assists for the Sounders. It's certainly not all the U.S. international's fault. In fact, not much is his fault. The team looks simply awful. And, yes, expectations were unfairly exaggerated. But that's what you get with transfer fees well into the millions, and with being the league's highest paid man.
Two 20-goal scorers … and a great Golden Boot race
Marco Di Vaio and Mike Magee scored Saturday, both moving their goal total to 20 for the season, both still in contention for Golden Boot. And it's fair to ask if a league MVP will go along with this year's Golden Boot? It will certainly be an influence on voters.
Then again, Vancouver's Camilo could still have something to say about it. He also scored on Saturday, although in a loss that saw his Whitecaps officially eliminated.
Best goal in Round 33
Considering not just the technical merit, but also that it was a game-winner for Colorado, Gabriel Torres' wonderful left-footed strike against Vancouver checked a lot of boxes. It will go a long way toward getting his Rapids into the playoffs. And it put the Whitecaps out.
.