Our weekly re-ordering of current quality following 34 rounds of league play. Remember, this is an index that combines where these teams are currently in form, along with considerations of the cumulative season results. (Thus, you might see a team like San Jose, which won't make the playoffs, ahead of some clubs that probably will be a post-season participant.)
19. D.C. United – It comes to this: beat Houston at RFK Stadium this weekend or United will set a record for fewest wins in a season ever in Major League Soccer.
18. Chivas USA – The Goats can still say a little something about how the playoff race looks; another bad season for the StubHub Center's second tenant finishes with a visit by Western Conference leading Portland.
17. Toronto FC – Ryan Nelsen's team got a tough break in a penalty kick decision that was harsh at best, just plain wrong at worst. That was the decider in a 1-0 loss at Chicago.
16. FC Dallas – Good: Schellas Hyndman won his last home game, helping heap misery on the beleaguered Sounders in a 2-0 win in North Texas. Bad: two players nearly came to blows as they left the field at halftime.  Locker room accord? Not around there, apparently.
15. Columbus – The Crew hopes were realistically busted two weeks back, but a close loss at New England officially extinguished the hopes for post-season soccer. Does interim manager Brian Bliss stay around, or will the new ownership look for something more flashy?
14. Philadelphia Union – The Union's ability to grind out results has not been as fierce over the season's second half. Prime example: losing a lead at Montreal on Saturday, a result that kept John Hackworth's team below the playoff red line.
13. Chicago Fire – Mike Magee's 20th came from the penalty spot, but it was calmly converted by the league MVP candidate (pictured above) and put Chicago closer to the playoffs in a 1-0 win over Toronto FC. Chicago is in (playoff position) at the moment, but the footing is quite dodgy; they may need a result at New York to stay there.
12. Vancouver Whitecaps – Will manager Martin Rennie stay, or does he need to go? And will a season finale at home against the Colorado Rapids have anything to say about it? The Whitecaps, now eliminated, can finish with a winning record, at least. Rennie's team is 12-12-9 going into the finale.
11. Montreal Impact – Marco Di Vaio's 20th goal was the equalizer in a comeback win over Philadelphia. Marco Schallibaum's club can probably sneak into the post-season with a draw Saturday at Canadian rival Toronto, but a win will definitely clinch a berth in the "second season."
(MORE: MLS Round 34 week in review)
10. Seattle Sounders – The Sounders are in the playoffs, officially clinching late Sunday night. But the moment feels so small because Sigi Schmid and his Sounders backed in (qualifying because San Jose could manage just a draw in Los Angeles.) The Sounders are beat up and reeling, losers of four in a row and winless in six.
9. New England Revolution – Another week, another gutsy result keeps Jay Heaps' team in the post-season hunt. And whatever we are all saying about 18-year-old Diego Fagundez, whose 12th goal was the huge game-winner Saturday over Columbus, it's probably not enough.
8. Houston Dynamo – The Dynamo will probably need a victory at D.C. United, or Dominic Kinnear's team will miss playoff soccer for just the second time in his eight years in Houston. Even a win will not guarantee a spot; Sunday's 3-0 setback at home (where the Dynamo finished 9-4-4 at their previously impenetrable ground) was a huge blow.
7. San Jose Earthquakes – Alas for the Earthquakes, one of the best teams of MLS over the summer and early fall will not be in the playoffs. Sunday's 0-0 draw in Los Angeles sealed the bummer deal. Left to sort out now is whether interim manager Mark Watson did enough to retain the position.
6. Colorado Rapids – When the Rapids beat Vancouver on Saturday night (eliminating the Whitecaps from post-season contention), they took a huge step toward securing a playoff spot. When San Jose could do no better than a draw late Sunday in Los Angeles, playoff soccer for the Rapids became a virtual certainty. Deshorn Brown scored again, continuing to solidify his Rookie of the Year case.
5. Real Salt Lake – Jason Kreis' team has responded fairly admirably to that crushing U.S. Open Cup final loss in Utah. They followed a draw against Dallas (when playing most of the match with 10 men) with Saturday's scoreless draw at Portland. Interestingly, Kyle Beckerman played along the right, rather than in his usual spot in the middle.
4. LA Galaxy – Bruce Arena had his best team available (at least for the start) of a big match against San Jose. Considering how badly the Earthquakes needed this one, and considering how good San Jose has been in gathering up points over the summer and fall, a 0-0 draw wasn't bad for the Galaxy. L.A. will miss Juninho (suspended for yellow cards) in this week's big regular season finales at Seattle, a match that could decide which of those teams finishes third and which finishes in the far less desireable fourth spot.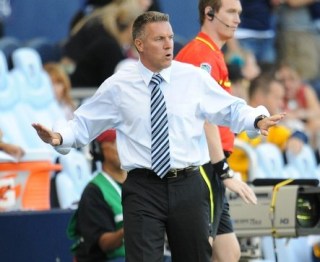 3. Sporting Kansas City – Kansas City needs help for a Supporters Shield shot, but Peter Vermes' team is in the second-best position, at least. If New York hiccups at home against Chicago – not impossible, considering the Fire will feel like post-season elimination is on the line – then SKC can grab the Week 35 Supporters Shield win. It won't be easy for Vermes (pictured at left) and Co., however; Sporting is at Philadelphia, which will also be desperate for a result.
2. Portland Timbers – A scoreless draw at home means it was "mission accomplished," for Portland, even if it didn't feel that way. That single, earned point kept Caleb Porter's team in the driver's seat. A win this week at last-place Chivas would give his Timbers a Western Conference title and the conference's best shot of bringing MLS Cup 2013 to the Rose City.
1. New York Red Bulls – Compared to some other, former Supporters Shield chasers, New York is barreling into the playoffs on a serious upswing. With an impressive 3-0 win (impressive in the result, if not exactly in the method), New York seized the opportunity to grab Supporters Shield with final-day win in New Jersey over Chicago. A draw or even a loss could possibly be enough, but Mike Petke's team will surely want to keep the momentum going.