This will be the most fascinating MLS off-season yet in terms of managerial shakeup and shake-out. Some positions are already open – although it is difficult to tell exactly how many, which is part of the ongoing fun.
Either way, others will almost certainly come open.
Let's get this managerial wheel a'spinnin' and see where it lands:
It's hard to know how many coaching seats are open already because Columbus and San Jose are under interim direction. (Well, as San Jose manager Mark Watson cleverly observed about his profession, they are pretty much all "interim" managers, aren't they?)
Watson took a struggling team at Buck Shaw Stadium, 3-6-6 at the time, and took it right to the edge of the playoffs. The side was 10-5-3 under Watson, some of that surely about getting some important players healthy. So, get a new manager now? Or does Watson get a year before the Earthquakes 3.0 (my words, not the club's) move into their spanking new ground in 2015?
It wouldn't be surprising if the Earthquakes wait a year. It seems less likely that Columbus will retain interim manager Brian Bliss, not in his current role, at least. New ownership is sure to look for a signature hire, as this is Anthony Precourt's first big opportunity to make a decisive, aggressive move, to show where he wants to take the club.
Besides, it looks like the club has already interviewed Guillermo Barros Schelotto (pictured above). That's according to a story in The Columbus Dispatch, and when it comes to Crew Stadium legends, Schelotto's name is at the top of every Columbus fan's list. It certainly should be.
FC Dallas, looking to replace Schellas Hyndman, seems intent on taking its time. But with important roster choices ahead (most MLS contracts expire Dec. 1, and the club has options on which to decide for several players), and with other player personnel elements to work through, wouldn't it makes sense to get it done sooner rather than later?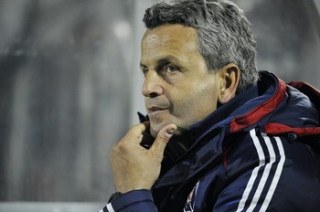 By the way, I spoke to FC Dallas departing manager over the weekend. I always believed that he could manage as long as he liked in Dallas, owing to his special relationship with the Hunt Family. Not only did Hyndman know, love and respect domestic soccer pioneer Lamar Hunt for years, he coached Clark Hunt in college. Hyndman didn't tell me that he was forced out … but listening to him discuss the situation, he sure didn't sound like a man who was resigning on his own or retiring.
In Chicago, it seems fair to wonder if Frank Klopas' job depends on him making the playoffs. You have to squint really hard to find much to like about his time as a technical director or a manager (having put himself in that position mid-stream in 2011, after ownership dismissed a man that Klopas (pictured, right) presumably helped to hire, Carlos de los Cobos).
The team, frankly, didn't respond well to Arne Friedrich's season-long injury. Questionable personnel decisions (Sherjill MacDondald, anyone?) and the inability to get more out of Chris Rolfe won't help Klopas make a case.
John Hackworth at Philadelphia? Yeah, he's still got a pretty young team, but the team's grinding style cannot be called a selling point for the PPL Park faithful who continue to show up in a dodgy neighborhood for soccer that can get pretty hard on the eyes. Plus, playoff soccer has drifted steadily from view since early summer.
The Washington Post's Steven Goff recently reported that Ben Olsen would keep his job at RFK Stadium, although it's still fair to wonder how fans of the Black and Red feel about such a thing? It seems dreadfully hard to sell it to the supporters considering a season that will go down, statistically speaking at very least, as one of the worst campaigns every witnessed in Major League Soccer. (It's even harder to fathom how roster architect Dave Kasper will remain in employment, but there it is.)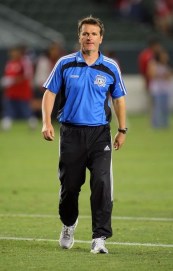 Who knows what will happen with Ryan Nelsen at Toronto? It seems unfair to fire the guy, who put an early end to his playing career to take over at BMO Field upon Kevin Payne's request. Well, Payne is no longer in charge, so …
Rumors have persisted that perhaps former Earthquakes boss Frank Yallop (pictured, left) could be in position for this one (at TFC). Remember, the man in charge at BMO Field, Tim Leiweke, once helped hired Yallop at Los Angeles. Of course, Yallop has long been mentioned as Rennie's possible successor at Vancouver if the Whitecaps make that anticipated change.
Speaking of a potential Cascadia Comeupance, the Sounders have made the playoffs, having sneaked in with the back-up lights on. But Sigi Schmid surely has to advance through one series, at very, very least, to keep the Washington wolves at safe distance.
Chivas USA is always a wildcard. Jose Luis Real could stick around. Or they could hire, I dunno, Diego Maradona! Or that character from the kid's cartoon Go, Diego, Go for all we know. Or Guus Hiddink! Seriously, who knows what wackiness or pleasant surprises could fall from the Chivas tree of unpredictability?
And we'll finish this odd (and yet fascinating) trot around the league here: the coaching carousel will spin that much faster if Real Salt Lake manager Jason Kreis takes the NYCFC position. That would open up a great position at Real Salt Lake, a team blessed with young talent and an owner who doesn't mind spending prudently.