Two slips bookending an otherwise solid performance undid Arsenal on Tuesday, the new ambition of Arsène Wenger's side handed a harsh reminder from one of last year's finalists. An Aaron Ramsey error, leading to a 16th minute goal, and pristine execution on a 82nd minute counter saw visiting Borussia Dortmund take full points from the Emirates, their 2-1 win claiming a valuable road win in UEFA Champions League's toughest group.
The result, along with Napoli's 2-1 win in Marseille, leave three teams tied at the top of Group F, though perhaps more importantly, Borussia Dortmund becomes the first of the trio to draw blood on the road. With home games remaining against Arsenal and Napoli, BVB have the inside track to first place in the group, leaving Arsenal hoping to reclaim lost points two weeks from now in Dortmund.
It took Arsenal 16 minutes and Ramsey mistake's to wake up, a first quarter-hour spent second best to their visitors capped by a goal from Henrikh Mkhitaryan. Ramsey, foolishly trying to dribble through Borussia Dortmund's attackers at the edge of his own penalty area, created the first goal, a turnover forced by Marco Reus helping Robert Lewandowski set up his teammate's finish into the right of goal.
With the lead, Dortmund receded back into their more comfortable posture. Instead of orchestrating the match, they reacted to it, allowing Arsenal to come into the game. By the half hour mark, the Gunners looked like their normal selves, even if they were still chasing a goal.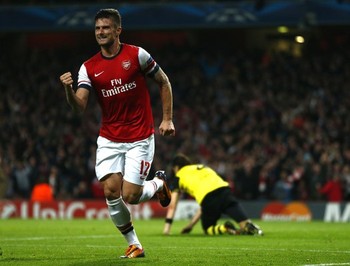 That goal was pulled back just before halftime, in no small part because of Dortmund's lax defending. With Arsenal in possession at the edge of their attacking third, a ball played wide to the oncoming Bacary Sagna gave the Arsenal right back all the time in the world to put a ball right inside the six-yard box. Dortmund goalkeeper Roman Weidenfeller came for the ball but positioned himself to take it on the bounce, leaving his net open as Olivier Giroud got inside Neven Subotic and half-volleyed Arsenal's equalizer home.
Coming out of halftime, Dortmund tried to resume the presence they had at the match's onset, though they found more resistance. Arsenal had woken up, and while Dortmund were enjoying more possession then they had over the first half's final 15 minutes, they weren't generating additional chances. Arsenal still looked the slightly better hide, coming close to a winner when substitute Santi Cazorla hit the woodwork.
In the last quarter-hour Arsenal started pushing for their winner, an impertinence for which they'd pay. One 82nd minute dash down the right from Jakub Blaszczykowski, one sublime far post cross, and an exquisitely finished volley from Lewandowski gave Dortmund their second lead of the match. The counter-attacking posture that seemed ill-advised in the first half paid off in the second, taking advantage of Arsenal's pursuit and a poor decision from Kieran Gibbs to snatch the game-winning goal.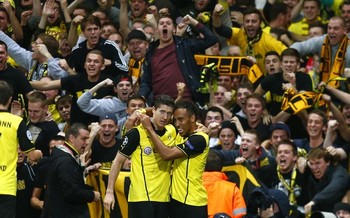 Had Arsenal not been so slow out of the gate, the match may have gone the other way, a difficult caveat to cling to given the Gunners' opportunities to win this match. That they didn't tells of their relative strength in this season of resurgence. Like other recent leaders in England, they've found Champions League to be a much higher level, and while Arsène Wenger's team may yet do damage in this year's tournament, for one night they allowed their fate to get away from them. Borussia Dortmund, despite having lost at Napoli in match one, is now in control of their group stage fate.
That they reclaimed it without three of their normal starters was telling, though we've long gotten used to the absences of Ilkay Gündogen and Lukasz Piszczek. With the likes of Lewandowski and Mkhitarayan, one counterattack or opponent's slip at the edge of the penalty area is all BVB need. More than any other team in Europe, they've become accustomed to making the most of those situations.
Wenger called it yesterday, in his pre-match press conference. What separates Dortmund is their efficiency; their quality. Often content with few chances, their execution makes offsets their willingness to cede control. As Arsenal managed the body of the match, they may have forgotten: Dortmund's as dangerous controlling the match as they are when they're being controlled.
Perhaps Arsenal, just now coming to rips with renewed ambitions, needed to be reminded of the difference between Premier League quality and Champions League excellence. Dortmund provided that tonight.
Tuesday's lineups:
ARSENAL: Wojciech Szczesny; Bacary Sagna, Per Mertesacker, Laurent Koscielny, Kieran Gibbs; Aaron Ramsey, Mikel Arteta; Tomas Rosicky, Mesut Özil, Jack Wilshere; Olivier Giroud
Substitutes: Serge Gnabry, Niklas Bendtner, Santi Cazorla, Tomas Vermaelen, Lukasz Fabianski, Carl Jenkinson, Nacho Monreal
BORUSSIA DORTMUND: Roman Weidenfeller; Kevin Großkreutz, Neven Subotic, Mats Hummels, Marcel Schmelzer; Sven Bender, Nuri Shain; Jakub Blaszczykowski, Henrikh Mkhitaryan; Robert Lewandowski
Substitutes: Jonas Hofmann, Pierre-Emerick Aubameyang, Sokratis Papastathopoulos, Oliver Kirch, Erik Durm, Mitchell Langerak, Julian Schieber