With Samuel Eto'o coming off a weekend brace (and being pulled early from Chelsea's match with Cardiff), many thought the Cameroonian international would start tonight's game in Gelsenkirchen. But Fernando Torres, saved for today's match while recovering from a knee injury, quieted all those misgivings within five minutes. That's how long it took today's number nine to put the visitors up on Schalke.
Despite some first half close calls, the Germans were never able to pull that goal back, and with second half goals from Torres and Eden Hazard, Chelsea had their second road win of their Champions League campaign. Cruising to a 3-0 win, Group E's favorites regained control of their quartet.
The 2011-12 champions came into the day three points back of Schalke, their home loss to Basel to open the tournament leaving them above par for the competition. But after claiming full points today at the Veltins-Arena, Chelsea have pulled even with the Miners ahead of the teams; early November rematch at Stamford Bridge. Closing group stage with games at Basel and versus Steaua Bucharest, Chelsea's have regained the frontrunners' status they'd temporarily lost.
Though they eventually reclaimed that control with ease, the first half hinted Chelsea would have a difficult time. Torres's early goal came ahead of a half where Schalke generated the better chances, with the hosts testing Petr Cech three times without equalizing. In the second half, Schalke maintained their control of the ball, but Chelsea started generating opportunities, Torres's 68th minute goal giving the visitors a commanding lead.
It's the type of performance we've come to expect from the new-look Chelsea, one that becomes more and more Mourinho-esque with every performance. Though on Monday the returning boss alluded to his continued adjustments to his new personnel, his players are clearly adapting to his philosophies. Rather than exert the consistent control that's characterized recent Chelsea teams, this year's group's defined by their execution in moments, something that's a hallmark of all Mourinho sides. While Schalke may have controlled the game's tempo and possession (to the tune of 60 percent of the ball), it was Chelsea that defined the match.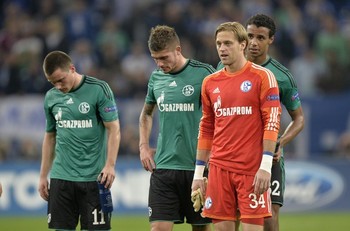 Near match's end, a counter attack looked set to give Torres his hat trick, but isolated one-on-one against Timo Hildebrand, Hazard finished Chelsea's scoring in the 87th minute, putting the visitors up 3-0.
It was another poor performance for a Schalke defense that, having allowed 19 goals through nine Bundesliga rounds, has sparked another downturn for the inconsistent club. Torres's opener provided a good example of their problems, a simple far post cross finding Torres abandoned by Dennis Aogo. Caught on the third goal, Schalke's defense did Hildebrand no favors on Chelsea's last bit of insurance.
With Basel drawing at Steaua Bucharest, Schalke's chances to advance out of Group E were only marginally hurt. Still, the divide between the group's best and second-best teams was obvious. It's unclear why Schalke should expect anything different in two weeks at Stamford Bridge.