Upsets usually require a confluence of factors: A strong performance from the underdog; a downturn from the favorites; and, some luck. Tuesday in Madrid, two of those factors broke Juventus's way, with a slow start giving way to a strong performance augmented by their hosts' complacency. But when two key calls went against them, a 10-man Bianconeri still fell at Real Madrid, 1-1.
Cristiano Ronaldo had beaten Gianluigi Buffon early, his fifth minute goal giving way to a period of Juventus control. A surprise four-man midfield from Juve boss Antonio Conte was controlling play and generating most of the games shots, even if many of them weren't stressing Iker Casillas. In the 22nd minute, however, the visitors finally broke through, a header from Paul Proga onto Casillas's line pushed into the path of Fernando Llorente. The former Athletic striker pulled his side even.
Then bad break number one for Juventus, though you can't fault Manuel Gräfe's decision. Giorgio Chiellini pulled down Sergio Ramos at the edge of the six-yard box on a 26th minute restart. Though the foul may have gone uncalled by less stringent officials, there was little doubt Chiellini had fouled his mark. Two minutes later, an unstoppable shot into the top of Buffon's net gave Ronaldo his second goal.
By that time Real was putting up more of a fight through the middle, but out-manned by Conte's shift in formation, the Spaniards were still second-best for much of the half, While that didn't necessarily lead to a slew of Juventus chances, it did augur well for the Old Lady's second half chances.
Those chances disappeared on the breath of another whistle, one that saw Chiellini sent off. But whereas the Italian international's first half infraction seemed fair, his straight red in the 48th minute was harsh. Defending against Ronaldo on the right flank, his extended arm slipped along Ronaldo's torso, eventually meeting his face. The assistant referee seemed to see the foul as a strike to the head, leading to Chiellini's sending off.
Up a man, Real Madrid's substitutions showed no sign of letting up. Gareth Bale came on for Karim Benzema, temporarily leaving El Real without a striker. Isco came on for the less attacking Asier Illarramendi. Then, birthday boy Álvaro Morata replaced Ángel Di María, by which time Real Madrid had firm control of the match. An insurance goal, however, eluded them.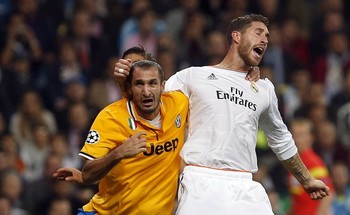 Over the last 10 minutes, Juventus tried to steal a result, forcing Real Madrid into a more defensive posture. Come stoppage time, Real Madrid were allowing the short-handed visitors to dictate the match, opting for security at the back in lieu of pressure at the top.
Ultimately, they were able to preserve their win and their perfect Champions League start. At 3-0-0, Carlo Ancelotti's team is one of four clubs who'll reach matchday four unblemished. While they failed to  play to their potential on Wednesday, they were good enough to take a five-point lead in Group B.
That group currently sees Juventus in third, Galatasaray's win over Copenhagen leaving Juve two points back of the Turkish champions. Staring at another game against Real Madrid, Juventus may yet lose more ground to Roberto Mancini's side, increasing the possibility they'll have to win in Istanbul to reach the knockout round.
Lineups
REAL MADRID: Iker Casillas; Álvaro Arbeloa, Pepe, Sergio Ramos, Marcelo; Sami Khedira, Asier Illarremendi (Isco 72′); Ángel Di María (Álvaro Morata, 79′), Luka Modric, Cristiano Ronaldo; Karim Benzema (Gareth Bale, 60′). Unused subs: Diego López, Fabio Coentrao, Raphael Varane, Daniel Carvajal.
JUVENTUS: Gianluigi Buffon; Martín Cáceras, Andrea Barzagli, Giorgio Chiellini, Angelo Obinze Ogbonna (Sebastian Giovinco, 69′); Andrea Pirlo (Kwandwo Asamoach, 59′), Arturo Vidal, Paul Pogba, Claudio Marchisio; Carlos Tévez, Fernando Llorente (Leonardo Bonucci, 50′). Unused subs: Mauricio Isla, Marco Storari, Federico Peluso, Simone Padoin.