Here we go. Get your popcorn ready.
There was always going to be one big storyline that flared up from Sir Alex Ferguson's eagerly anticipated book launch, and his fiery relationship with former Manchester United captain Roy Keane is now front and center as Fergie lifted the lid on why his ex-skipper left Old Trafford so abruptly.
Ferguson described Irish midfielder Keane as an 'intimidating, ferocious individual' and said he had 'the most savage tongue you can imagine. He can debilitate the most confident person in the world in seconds.'
The former United midfielder, who played 480 times for the Red Devils and scored 51 goals, berated his United teammates in 2005 on MUTV in an interview never aired publicly. After that, Ferguson cut the chord.
"He needs to go, Carlos. 100 per cent. Get rid of him," Ferguson said to assistant manager Carlos Queiroz at the time. "In one deep sense, him leaving was the best thing that could have happened… a lot of players were intimidated by him."
Keane, who Ferguson stood up for throughout many red cards, training ground bust ups and off the field incidents, was also lambasted by Fergie for a confrontation with Ruud van Nistelrooy towards the end of his United career.
"His [Keane's] eyes started to narrow, almost to wee black beads," Ferguson said. "It was frightening to watch, and I'm from Glasgow."
Ferguson also stated that Keane "thought he was Peter Pan" as the sun began to set on his career and injuries hampered his appearances. All of that coupled with Keane's volatile attitude towards club and country was only going to have one outcome.
And here's what Keane had to say in response..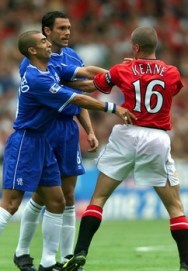 "I'm OK, quite relaxed," Keane told ITV Sport on Tuesday. "I remember having conversations about loyalty when I was at the club and I don't think he knows the meaning of the word. To constantly criticize other players that brought him success … I won't be losing any sleep over it."
Keane, who has enjoyed stints in charge at Sunderland and Ipswich as a manger since retiring from the game in 2007, believes Frrguson shouldn't keep releasing books and slating former players.
"I just don't think the manager needs to do it," Keane said. "I don't know how many books he's written now," Keane said. "A lot of these players helped win a lot of trophies. It's just part of modern life. People like to do books and criticize ex-players."
However, despite all the animosity that obviously now exists between the two, Ferguson praised Keane's achievements but revealed the swift decision to get rid of Keane was for the best.
"He was a great player for me, a great captain but he overstepped the mark and the right thing was done. We had to cut the strings," Ferguson said after Keane was shown the door in 2005. "We did honor his playing career by paying up his contract, we honored his testimonial and he did come in and apologize. But he has come out several times over the last few years and really spoiled that."
We haven't heard the last of this folks.