UEFA Champions League's group stage continues on Wednesday, with Groups A through D completing the phase's third round. With special focus on the day's big match in Madrid, here's a preview of the week's final eight games:
THE DIFFERENCE BETWEEN ELITES AND TITANS
Real Madrid (Spain) vs. Juventus (Italy)
Kickoff: 2:45 p.m. Eastern, Madrid (Santiago Bernabéu)
Real Madrid versus Juventus became the stage's marquee matchup when the teams were drawn in the same group, but although the legacies of both sides rest among Europe's elites, the teams current exist on subtly different levels. Whereas Real Madrid has made three straight Champions League semifinals, Juventus is still trying to find regain their European footing. They've yet to threaten for a UEFA honor since returning to Serie A.
Domestically, they've actually out-performed Real Madrid, winning five honors over the last two seasons (El Real: two), but this year's Champions League has shown the extent of the teams' continental divide. Real Madrid has cruised through opening matches against Galatasaray and Copenhagen, scoring 10 times while conceding once. Juventus have yet to win a game against the same competition.
It's not breaking news to note Real Madrid are probably better than Juventus, but it is interesting to speculate on the extent of that divide. Where most of Juve's recent acclaim is tied to their dominance in Italy, it's worth noting that Italy's prestige has fallen dramatically over the last five years. That drop in stature provides a completely different context to those five Italian honors. And with this year's Serie A having already laid a few bumps in their road, Juventus is looking even more vulnerable that before.
"We always see our mistakes and try to work out solutions," Juventus head coach Antonio Conte said, addressing Juve's 4-2 loss this weekend to Fiorentina. "We try to improve and I think we have done these past two and a half years [under Conte]. It's true we are making some individual mistakes we shouldn't be. We are working on it and are sure we can move forward doing what we are doing."
With that mindset, Juventus's results may be a momentary downturn. It's not like Real Madrid hasn;t had its own share of domestic hiccups. Yet in this battle of European titans, there's one team that's slightly more titanic than the other. Whereas the addition of Carlos Tévez was supposed to help Juventus push on, seeing an attack that features Cristiano Ronaldo, Gareth Bale, Isco, Angel Di Maria and/or Karim Benzema puts things in perspective. Right now in Europe, there's elite, and then there's super elite.
"They are potential UEFA Champions League winners, Conte says of Real Madrid, "but we will be positive; we have no fears."
That's not to say Real Madrid are unbeatable (clearly, they aren't), but it does highlight Juventus's task. Over the next 180 minutes, they'll be trying to take down a team that's on a distinctly higher level. And worse, because they stumbled in their first two rounds, Juventus may need to claim some points. If a talented Galatasaray gets their act together under Roberto Mancini, Juventus could be left to rue going the first three or four rounds without claiming full points.
Ins and Outs: Xabi Alonso's still out for Real Madrid, but that's it as far as their absences. Gareth Bale, Karim Benzema, Fabio Coentrao and Raphaël Varane, all doubts this weekend, are eligible to be selected on Wednesday. For Juventus, Mirko Vucinic, Fabio Quagliarella and Stephan Lichtsteiner are all out.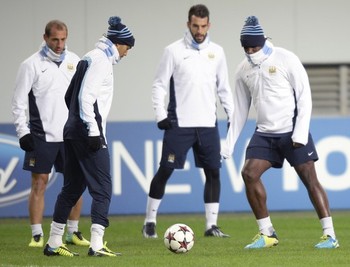 MANCHESTER CITY'S MOMENT OF TRUTH
CSKA Moscow (Russia) vs. Manchester City (England)
Kickoff: 11:00 a.m. Eastern, Moscow (Khimki Arena)
Until Manchester City claim a spot in the knockout round, there'll always be doubts about whether they've made the changes necessary to transcend their previous failures. Bringing in Manuel Pellegrini's nice, and a summer spend that brought Jesus Navas, Fernandinho, Alvaro Negredo and Stevan Jovetic to Manchester can't hurt, but until they've actually clinched a spot in the tournament's second round, it's all means without an end.
A Wednesday win over CSKA would be a huge step forward. The Russians are going to be City's biggest obstacle to reaching the second round, an obstacle they'll be through with in two weeks' time. If City can take four points in these next two games, they'll put one foot into the final 16. Get full points in Moscow, however, and the Citizens will have dealt their prime opposition a swift, potentially decisive blow.
"Neither team will qualify or be eliminated after the game," CSKA head coach Leonid Slutsky explains, "but it will be crucial in terms of our hopes of making the knockout stage. The third and fourth matches in the group are always key."
Consider the implications for City if they slip – if, with six points available over the next two games, they only get three. They'll remain even with CSKA in Group D. Both teams have a game remaining with Bayern Munich, but CSKA's is in Moscow. If City doesn't out-point the Muscovites over the next two rounds, another crash out of Champions League becomes far more likely.
That's the importance of Wednesday's game. If they can't get a point, they set out on a course that relies on fortune, upsets, or tie-breakers. Even if that gets them into the final 16, a team of City's talent should still pulling away from CSKA, not competing with them.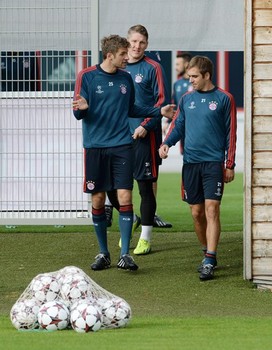 FAVORITES TRY TO PULL AWAY
Bayern Munich (Germany) vs. Viktoria Plzen (Czech Republic)
Kickoff: 2:45 p.m. Eastern, Munich (Allianz Arena)
Manchester United (England) vs. Real Sociedad (Spain)
Kickoff: 2:45 p.m. Eastern, Manchester (Old Trafford)
Anderlecht (Belgium) vs. Paris Saint-Germain (France)
Kickoff: 2:45 p.m. Eastern, Constant Vanden Stock Stadium (Brussels)
Three Wednesday games feature group favorites matched with teams sliding toward the bottom of their groups. With back-to-back wins in these next two rounds, those favorites and pave their paths to the knockout round.
For Bayern, Pep Guardiola's trying to say the right, respectful things of his visiting minnows, but the emphasis is on the defending champions. Philipp Lahm's expected to be back at right back, Bastian Schweinsteiger should resume a holding role, and the newly healthy Mario Götze will be back in midfield. How Bayern plays with something resembling their first choice team will be as interesting as their opposition.
With Manchester United, it's all about the performance, with onlookers guaranteed to dissect the match looking for progress under new manager David Moyes. Hosting Real Sociedad, that progress won't be measured in a win or loss. United's expected to not only win but impress while doing so.
In Brussels, Paris Saint-Germain will try to maintain their perfect record against an Anderlecht side again struggling to make an impact in group stage. PSG coach Laurent Blanc has said a win is a "must," a demand looking more toward the knockout rounds than Group C's dynamics. If his team is going to accomplish it's bigger goal (having a real impact in Champions League), they need to manage the smaller ones.
Others
All matches kickoff at 2:45 p.m. Eastern time.
The rest of the day's matches feature teams hoping to position themselves for their group's second spot. In two cases, those teams are seen as the second and third best sides in their groups, while the other duo will hopeto collect enough points to compete with Juventus in Group B.
Galatasaray (Turkey) vs. Copenhagen (Denmark), Turk Telekom Arena, Istanbul – Coming off a draw at Juve, the Turkish champions hope their new coach, Roberto Mancini, can help them push for a second straight appearance in the knockout round. That goal means getting the best of Copenhagen, with a home win on Wednesday crucial to their upset hopes. It's uncertain how the Danes will cope with the Istanbul crowd.
Bayer Leverkusen (Germany) vs. Shakhtar Donetsk (Ukraine), BayArena, Leverkusen – Two teams with similar levels of talent meet with vastly different Champions League experience. Mircea Lucescu's Skakhtar side has been in this situation before, whereas a Leverkusen team that has less experience showed their nerves against Manchester United. Both teams are extremely dangerous going forward, potentially testing who blinks first. Will Sami Hyypiä be the first to protect his defense? Or will Lucescu feel the need to offset the threats of Stefan Kießling and Sidney Sam.
Benfica (Portugal) vs. Olympiacos (Greece), Estadio da Luz, Lisbon – Paris Saint-Germain's going to win this group, but Benfica and Olympiacos are vying to claim Group C's second knockout stage spot. Both teams have beaten Anderlecht and lost to PSG, results that could be replicated in the group's last two rounds. How these two do against each other should decide who's still in this tournament come February.