Consider the magnitude of star it takes to overshadow the huge collection of talent they're accumulated at Paris Saint-Germain. We're talking about one of the world's best defenders (Thiago Silva), a world-class number nine (Edinson Cavani), a uniquely exciting attacker (Ezequiel Lavezzi) and a player that many have called the next Andrea Pirlo (Marco Verratti).
Imagine the type of talent that can put distract from all those stars, and you'll come up with some version of Zlatan Ibrahimovic – a player whose combination of skill and gravitas overshadows one of the most expensive rosters ever assembled.
That squad won on the road in Champions League by five goals on Wednesday, a performance that would normal be triumphed as a rare show of excellence. Instead, after their captain's four-goal performance, Zlatan will be the story coming out of Anderlecht. And he only needed 62 minutes to write it.
"Ibra" started his day in the 17th minute with one of the easiest goals you'll ever see him score. A perfectly placed ball from Gregory Van der Wiel went through the six-yard box, between goalkeeper and defenders, and onto Ibrahimovic's foot. The redirection proved the most mundane goal of Ibra's day.
Five minutes later, Ibrahimovic slightly over-ran another ball from Van der Weil while attacking near-post. To compensate, he allowed the ball to run onto his trailing right foot. The Swedish international then hit a back heel that beat Thomas Kaminski – the type of shot that forced you to ask whether he was setting up for the back heel all along.
Ibra's third goal came in the 36th minute and will be the one you'll see over-and-over during the next 24 hours. With a right-footed shot first time from 28-yards out, Ibrahimovic flexes the back of Anderlecht's net with a ball stuck as well as you'll ever see: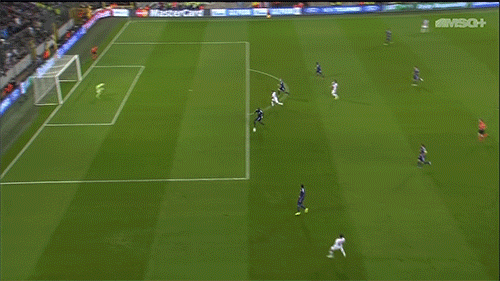 In the second half, after his team had found a fourth, Ibrahimovic finished with the most surgical finish of his night. Put behind the defense and into the right side of the penalty area, Ibra hit a bouncing ball from a sharp angle against the left post, the path of the rebound across goal sending his shot into the near-side netting.
Given the angle and where he hit the ball, that spot may have been Ibra's only option. To the left, and it goes off the post and out. To the right, and it finds Kaminski's hand. He not only hit it, but he did so with the same degree of intent he put behind his third goal.
Talk all you want about Messi or Ronaldo, Ibra's attitude or persona, but there's only one player in the world that consistently does things like this. And when you hear people fawn over him, comparing his play to artistry, they're talking about nights like this, where Ibrahimovic not only finds one highlight reel goal but strings together three or four.
This isn't luck or happenstance. This isn't a guy asking 'why not' every time he tries something new. This is intent. This is skill. This is a man who expects to score when he hits a ball from a near-impossible angle, the reason why Ibra gives us three or four like this each year.
It's also why we watch European soccer. It's for performances like these. It's for nights like tonight. It's for the transcendent talents who, at any moment, remind you of what can be done with a ball – a lifetime's worth of work coupled with the type of imagination that sees a clearance rolling out of the penalty area as a chance to swerve a shot into the upper-left hand corner.
Talk about Zlatan's arrogance if you want, but when we see nights like this, anything else would be false modesty. There's no arguing what this guy can do with a soccer ball. Or, in the case of his last two goals, what he does to a soccer ball.
Performances like these are what it's all about.