Playing Champions League games in the midweek before the final Major League Soccer weekend of the season is a tricky proposition, but three of the four teams involved came out of it well. Only one failed to qualify for the quarterfinal round, while the other three topped their three-team groups to advance.
(The Montreal Impact was idle, having already finished group play, but with the San Jose Earthquakes' victory, the Canadian club was eliminated.)
After these games, focus returns squarely to the MLS playoffs and off-season, with the quarterfinal round set to commence in March, just before the 2014 MLS season kicks off. Here's how the four American teams involved in Champions League fared this week:
Sporting Kansas City 0-0 C.D. Olimpia
All Kansas City needed was a draw, and that's exactly what it got. With an important league game on the weekend that will decide whether Sporting wins the Supporters' Shield, head coach Peter Vermes will feel good about getting the crucial point without playing at 100 percent intensity.
San Jose Earthquakes 1-0 C.D. Heredia
Chris Wondolowski scored the only goal as San Jose secured a place in the quarterfinal round on goal difference. The Earthquakes will be without center back Clarence Goodson, as he received a second yellow card for time-wasting in stopping time.
Árabe Unido 1-0 Houston Dynamo
Finding a result in Panama proved to be too difficult a task for Houston, as it lost on a 61st-minute goal. The Dynamo rested the majority of its first-choice players, with an eye on its league match at D.C. United that it has to win to qualify for the MLS playoffs. If Houston fails to qualify for the playoffs, then that will be two competitions from which they have been bounced this week.
Isidro Metapán 4-0 Los Angeles Galaxy
Nicolás Muños scored a natural hat trick in the span of four first-half minutes, and then he added another eight minutes later for good measure on the way to burying the Los Angeles Galaxy. The away team did not need a result, as qualification for the next round was already assured, but the heavy loss hurt its quarterfinal seeding.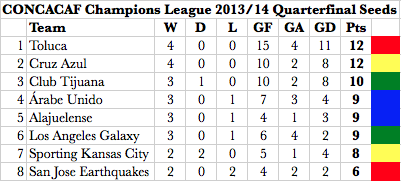 Quarterfinal matchups (seeding based on group record): Toluca vs. San Jose Earthquakes, Cruz Azul vs. Sporting Kansas City, Club Tijuana vs. Los Angeles Galaxy, Árabe Unido vs. Alajuelense