There's nothing quite like a clash between two title favorites and that's exactly what we have this weekend when Chelsea welcome Manchester City to Stamford Bridge (Sunday 12:00pm ET on NBCSN or watch live via NBC Sports Live Extra).
With two very distinct styles of play, breaking down what makes each side so dangerous is crucial.
So I sat down with NBC Sports Premier League analyst Kyle Martino to chat about what's in store for Sunday's big match.
Let's get stuck in.
IS THE CITY MATCH TAILOR MADE FOR A JOSE MOURINHO COUNTERATTACK?
Absolutely. Think back to the Manchester United game where Jose Mourinho tried that tactic but United were unwilling to make risky plays. They were unwilling to get frustrated and bite and start to commit more numbers forward and start to play a more risky style of soccer. And when it comes to City, that's their makeup – they're going to take risks and they're going to get plenty of players into the attack. So the counter-punch style of soccer that Mourinho likes to play feels like the perfect fit to disrupt City.
Mourinho is so funny because he's been talking about things like entertainment value and wanting to play a more attractive style than in the past but if you really look at Chelsea, they're more direct now than they've ever been before. They're playing so many long balls over the top and they're also much more defensive than they've been in the past. So Mourinho is painting this picture like they're going to be more attractive and entertaining than they've been in the past but I think the opposite has been true so far this year – and that's not necessarily a bad thing.
Perhaps the best example of Mourinho's pragmatic approach was when he won the 2010 Champions League with Inter Milan and they beat Barcelona in the semi-final in doing so. His approach to that matchup was very calculated and defensive but it worked. So now we see him coming out and telling the public that he wants his side to play entertaining soccer but at the end of the day, I don't think he cares if people don't like the way he's winning games, as long as he wins them.
For Mourinho it's all about three things – being pragmatic, getting results, and proving he can out-smart other coaches while doing so.
IS CHELSEA'S GAME PLAN AGAINST TITLE CONTENDERS SIMPLY TO AVOID LOSING?
There is an air about Chelsea that they're going into some games – like against Manchester United and Tottenham – and they're not necessarily trying to win rather they're simply trying not to lose. And if they happen to win that way, then great.
It's a lot like that Johan Cruyff quote, the "Italians can not beat us, but we can certainly lose against them." You get the sense that's Mourinho's philosophy. And it's not always pretty, breath-taking, intricate soccer but that approach of dropping into a low-block defense and closing down the passing lanes is effective and one Mourinho will use to frustrate City. This kind of plan will play out over the season and at the end of the day I don't think anyone with a medal around their neck is going to look back and say 'Man, I wish we would've won it in a different way.'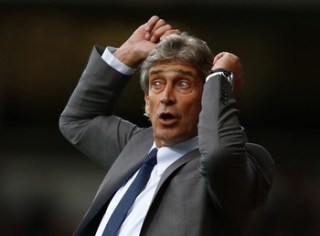 DISCUSS MANUEL PELLEGRINI'S APPROACH TO THE CHELSEA GAME
For the most part Pellegrini's team is set up to run on it's own. I think he does a lot of tactical work during the week and I think he's a very smart man manager. That's what people talk about – Pellegrini is so good at rotating the squad and keeping wraps on different personalities. He's already rotated his strikers, midfielders and defenders – and I think on the day when you have Silva playing the way he is and you have Nasri as confident as he is that's all because Pellegrini's personality and set-up gets the best out of these guys.
On the day there will be a couple tactical changes Pellgrini may make but he's already established a system that's bringing the best ever performances out of Yaya Toure, David Silva, Samir Nasri and Segio Aguero. If you simply let those layers operate on the day, that's going to take care of the work they've done during the week.
STYLISTICALLY, IS CITY A DIFFERENT TEAM THIS YEAR?
100%. There was a lot of talk when Navas was brought in about him giving City more width, which was needed because they were a little bit narrow last year. And I think Navas does give them another look and that he has been good when he's played but I don't think that moves the needle that much because they're still a relatively narrow team.
The biggest difference is Pellegrini's reliance on strike partnerships and keeping two high forwards. If you think back to Roberto Mancini's tenure at CIty, he usually played with one relatively high forward but at other times they never even had a striker pushed up because too often players wanted to get wide and create. But now Aguero and Negredo stay very high and at times will interchange as to who leads the line.
I think the reasons why City are finding a lot of success and scoring goals at a tremendous rate are two fold. First, there's that preternatural understanding that Aguero and Negredo seem to have, as evidenced by Negredo's dummy that put Aguero through on goal last weekend. Second, City have such weapons in the midfield that the forwards don't have to come back and crowd them. The forwards can let Nasri, Toure and Silva bring them game to them. So that allows Aguero and Negredo to stay high and occupy the opposition's center-backs for 60+ minutes every game, which can be really difficult to play against. So for me, that's why City is a completely different team now than what we saw the last two seasons.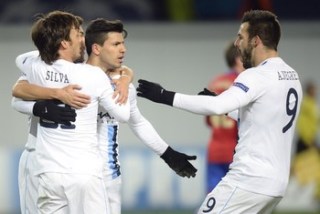 SAFE TO SAY THAT AGUERO AND NEGREDO IS CITY'S PREFERRED STRIKE PARTNERSHIP?
Negredo and Aguero is the partnership that we'll see more often than other permutations but being in multiple competitions including the Champions League means we will see plenty of rotation. We'll see Edin Dzeko come back in the fold but the constant will be Aguero.
It will be Negredo/Aguero, Dzeko/Aguero and Jovetic/Aguero. When the season began Pellegrini had Dzeko ear-marked to be his go-to striker and through preseason the question was – Who will partner with Dzeko? Now the question is – Who partners with Aguero?
The preferred choice is clearly Negredo. The difference between Negredo and Dzeko is consistency. I think Dzeko had a few very good games early on but then he had a couple of matches where if he didn't score, he didn't make a difference in the game.
FROM A LEAGUE WIDE PERSEPCTIVE – HOW GOOD IS THE AGUERO/NEGREDO PARTNERSHIP?
Very good. But are they better than Luis Suarez and Daniel Sturridge? I don't think so. Not yet.
To me, SAS are so impressive because Liverpool don't have the midfield quality of City and because the Reds haven't played a consistent 90 minutes all season. I think when Philippe Coutinho gets healthy things may start to change but for now it's been Suarez and Sturridge stepping up in a big way so for that reason I'd give them the slight edge over Aguero and Negredo.
HOW IMPRESSED ARE YOU WITH NEGREDO?
Very impressed. Partially it's because of the scoring but moreso it's because, like Giroud at Arsenal, if Negredo isn't getting you a goal, he's getting you an assist or making a difference in the game. He's constantly setting guys up and putting them in dangerous positions. Negredo has accepted that Aguero will be the leading goal scorer and realizes that if that's the case, he needs to be making a different impact in the game.
It's the multi-dimensional aspect to Negredo's game – being a set up man, strong in the box, good in the air, great with his back to goal, comfortable with the ball at feet and constantly creating chances for himself – that makes him such a well rounded forward. And I think what City are trying to pull off with a 4-2-2-2 doesn't really work unless there are two forwards who are working in tandem with one playing with his back to goal and staying underneath and bring his partner into play.
Negredo has always been a great player. I mean, if you make it into the Spain team as a striker, you're something special. But right now I think we're seeing a Negredo who is at the very top of his game, even better than he was at Sevilla. And I believe that a;; goes back to the influence of Pellegrini.