Abby Wambach, Alex Morgan, Sydney Leroux and Christen Press have combined to score 30 of the United States women's national team's 47 goals this year. All four are world-class forwards, but for the most part only two of the players are on the field at the same time.
Sunday's 4-0 win over Australia, in fact, marked the first time that Wambach, Morgan and Leroux all started in the same match, despite all being national team regulars – a sign of coach Tom Sermanni's dilemma. it's a good problem to have, to be clear.
"It's more of a management thing for me rather than to be concerned about who is going to score goals today," Sermanni said. "It's a slightly different problem than most teams (have)."
Sermanni has the U.S. playing in a 4-4-2, with a quartet of forwards who could start for almost any team in the world. And his best solution it seems is to keep two of them on the field, with the other two ready to step in at any moment — and not necessarily at forward.
A 4-3-3 could be a solution, but Sermanni says all four of Leroux, Morgan, Press and Wambach are best in central positions. And the U.S. women are equally deep in the midfield, with talent centrally and on the flanks.
"If you've got three up top, I don't think that the balance of our strikers, in general, is a three up top scenario," he said. "I think that what is better when you've got a major central striker – which we obviously do have – and two players who are more comfortable in wider roles, we tend to have strikers, in general, who are more comfortable in central roles, and then we have very good wide midfield players."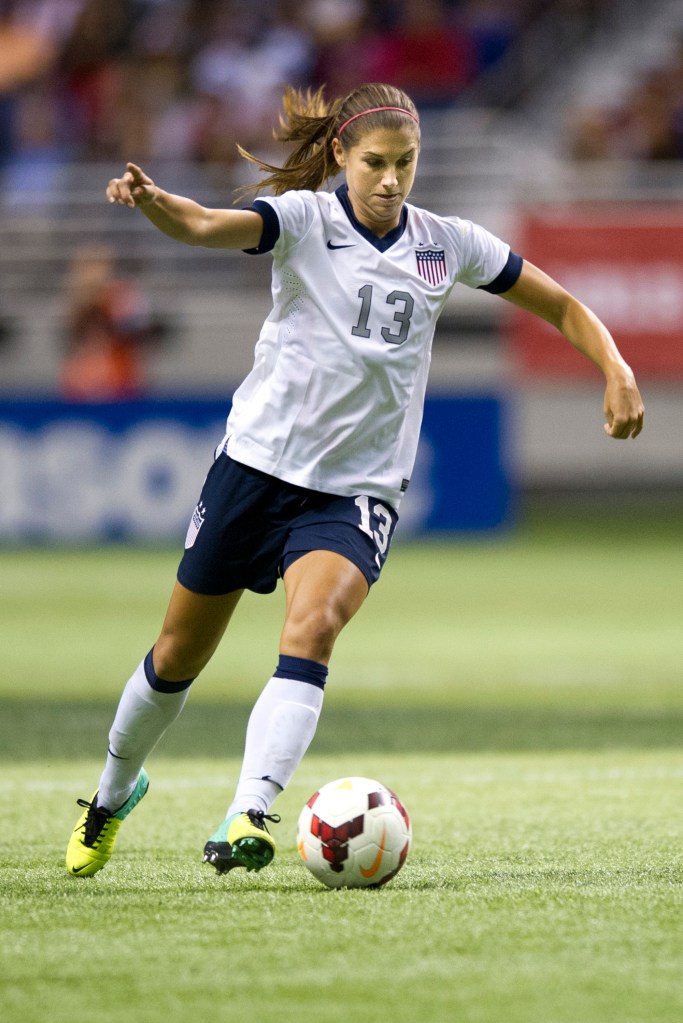 Those wide players include mainstays Megan Rapinoe, Tobin Heath and Heather O'Reilly, who are equally necessary on the pitch. The United States' midfield is crowded, too, with young group of up-and-coming players to join the three aforementioned, plus Lauren Holiday and Carli Lloyd centrally.
Sermanni did start Leroux out wide on Sunday and played Press there when she entered the game for Leroux in the 57th minute. Leroux played okay there given the short amount of preparation for the role, Sermanni said, but it wasn't any indication that she'll be converted to a wide player..
"I put her out there because I think she deserved to start in the team given the squad that we had and the way she's been training and playing," Sermanni said. "When she does play up front she can drift out to the left side so she's not uncomfortable over there and she did play a couple of times on that side for the Boston Breakers. It's not the perfect role for her, but under the circumstance, it was the best fit for the team in this game."
Press has seen time on the wing with the U.S. throughout the year, and said she's willing to adapt to whatever Sermanni asks of her. Whether it's up top or as a wide midfielder, whether starting or in reserve, her goal is the same as the rest of the group's: To be in Canada in 2015, and to help the U.S. lift its first World Cup in 16 years.
There is time for Sermanni to figure out how to best use his star strikers. How he manages their minutes and roles at the 2015 World Cup could look similar to how he is doing it now: Use Leroux or Press on the wing in a pinch, but primarily look to them as a spark in the second half.
The last thing any defender wants to see midway through the second half, after chasing around Alex Morgan and keeping track of Abby Wambach all game, are the speedy, dangerous Leroux and Press standing at midfield, waiting to enter the match. And 18 months from now, there's nothing to say that the roles might even be different. Any combination of the four in any role is intimidating and productive.
"I think that every team you play for, you have to change," Press said from San Antonio on Monday after U.S. training. "As I've become a more veteran player – not that I'm a veteran player – but I've learned that I played for three teams in the last three years and every time I've had a different role. If I'm asked to change again, that's something I can do and I'll do willingly."