When watching soccer on TV, have you ever sat there and wondered what the man behind the microphone really thinks?
Maybe this will go someway to helping with that.
In the latest edition of "View from the Booth" we chat with NBC Sports' lead soccer announcer Arlo White about how USMNT 'keeper Tim Howard has been preparing for his NBC Sports commentary debut live on NBCSN for Chelsea vs. Manchester City on Sunday. Everton star Howard will become the first active PL player to call a NBC Sports game, when the Blues host the Citizens at 12pm ET at Stamford Bridge.
You can hear Arlo calling live games this weekend on NBC Sports Network, and watch every single game available live online via NBC Sports Live Extra,
So, let's get to it.
How are you feeling about being alongside Tim Howard for the call on Sunday?
I am absolutely delighted that Tim's on board for this weekends game, it's going to be fascinating to hear the insight of a current player. When you think about it, he's going to be alongside me, talking into a microphone less than 24 hours after he's played a Premier League game himself for Everton against Aston Villa.
How much of an asset will it be to have an active Premier League player on board? What preparation work has Tim been doing?
Here's a guy who has played against both team that we're going to be commentating on this Sunday. Everton had a famous win, 1-0 over Chelsea which was actually Chelsea's only defeat this season. And they had a 3-1 defeat at Manchester City, so when it comes to playing these sides and facing the strikers, the ball players, the free kick takers and the corner takers on both sides, Tim is going to have insight like no other. I sat down with him for two or three hours during the week, as we talked with our bosses about exactly what was expected of Tim. He came armed with a ton of questions, bags of enthusiasm and a lot of soccer savvy. He can't wait. He's of course now focused on the Villa vs. Everton game though, as he should be.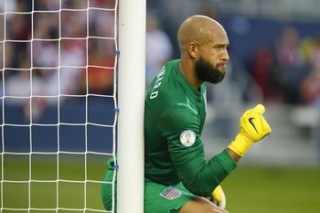 As a great professional, I'd imagine Tim was extremely thorough with the prep work. So, how prepared are you guys for Sunday?
Well, the sort of questions Tim had were far reaching. I mean this is his first time doing this. It was everything from player pronunciation, if he knows a player through a different pronunciation than I've got should he adhere to me or should we have a chat about that before the game. Which I said yes, we should. We will make sure we get it right, but it was great that he was concerned. Everything from 'what should I wear,' to 'headphones am I wearing' and 'which microphone am I using.; He is very, very thorough. He's preparing for this with the meticulousness of a professional, in the same way that he prepares for a stint between the sticks in the Premier League.
Run us through the game on Sunday, how will things go from when you arrive at Stamford Bridge?
In terms of preparation, we will get to the stadium a little bit earlier than usual. Probably three and a half hours rather than the usual three. We're going to go through a couple of rehearsals, we're going to talk to each other and I'm going to show Tim exactly what buttons to press to speak with the studio back in Stamord, Connecticut or also the truck we have outside Stamford Bridge. It's all about getting Tim comfortable in his surroundings and inevitably, as is the case with all of us as football fans, when the game starts I'm sure we will snap into a nice rhythm because we get on very well away from work anyway.
It must be a huge advantages to have Tim on board, seeing as he plays against these guys week in, week out?
As I said, to have someone who played against these guys and to have insight into, for example, the mindset of Joe Hart because the two of them have had a chat recently… I won't tell you exactly what was said, we'll have to wait for the broadcast. But that's what we are looking for. I'll have the facts and figures and players stats, story lines and histories between the clubs all written down as per usual. That's what the week is for to prepare for, and it's down to me to get the very best out of Tim. I think he's going to be really up for it, and I'm looking forward to working with him.
What kind of co-commentator will Tim be?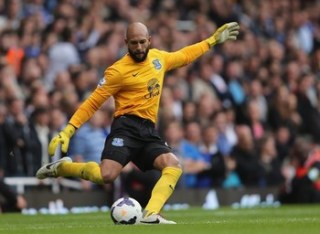 I honestly don't know. Until we get out there and actually do it for real. I think inevitably, he is a current professional in the Premier League. So, it's going to be a challenge for him to be able to criticize other professionals. He will have to find a way of not upsetting anyone I suppose, but still doing his job on behalf of the viewers of the United States. He's aware of that, and I think he's got to think about that, exactly how he does it. He's got to have his view, but he's not an egotist Tim. he loves the game. He's not keen to say 'I would have done this,' because he doesn't want to come across as someone being wholly arrogant. He knows how difficult it is to be a goalkeeper and a player at this level. Tim brings a great deal of intelligence, enthusiasm and considered thought to the situation. And obviously working with Lee Dixon and Graeme Le Saux is phenomenal. Every game is like an education. They have so much knowledge, are terrific broadcasters and very decent chaps as well. They are our guys and I know the viewers rate them very highly as well. Tim will bring a different edge to this weekend."
Obviously Tim is someone respected across the game, how long have you two known each other?
I've known Tim for a couple of years. Every interaction I've had with him has been a very positive one. He has been in the Premier League for eleven years, he has played for Sir Alex Ferguson and for David Moyes… two guys who just happen to be in the news quite a lot at the moment. He's played against all the players you could possibly imagine in the Premier League that have been lighting it up. He's played in World Cups, he's qualified with the United States. Tim's been at the forefront of the game internationally and domestically for a long time.
What will be the some of the challenges you face on Sunday's broadcast?
One of the challenges will be, he's probably got so much to say and so much information he wants to impart, that we have to temper it and make sure we don't talk too much. It's about getting the best stuff out of him. That's going to be the challenge.