On Saturday evening in Barcelona, arguably the greatest rivalry in world soccer kicks off for yet another season.
This year, there are plenty of new faces involved in the game known across the globe as 'El Clasico' but two new names in particular are set to get the crowds going at the Nou Camp: Neymar and Gareth Bale.
Signing for Barcelona and Real Madrid respectively over the summer, both attackers will get their first taste of El Clasico in a stadium packed with almost 100,000 spectators in a fiery and rambunctious derby. The old rivalry is deep-rooted with political agendas, as Catalonia and the rest of Spain, especially Madrid, 'don't get along' to put in nicely.
Brazilian born Neymar and Welshman Bale will be be thrown into the intimidating atmosphere, and it's sink or swim times for these boys. Both have the faith and trust of their managers, as Madrid's new boss Carlo Ancelotti confirmed Bale is ready to start, while Barca's new manager Gerardo Martino has praised Neymar for his performances and wants the winger protected against heavy tackles from Real.
(MORE: Lionel Messi vs. Cristiano Ronaldo – Battle for Ballon D'Or in El Clasico)
Both Ancelloti and Martino will be tasting El Clasico for the first-time in their managerial careers, and both managers will hope their superstar wingers can provide that extra spark to get them the win.
World record signing Bale, who signed for Real from Tottenham Hotspur for $132 million, is expected to start for the first time since his Real debut back in September as he continues to recover from a thigh injury. The 24-year-old winger has made a slow start to his Madrid career, and has the chance to become an instant Madrid hero if he can produce the goods in El Clasico on a steamy Saturday evening on the Mediterranean.
Bale has so far played five times for Madrid, amassing just 172 minutes in the glistening white uniform of Real and scoring just once on his debut against Villarreal. The Welshman hasn't added any assists, and with injuries and lack of fitness hampering his career at Madrid so far, Bale will be hoping he can come out firing on all cylinders when he ascends from the dressing room below to the pitch above and into the thunderous atmosphere that's sure to await.
As for Neymar, Barca's 21-year-old Brazilian wonder-boy has dazzled on occasions so far and has looked worth every penny of the $72 million Barcelona paid Santos to bring him to Europe. After 13 games for his new club, Neymar has logged 928 minutes of playing time, scored three goals and added six assists. I'd say that's a pretty satisfactory start to his Barca career.
However, average doesn't cut at the Camp Nou, and whoever turns into the match-winner, Bale or Neymar, on Saturday can surely hold the mantle of being the best summer-signing. This game is crucial as Barca sit top of the table with 25 points from nine games, while Real are just three points behind in third.
Early season impetus is on the line as these arch nemesis' square off for the 167th time, with Madrid holding a slender advantage with 70 wins to Barca's 62.
These are the games that count.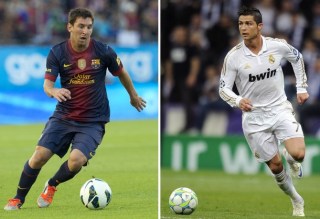 If Bale returns from injury and does the business, Madrid fans will forget all about his first few months on the treatment table, while Neymar can elevate his status ahead of Bale further if he puts in a dominant display.
Let's not forget, these two youngsters are playing second-fiddle to Lionel Messi and Cristiano Ronaldo. Messi will play after returning from injury, as he scored the equalizer in Barca's 1-1 Champions League draw away at AC Milan in midweek. As for Ronaldo, he just keeps scoring and may threaten Messi's attempts to win the FIFA World Player of the Year award for the fifth time running.
So, if Neymar and Bale don't get the job done, it's likely the senior dream team of Messi and Ronaldo will step in to show them how it's done.
You can watch El Clasico live on BeIN Sport at 12pm ET on Saturday.