When the final CONCACAF Champions League group games finished on Wednesday night, some pretty mouth-watering quarterfinal ties were set up between Liga MX and Major League Soccer teams.
LA Galaxy vs. Club Tijuana is the pick of the bunch.
Next March when CCL play resumes, the Xolos will make the short hop over the border to play LA, and the Galaxy will do the same, as close regional rivals in continental cup competition will square off in what's sure to be an intense border clash.
With Tijuana's plethora of American players — Edgar Castillo, Herculez Gomez, Paul Arriola, Joe Corona, Greg Garza and Alejandro Guido all represent the U.S. in the northern Mexican city — and the huge number of Tijuana fans based in southern California, there's sure to be a raucous atmosphere at both games.
A game like this is exactly what the CCL needs to recapture fans imagination.
Small crowds, moans and groans about watching the competition on TV and long midweek trips to far flung corners of CONCACAF land has failed to ignite a desire in the hearts and minds of MLS fans. This showdown will go a long way to doing so, as since Tijuana were founded in 2007, they've tried to build a fanbase in LA, San Diego and other Californian cities and have been largely successful due to their dream run to the Copa Libertadores quarterfinals last season.
(MORE: CONCACAF Roundup – Houston eliminated, other MLS sides through)
Following LA's capitulation against Isidro Metapan on Wednesday in their 4-0 loss, they dropped to sixth-seed for the last eight and now face a massive test with third-seed Tijuana. Head coach Bruce Arena will no doubt be disappointed that his sides damaging defeat now sees them with an incredibly tough path through the CCL knockout stages with Xolos up first and bragging rights in the local area also up for grabs.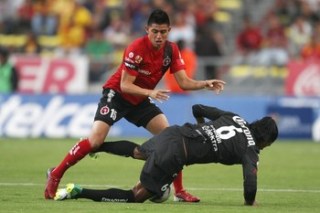 Fans across MLS an Mexico are already excited for the match up, as well as USMNT and former LA striker Herculez Gomez, and the fact that it won't happen until March 11-12 in LA and then the return leg in Tijuana on March 18-19 means that a furor can be whipped up between the two nations press about the tie that's sure to turn fiery.
A fiery U.S. vs. Mexican club team battle, especially in the current climate where the U.S. national team is dominating their Mexican counterparts in all facets, will add extra spice to the soccer fabric of both nations. Long may that continue. And the great news for fans of soccer in both countries is that LA vs. Tijuana isn't the only MLS vs. Liga MX clash.
Below is a full list of the four quarterfinal match ups, with San Jose Earthquakes and Sporting Kansas City facing Liga MX opposition next March, facing Toluca and Cruz Azul respectively.
Over five months from now those three rivalries will ignite the CCL as the pride of both soccer nations will hang on the line.In the latter stages of CCL in recent years, Liga MX has dominated proceedings. Can MLS teams now replicate the success of the USMNT over Mexico and the CONCACAF region as a whole?
Fans across Mexico and the U.S. will enjoy watching the struggle for dominance play out, as next March's CCL quarters spring up a delightful storyline that will only intensify between over the coming months.
Bring it on.
CONCACAF Champions League quarterfinals – Ties to be played March 11/12 and March 18/19
Toluca vs. San Jose Earthquakes
Cruz Azul vs. Sporting Kansas City
Arabe Unido vs. Alajuelense
Club Tijuana vs. LA Galaxy