SOUTHAMPTON — Fulham boss Martin Jol conceded his side were outplayed by Southampton at St. Mary's on Saturday, and admitted he felt a real hiding could've played out after a poor first half display saw the Cottagers lose 2-0.
"The first half I felt we could have gone away with a hammering today," Jol said. "And to come away with a 0-0 the second half was the only good thing."
Jol, who saw his side completely dominated from start to finish as Southampton completed 549 passes compared with 234 by Fulham, the Saints also had 67% possession and out-shot Fulham 20-2.
Fulham's Dutch manager was disappointed.
"It was disappointing, you know?" Jol continued. "We had a problem with Adam Lallana up front and the rotation with Jay Rodriguez and Rickie Lambert. But that had nothing to do with the goals. One goal was from a corner kick again and a cross with a flick on. That was disappointing. To come back into a game Southampton [will be hard] as you know they have only conceded three goals up until now, so it's never easy."
(MORE: Mauricio Pochettino hails Southampton, believes "the sky is the limit")
Fulham were toothless in the first half, as they failed to threaten Southampton's goal and the Saints won every second ball across the park as a relentless tide of red shirts kept storming forward. A defensive switch at half time made things slightly better, but Fulham were already 2-0 down.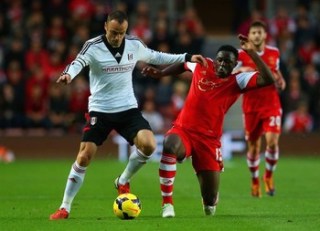 "I thought after the first half we really had to repair the damage and that is what we tried to do with Aaron Hughes," Jol said. "That helped a bit because we couldn't defend well because Lallana drifted infield and Sascha Riether stayed out so we had a little problem defensively."
Going forward, Dimitar Berbatov and Darren Bent were relative bystanders for most of the game as the Cottagers looked disjointed and devoid of ideas going forward. After the confidence-boosting 4-1 win against Crystal Palace on Monday, it's hard to see why that was the case.
(MORE: Southampton 2-0 Fulham – Dominant display sends Saints third)
Steve Sidwell's effort in the 81st minute, a tame overhead flick towards goal over his shoulder, was greeted by cheers and jeers from the traveling Fulham fans. They sarcastically sang "one shot, we've only had one shot" as a performance lacing any real cutting edge and attacking impetus highlighted their weaknesses.
"They pressed us well, but you not only need good player up front, but at the back as well," Jol said. "My 'keeper tried to play football and he shouldn't. Even Manchester United couldn't get out of the half against them last week. Even my best players today were not aggressive enough to get the ball. I think it's disappointing for them [Southampton] that they didn't score more than two goals."