SOUTHAMPTON — Mauricio Pochettino is working wonders on the South Coast of England, as Southampton continued their impressive start to the Premier League season by dispatching Fulham 2-0 with consummate ease.
With Southampton sitting in third-spot on 18 points after nine games, and just four points behind league-leaders Arsenal, how high can the Saints finish this season?
"I don't know," Pochettino said. "I've been saying for a couple of weeks now that the sky's the limit, we have no limits. The must important thing is that we need to keep learning, keep on playing as a team. The position of the table is not important right now, we just need to keep performing as we've been doing already."
On Saturday night at a packed out St. Mary's Stadium, Saints' dominance should of perhaps yielded more goals. But these numbers were pretty impressive. There were 549 completed passes from Southampton compared with 234 by Fulham, the Saints also had 67% possession and out-shot Fulham 20-2.
(MORE: Southampton 2-0 Fulham – Dominant display sends Saints third)
"I think statistics are evil," Pochettino laughed. "They don't really show anything. Win you win they're important, but when you lose there not as important. The most important thing today is how we played and the three points. I think statistics are relative, but I'm very satisfied with how we won today."
In the resounding win, Saints also kept up their incredible defensive performances by recording their sixth clean sheet in nine games and they've now let in just three goals in the PL this season, the best record in the league. Post game, I asked Pochettino what he thought of another sterling defensive display from his settled backline.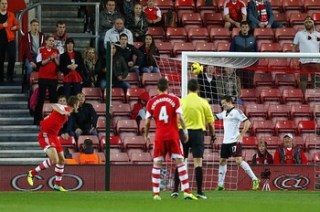 "I'm very satisfied," Pochettino said. "I'm very proud, as you say, of another clean sheet. It is something that makes me very happy, to be part of this club and to be part of these people that make up Southampton Football Club. I am very happy and very proud."
Scorer of Saints' second goal, and his second PL goal this season, Jay Rodriguez put in a terrific display on the left hand side as he headed home Lambert's set up in the 43rd minute. Rodriguez believes Saints can achieve anything they want to this season.
"We pressed hard and our fitness is high, we have got an unbelievable team spirit," Rodriguez said. "The England lads are doing great, Lambert and Lallana are great to play with and we can learn from them. We have the belief and want to keep pushing on, we have no limits and the gaffer has said that, just concentrate on the next game and keep the belief. There's no limit to what we can achieve."
(MORE: Martin Jol – We could have gone away with a hammering today)
Rickie Lambert opened the scoring and set up Rodriguez' second, and the England internationals display proved he's back to his best. 31-year-old Lambert is just one of a number of Saints players knocking on the door of England manager Roy Hodgson, as Luke Shaw, Rodriguez, Adam Lallana, Nathaniel Clyne and James Ward-Prowse all performed superbly against Fulham.
"I wish they could all go to Brazil and the World Cup," Pochettino said. "I'm not the one to make the decision but I wish my players all the best. That's something that Mr. Hodgson has to worry about, not me. But I just want to congratulate my players. I've been saying for a couple of weeks now that he [Lambert] is amazingly important. He showed that today, how good he is, and hopefully he can keep on putting in performances like today, that will more than likely take him to Brazil."
Fulham boss Martin Jol, who saw his team ripped apart by Southampton and admitted he was expecting a hiding after the first half, believes Saints can keep their good run going.
"Why not, they've got a good team," Jol said. "Somebody told me that they spent $80 million, so if you spend that money you're supposed to get good players. And that's what you see on the pitch, good players. Strong midfielders, and a nice rotation. Even Clyne who is probably the cheapest of the lot is getting better and better."
That seems to also be the case with Southampton as a team, as their best start to a season for 30 years continues to get better and better.