An absolutely disastrous bit of miscommunication left Fernando Torres with an open net, and he finished the deal to give Chelsea a 90th minute winner at Stamford Bridge for a 2-1 win over fellow title hopefuls Manchester City.
Torres put away some early struggles to drive a stake into the early title hopes of City with an assist on the opener and the finish late.
The goal, however, will haunt Manuel Pellegrini's defensive unit for weeks, as Matija Nastasic didn't realize Joe Hart had come out to help on a break, and he gifted Torres the winner.
Manchester City sat back with Pellegrini's conservative lineup and let Chelsea press early, but the visitors confidently dealt with any early problems and began to play themselves into the game.
Samir Nasri proved dangerous on the left-hand side, and the defenders and defensive midfielders which many thought would sit back actually provided some attacking presence.
It forced Chelsea midfielders Frank Lampard and Andre Schurrle to play extra physical in an attempt to peg back the City midfielders, which earned Lampard a 22nd minute yellow card from referee Howard Webb.
Ramires nearly played in Fernando Torres with a wonderful cross from well out, but the ball just evaded Torres' chest as he went to ground to get his body on the ball.
Torres then missed an absolute sitter in the 29th minute. Another fantastic ball from Ramires this time found Torres all alone with just Hart to beat, but his one-time volley sailed high and clear.
The physicality in the midfield was working, however, and they began to seriously pressure Hart's goal. Finally Chelsea had their opening goal in the 33rd minute. Torres broke down the right-hand side of the penalty area and found Schurrle for the tap-in, the ball narrowly avoiding a sliding Martin Demichelis.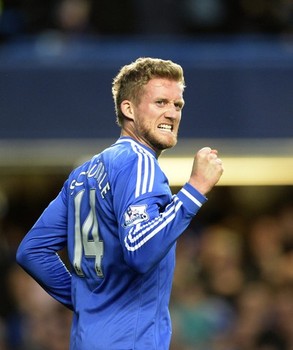 Chelsea were sparked by the goal, and immediately searched for a follow-up. Torres came oh-so-close to a second, but his turnaround strike minutes after scoring clanged off the corner of the crossbar.
City searched hard for an equalizer before halftime with Yaya Toure firing twice at goal, but they went into the break down a goal.
Sergio Aguero quickly changed that though, as the visitors came out firing on all cylinders after the break. The City striker made a perfectly timed run in the 49th minute, got a great feed from Samir Nasri, and rifled home a laser beam past Petr Cech for the equalizer.
Chelsea responded, and both teams began to take warning shots but nothing more for much of the second half. The home side continued to body check and play physical to keep the City attackers from getting space and making runs.
As the second half dragged on, it seemed the prospect of not losing was much more important to both sides than actually going for the win, and the chances diminished.
Then the dagger.
Willian sprung Torres on a break and Joe Hart came out to claim the ball.  But young Manchester City defender Nastasic was too busy covering Torres and didn't see Hart come out, and before the goalkeeper could collect, Nastasic headed the ball to where he believed Hart to be – right in front of the mouth of the goal.
This gave Torres an open net, and despite the best efforts of Gael Clichy to close him down, Torres finished for the score.
The defeat is Manchester City's second 1-goal loss on the road, following their 3-2 loss at Aston Villa.  The Citizens remain in 7th place in the table, just above cross-town rivals Manchester United.
Chelsea climb to second place with 20 points, just behind red-hot Arsenal.
GOALS:
Chelsea – Schurrle 33′, Torres 90′
Manchester City – Aguero 49′
LINEUPS:
Chelsea – Cech; Ivanovic, Cahill, Terry, Cole; Ramires, Lampard (Mikel, 66′); Hazard (Eto'o, 84′), Oscar, Schurrle (Willian, 66′); Torres.
Manchester City – Hart; Zabaleta, Demichelis, Nastasic, Clichy; Garcia (Kolarov, 80′), Toure; Fernandinho, Nasri (Navas, 70′), Silva; Aguero (Negredo, 87′).