Chivas USA can be forgiven for their 2005 win total. It was their first year in Major League Soccer. Their expansion brethren, Real Salt Lake, only won five games that season, too. There were a lot of reasons those Goats served eight years in the league's record books, their win total spending almost a decade as the league's mark for futility.
As of today, however, that Chivas squad is off the hook, replaced by one of the names at the opposite end of the league's prestige spectrum. Whereas the Carson-based club as been the most mercurial in the league's short history, D.C. United has been one of MLS's most accomplished. But after losing 2-1 to Houston at RFK, the four-time league champions, four-time Supporters' Shield winners, five-time Eastern Conference champions and three-time Open Cup victors hold the record for fewest wins in a season. Their three wins in 34 games lowers the league's bar.
[MORE: Houston's 2-1 win puts Dynamo in playoffs.]
How D.C. got here has been discussed all season, but on the day they made history, it's worth remembering: They not only made least year's Eastern Conference final but had plenty of reasons to think it wasn't a fluke. Players like Bill Hamid, Perry Kitchen, Nick DeLeon and Chris Korb could possibly improve. The defense and attack stood to be healthier, and Ben Olsen would have a valuable year of experience under his still unworn coaching belt.
None of that happened. The youngsters didn't make progress. Health issues persisted. Olsen struggled to motivate his team or find solutions, and none of the team's holes were filled. They failed to find a number nine. Perry Kitchen went without a consistent partner in midfield. The defense was still bad. The league's second worst defense was complemented by the league's worst attack, the type of perfectly inept storm that's necessary to set records.
Despite all those failures, the biggest mystery of the season will be the team's U.S. Open Cup run. Perhaps it says something about the stature and format of the tournament that a team of United's quality can claim the trophy, but with that honor, the team will be in next year's CONCACAF Champions League, likely costing a teams like New York, Kansas City, Portland or Real Salt Lake a spot.
It sparks a debate as to how the U.S.'s Champions League spots should be alloted, but it also shows United has some quality that never came out in the regular season. How could a team that claimed a must-win game at Real Salt Lake only summon that performance three times (at most) in their league season?
Those three wins:
D.C. United won their second game of the season, claiming a 1-0 victory over visiting Real Salt Lake. United ends the year as one of the few teams that can say their season would have been better had they played RSL more often.
On June 22, D.C. claimed another 1-0 win at home, this time over San Jose.  By season's end, the Earthquakes would reclaim some of their 2012 Supporters' Shield form, making this another head-scratching result.
D.C.'s final win of the year came over visiting Montréal on Aug. 3, a 3-1 explosion that gave United their third win of the season against playoff-caliver opposition. Against Toronto and Chivas USA, D.C. would finish the season 0-3-1.
After a season like this, there are two natural questions: Who's at fault, and how do you move forward?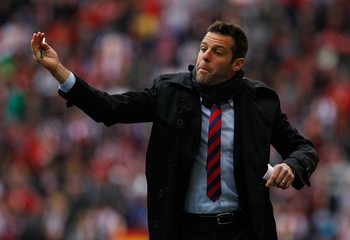 The fault largely has to rest with the players, none of whom played to their potential. As much as you'd like to say that's a coaching issue (and certainly, motivation was a huge problem), there are plenty of players that find a way to transcend their circumstances and perform. Between injury, age, immaturity, regression, or other inexplicable factors, no D.C. players stepped forward this season. Few of their starters had above-average seasons, let alone put themselves in the conversation for a Best XI spot.
Coaching was to a key culprit, too, and if it wasn't for Ben Olsen's unique position at D.C. United, he'd surely be gone. Yet, as bad as the 36-year-old boss's results have been, he's also considered to have shouldered an undo amount of blame for a front office that misread the situation. Rather than see last year's team for what it was — a good team with some key, potentially debilitating flaws — they made the mistake of assuming past performance leads to future results.
While assuming the best (while ignoring the worst) is common, good front offices always examine the contributing factors. United's front office failed to do so, with the likes of Carlos Ruiz, John Thorrington, James Riley and Rafael failing to provide the winter solutions the squad needed. By the time Luis Silva, Conor Doyle, and Jared Jeffrey were brought in, D.C. was already looking toward 2014.
Thankfully, that mid-season injection gives D.C.  a path forward. Add those three to Hamid, DeLeon, and Kitchen, and D.C. has a decent young core, one that gives them clear targets for those precious cap resources. They need better talent in defense and a reliable striking option – acquisitions that may require finding homes for other big salaries. The road back to respectability, however, does not need to be a long one.
If that's a silver lining, it's an incredibly thin one, one's that's unlikely to distract from the frustration of a long and unexpectedly dour 2013 regular season. The U.S. Open Cup triumph has helped fans deal with the trauma, but as of today, that trauma lives on in the record books. D.C. United's three-win season will now be synonymous with MLS futility … until the next D.C. United comes along.