Ten quick stories to follow through Major League Soccer's 18th post-season:
1. Can the Galaxy become the league's first three-time defending champion?
No team has won three MLS Cups consecutively through 17 previous MLS seasons – and here is LA, standing on two in a row. So much of the Galaxy's chances will come down to the health of DP center back Omar Gonzalez and DP attacker Landon Donovan, both dealing with injuries. By the way, we've heard a lot lately about Mike Magee and about Marco Di Vaio and others … but the Galaxy's Robbie Keane (pictured) is the best player in the MLS playoffs.
2. Will Landon Donovan's ankle hold up?
The LA Galaxy star says his ankle, injured back in September, needs about six weeks to completely heal up. But he is soldiering through it. So can the league's all-time leading scorer make it through the post-season? And what of his effectiveness? Seems like he's one more ankle knock away from being the "Little Donovan" we saw through parts of 2012 and early 2013, not the "Big Donovan" we saw through so much of the summer.
3. For New York, with Supporters Shield in pocket, a bigger prize awaits
Congrats to the New York Red Bulls, who needed 18 years, 13 managers and hundreds of players to lay hands on the club's first major trophy (Supporters Shield). While the debate rages about where Supporters Shield compares to MLS Cup on the continuum of league-related accomplishment, perhaps we should also consider this: only six Supporters Shield winners have gone on to win MLS Cup.
4. Red Bull leaders Thierry Henry and Tim Cahill
New York's first two goals Sunday in an impressive 5-2 win over Chicago said it all: one absolute beauty from the stylish Thierry Henry, and one textbook scrapper via Dax McCarty (that dude should be nicknamed "Scrappy") and impassioned grinder Tim Cahill. That is the perfect picture of this team's useful blend under manager Mike Petke of substance and style.
5. Can the Seattle Sounders turn it around?
Seattle's flailing fall, the team's stunning late collapse, has been the story of October around MLS. The Sounders will tiptoe quietly into playoffs on the anti-momentum of a seven-game winless streak.
But the phrase most often repeated around MLS through the years is surely this: "You just have to get there; anything can happen in the playoffs." Sounders manager Sigi Schmid sounded pretty sensitive recently as he defended his team for having arrived safely into the post-season, regardless of having backed in.
Yes, Sigi … you did get in. And credit for that. And now …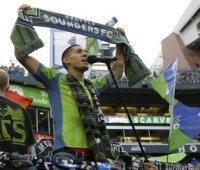 6. And can Clint Dempsey contribute to any turnaround?
Clint Dempsey (pictured, left), the league's highest paid man, a splashy summer addition at CenturyLink Field, was nine games into his second MLS go-round before finally getting a goal last Sunday. Who could have imagined it would take so long? But he did break that doggone seal … so can that be a springboard for more?
7. Are we forgetting about Kansas City?
New York swiped a bunch of the final day headlines, and everyone is all aflutter over the Timbers' evocative turnaround tale. But can Sporting Kansas City, fronted by U.S. internationals Matt Besler and Graham Zusi, really be so far behind? The team is, after all, 7-1-3 over all competitions since a little dip in mid-August. And lessons have presumably been learned over two close post-season calls of the last two years, right?
8. The compressed playoff schedule
It takes eight months to get into the MLS playoffs. They end for two teams just three or four days later. Within 11 days, six of 10 teams will have been eliminated. That's too quick! Surely there's a better way to extend the drama.
9. How will the refereeing hold up?
Refereeing in MLS is a hot topic pretty much every week, so there's no real reason to expect any difference now. I mean, Pierluigi Collina isn't coming through the door here, right? MLS officiating keeps slowly improving, but mark this down: There will be a highly controversial moment that helps decide a series. Probably more than one.
10. The dark horse in Utah
How can Real Salt Lake be a dark horse? Jason Kreis team won a league championship not so long back (2009). And they were U.S. Open Cup runner-up this year. Still, RSL has lots of young parts, and they just aren't as fashionable as a championship favorite. Still, Kreis' team only finished behind the Timbers (everyone's favorite now) by a single point.
(MLS Week in Review for Round 35)
(MORE: MLS Eastern Conference playoffs are set)
(MORE: MLS Western Conference playoffs are set)