Because the nuggets from Instagram have been especially good in the past few days, as a bit of a humorous break from today's news I've decided to share some of the best that I've found throughout the soccer world.
Robin van Persie and Rio Ferdinand decided to have a little Halloween fun Sunday night, with RVP's Dracula costume none too shabby. Ferdinand is in the mask, bottom left.
Romelu Lukaku challenged Everton teammate Kevin Miralles to a game of FIFA on his Playstation, and the end result wasn't pretty for the poor controller who ended up in Lukaku's hands.  I think anyone who has played FIFA before understands what Lukaku is going through.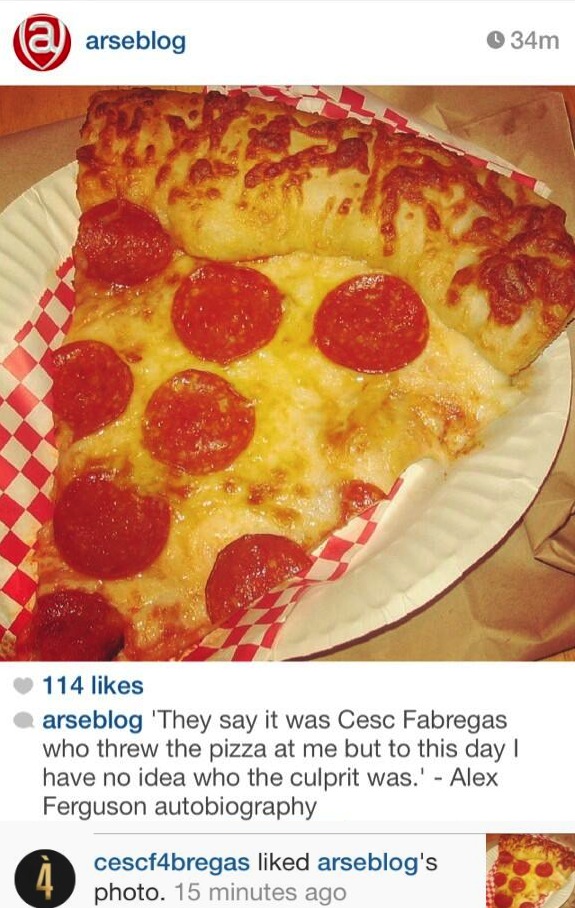 An infamous moment in Sir Alex Ferguson's career was poked fun at with a well-placed click by Cesc Fabregas on Instagram.
Influential Arsenal blog Arseblog posted a picture of a slice of pizza, captioning it with the quote from Ferguson's recently released book describing the pizza incident at Arsenal in 2004.
While Ferguson went at it verbally with Arsene Wenger, the legendary Manchester United manager was hit by a slice of pizza hurled by an unknown assailant.
The culprit was always believed to be Fabregas, but it was never known for sure. Well, within 15 minutes of the image posting, Fabregas "liked" the image.
Troll level: maximum.
And finally, it's not an Instagram shot, but while we're on the subject of photos, there's a fantastic article in the Daily Mail (never thought I'd put those few words together before) about their sports photographer Graham Chadwick who broke Andros Townsend's fall after the England winger clattered over the concrete advertising boards this weekend.
He needed lengthy treatment for a pretty serious cut over his forehead from Townsend's cleats.  He said while it's the first time he's broken an athlete's fall, it's not rare for him to be that close to the action.  Definitely worth a read/view.
If you come across any other funny Instagram pictures from the world of soccer feel free to share them in the comments!