Major League Soccer's 18th playoff season begins Wednesday. ProSoccerTalk's writers have a few thoughts on how they might play out:
Who will come out of the East?
Liviu Bird: The New York Red Bulls
The Red Bulls have proven that they are actual contenders this year. They have only briefly relinquished first place and deserved to win the Supporters' Shield.
Kyle Bonn: Sporting KC
With the Red Bulls getting all the attention, Sporting KC quietly won six of their last eight matches, conceding just four goals. For all the goals NY is scoring, KC have it in them to be the team that stops the NY hot streak.
Steve Davis: Sporting Kansas City
I know New York is the hot pick, but SKC has the better defense and better goalkeeper. Plus, lessons learned over the last two years – when good Sporting KC teams got so close – will pay off now.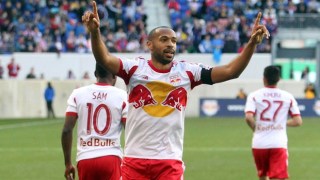 Richard Farley: New York Red Bulls
As much as I want to pick Kansas City, I think New York has enough to defend that number one spot.
Joe Prince-Wright: New York Red Bulls
Expect Sporting KC and New York to battle it out for the Eastern Conference, but New York gets it done.
Mike Prindiville: New York Red Bulls
I love to watch Sporting KC play and think a potential matchup against NYRB in the Conference Semifinals will be an absolute blockbuster. But as long as the Red Bull's play up to their potential, they are the superior team.
Who will come out of the West?
Liviu Bird: Portland Timbers
My pick is based on their strong season from start to finish. The turnaround Caleb Porter has engineered is nothing short of sensational, and they are the most consistent team in the league.
Kyle Bonn: LA Galaxy
LA did just enough to get in, and I'll take experience over youth in crunch time any day of the week.
Steve Davis: L.A. Galaxy
The asterisk here is whether Landon Donovan and Omar Gonzalez are healthy. If they are, the Galaxy and all that collective playoff knowledge will be hard to beat. Plus, Robbie Keane is the best player in the MLS post-season.
Richard Farley: LA Galaxy
As hard-to-call as the West looks, I'll take the proven commodity.
Joe Prince-Wright: Portland
I think the Timbers will get it done. Of course they've tailed off a bit, but I think they'll come up big when it matters.
Mike Prindiville: Real Salt Lake
In a wide open and unpredictable West, those who grind the hardest, prevail.
Where we would PREFER to see MLS Cup (based on "best atmosphere," or "not LA again," or whatever):
Liviu Bird: Somewhere in Cascadia
Not just because it's the shortest trip for me — the atmosphere here is the best in the country, and if you want to advertise MLS to the rest of the world, the Timbers Army is probably the best conduit.
Kyle Bonn: New York
What better way to complete the redemption story than in your own house? New York proved this weekend the stadium and atmosphere have what it takes.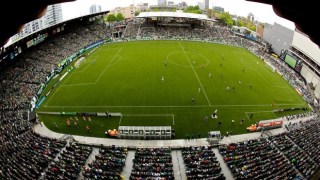 Steve Davis: New York
The Big Apple? As Christmas approaches? I mean, it's so darned romantic! Plus, the Red Bulls were Supporters Shield winners, so there is a beautiful symmetry to it … in addition to all those pretty lights!
Richard Farley: Seattle
It's all about the numbers. Also, Seattle's not a bad place to throw a party.
Joe Prince-Wright: New York
It's about time the Red Bulls won MLS Cup, and I think a sold out RBA would be a great advert for MLS.
Mike Prindiville: New York
A number of other stadiums are considered better atmospheres but to have Red Bull Arena finally filled to capacity and rocking-out for a final would be a thing of beauty.
Where are the dark horse favorites?
Liviu Bird: Seattle
It's hard to call them dark horses because of the star power on the team, but Seattle could still make a run at the Cup. The Sounders have proven they can beat teams 5-0, be beaten 5-0, and everything in between. Anything can happen in the MLS playoffs.
Kyle Bonn: Portland
It's not often first-place teams fall under the "dark horse" category, but with everyone off the bandwagon thanks to their poor(er) form down the stretch, they qualify. First order of business in playoffs: don't lose. They don't.
Steve Davis: Real Salt Lake
Alvaro Saborio's scoring rate (52 goals in 97 MLS matches) is prodigious. Nick Rimando is tops in goal. Kyle Beckerman commands that strong midfield and some of those "kids" are going to be something else.  So remind me again why we aren't talking about this team a little more?
Richard Farley: Portland
Only five losses all year.
Joe Prince-Wright: Colorado Rapids
On their day they can beat anyone in the league. So many good young players, and having come up against Dillon Powers and Tony Cascio in their college days, I know how good those guys are.
Mike Prindiville: Colorado Rapids
Probably the darkest of all dark horses but with Seattle's poor form, Portland's playoff inexperience and a little bit of luck, it could happen.
The 18th MLS Cup champion will be …
Liviu Bird: Portland
It's Portland, for all the reasons I listed above. One final nugget: on only five occasions in 2013 have the Timbers failed to get at least one point on the road and all three at home — and that's a formula for playoff success if I've ever heard one.
Kyle Bonn: LA Galaxy
It's that experience thing again. So hard to pick against. I know, I know. I hate myself for going here too, but with having put New York out in the semifinals, the Galaxy get it done.
Steve Davis: Sporting Kansas City
The league's best road team (8-5-4 away in 2013) won't mind playing in New York, so they'll get through to the final … and they'll host MLS Cup in KC.
Richard Farley: LA Galaxy
In the absence of a truly convincing alternative, I'm picking three-peat.
Joe Prince-Wright: New York Red Bulls
I just don't think the big boys out West, Seattle, LA, and RSL, are in top form heading into the playoffs and the Red Bulls are flying.
Mike Prindiville: New York Red Bulls
The time has come. Mike Petke's passion and dedication is what this squad has been in dire need of for a long time. Most importantly, this is a team that's peaking at the right time. The stars have aligned in New York.
(MORE: Are there too many playoff teams?)
(MORE: MLS playoff schedule and TV times)
(MORE: Top story lines for the MLS playoffs)
(MORE: MLS Week in Review for Round 35)
(MORE: MLS Eastern Conference playoffs are set)