Rumors surrounding the future of Tottenham Hotspur and England striker Jermain Defoe have been rife over the past few days, and these comments from Toronto FC manager Ryan Nelsen are likely to fuel the fire further.
Nelsen, who played alongside Defoe at Tottenham during a brief stint toward the end of his playing days, knows exactly what Defoe can do and admitted he'd love to bring the 31-year-old striker, who's out of favor at Spurs, to BMO Field.
"That's not a serious question, is it?" Nelsen said when asked on TSN about bringing in Defoe. "Jermain Defoe in this league? Look what [Marco] Di Vaio has done! My goodness – incredible player."
And he's right, can you really think of a player better suited to Major League Soccer than Defoe?
The pint-sized striker, who has scored 141 goals in 353 games for Spurs over two spells in his career, has only started one PL game this season and had been reduced to appearances in the Europa League and League Cup where he has scored eight goals in five games. An incredible ratio.
(MORE: ProSoccerTalk's MLS playoffs picks and predictions)
His predatory instincts, as similar big name foreign imports like Marco Di Vaio and Robbie Keane have shown, would be perfect in MLS as he sniffs for openings in and around the box and hammers shots on target from every possible angle.
But Andre Villas-Boas doesn't seem to think Defoe can be a starter in the PL for Spurs, something Nelsen clearly doesn't agree with.
"One of the most natural goalscorers I have ever come across," Nelsen said. "Always out training, always trying to score, a great guy. To get a guy like Defoe for the MLS, I cannot think of many that are more suited. I think if you ask most Premier League teams, they would take Defoe."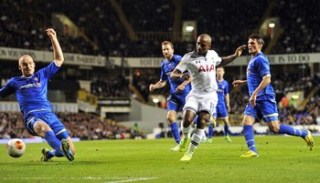 But would Defoe even contemplate joining Toronto and MLS ahead of what could be his last World Cup for England this summer?
You can look at it two ways. He could go out on loan in January and struggle to establish himself elsewhere in the PL, or he could come to MLS and begin play in March, play regularly right up until the World Cup and declare himself fighting fit, in form and hungry to succeed for Roy Hodgson's England side in Brazil. The latter seems like the better idea, but maybe it's too big of a gamble to take, especially as Hodgson seems somewhat lukewarm towards the pleasures of MLS.
(MORE: MLS Playoff focus – Notes on Seattle ahead of Colorado match)
But Nelsen revealed that he keeps in touch with Defoe, and would love to bring him to MLS. Then again, which MLS side wouldn't want him?
"It would be incredible," Nelsen said. "I call him and text him all the time. Him playing in Toronto would be phenomenal. If you look around the world and try and think of a realistic player – and I am not sure how realistic he is – that complements a league like ours, never gets injured, doesn't drink, can play high, low, scores all sorts of goals – do you know something I don't? Can you go over and sell it to him?"
Not sure where this one ranks on the likelihood scale, but having Defoe in MLS would be divine.