First Cascadia Cup rivalry playoff matchup in MLS history. Seattle Sounders FC and the Portland Timbers split three regular-season games in 2013, each winning one and one ending in a tie.
Seattle will be on short rest, having played Wednesday in the play-in game and defeated the Colorado Rapids, 2-0. The Sounders won't have to travel, but they'll be without starting goalkeeper Michael Gspurning, who was sent off.
This is Portland's first MLS playoff game in franchise history, while Seattle looks to avoid a heavy loss in the first leg similar to those that led to elimination the past two seasons.
Major League Soccer has its dream playoff matchup, as Seattle Sounders FC and the Portland Timbers get set to face off over two legs. More than 50,000 fans will pass through the turnstiles across those two games, providing a good advertisement for the league to fans watching the MLS playoffs.
The teams met three times in three different leagues' playoffs throughout the years. Portland won in the 1975 North American Soccer league quarterfinals, while Seattle won both the 2004 A-League conference semifinals and the 2005 USL First Division first round. The first two series went to extra time, while the USL-1 series ended 3-0.
Watch Sounders-Timbers (Sat., 10 pm ET) on NBC Sports Live Extra
Based on the last regular-season meeting between these teams, the fireworks on the field shouldn't be far behind. Timbers midfielder Kalif Alhassan scored the only goal of the game just before halftime, and Sounders midfielder Osvaldo Alonso saw a straight red card for an elbow to Will Johnson's face behind the play.
It was another moment of bad blood between two bitter rivals. Last year, Fredy Montero and Lovel Palmer both received red cards in the same match. Not to mention the words and trash talk that have flown back and forth down Interstate-5 among the years.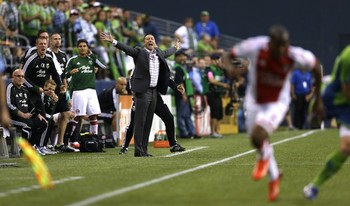 Home-field advantage has proven to be huge in this matchup the last couple seasons, especially if the Sounders draw a large crowd. The Timbers escaped with a point in an early season game this year, then lost by a single goal in their second visit to CenturyLink Field in front of 67,385. Likewise, Portland won by Alhassan's lone marker three weeks ago at JELD-WEN Field.
On only five occasions throughout the season have Caleb Porter's men failed to get at least a tie on the road and all three points at home, which bodes well for the rookie coach in his club's debut playoff series. However, that season of consistency is only a memory in the playoffs, when a single mistake, injury or red card could cost a team its season.
Meanwhile, the Sounders have finally started to figure out how to be effective with Clint Dempsey and Eddie Johnson on the field at the same time. A change to a diamond midfield formation a couple games ago has given Seattle two of its best recent performances, with Dempsey scoring once and assisting once and Johnson adding a goal of his own.
Obafemi Martins could still be out for the first leg with a groin injury, though, giving Lamar Neagle another chance at the forward spot next to Johnson. In goal, Marcus Hahnemann will take over for Gspurning, as he did before the loss earlier this month against the Timbers.
For Portland, Maximiliano Urruti and Diego Valeri continue to manage their injuries. Urruti hasn't played since leaving the Seattle game with a hamstring strain, while Valeri has played through some pain caused by an adductor strain through the last couple weeks of the season.
As it happens with all rivalry games, the team that can rise above the emotion and intensity to play its best soccer will win. And any team that survives a Cascadia playoff series will be dangerous to play in the rest of the post-season.
(MORE: Goalkeeping drama leaves hometown hero between pipes for rivalry match)
(MORE: Seattle Sounders' new system allows star attackers to shine)
(MORE: Football Focus: Portland Timbers tactically transform under Caleb Porter in 2013)