A violent and vocal minority continues to shape the way Russian soccer is viewed by outsiders. On Wednesday, just over a week after Manchester City midfielder Yaya Touré claimed he was subject to racist chants from CSKA Moscow fans in a UEFA Champions League game, 30 fans were arrested at a Russian Cup game.
A group at the match between Shinnik Yaroslavl and Spartak Moscow lit flares and threw them onto the field, along with stadium seats they ripped off the stand. A handful held corners of a flag bearing the German Nazi party's swastika.
For the alleged events at Arena Khimki, UEFA decided to partially close the stadium for CSKA's next home Champions League match, Nov. 27 against Bayern Munich. The punishment pales in comparison to rampant racism and xenophobia exhibited by that minority of Russian fans.
"The problem that you look at within Russian football is that there is almost an ignorance towards it, a defensive attitude towards it," U.K.-based television commentator John Bradley said in a phone interview on Wednesday. "The clubs don't feel that they should be punished for the behavior of a handful of fans."
Bradley specializes in matches involving Russian teams, and his tweets are generally Russo-centric. Having followed the Russian Premier League for a long time, he said UEFA's punishment in this case will do little to encourage clubs to curtail racist behavior among their fan groups, especially when the incident occurred during FARE Action Week, when each player in every Champions League starting lineup passed around a pennant that read "No to Racism" and stared into the television cameras with it before kickoff.
"Closing a few seats in the stadium isn't going to help them at all — 4,000 seats in an 18,000-capacity stadium — because you look at the money you get for being in the Champions League, the win bonuses for being in the Champions League, the sponsorship and the TV revenue, that's far greater than money you will lose for closing 4,000 seats," he said. "Now, 4,000 people won't be able to go to a game against the European champions. It's a shame for the well-behaved supporters of CSKA, but UEFA need to start hitting clubs harder because 4,000 seats, for the money they're losing, is negligible."
TIME TO CATCH UP
Until the fall of the Soviet Union in 1991, Russia was largely closed to outsiders. Citizens have yet to become accustomed to being around people of other ethnicities, and educational programs about racism and xenophobia are virtually nonexistent despite a large immigrant population.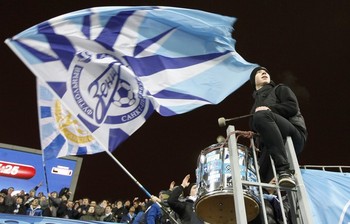 "They're not connected in any way, but the racism and xenophobia that you have against these immigrants then somehow translates over into acts of racism in the stands and the stadium," said Yan Matusevich, a longtime Zenit St. Petersburg fan who recently took up blogging about the issue. "It's not taught in schools. There's no government program about it. Nobody's telling them this is something that is deplorable at all. Nobody's ever told them. They've never been faced with the fact that this is something that they shouldn't be proud of."
Matusevich said he cannot recall incidents of racism in the stands when he attended Zenit games as a child, but that was largely because "the most foreign player you would have would be a player from Ukraine." When players from other continents began signing contracts with Premier League clubs, often with more lucrative pay than their Russian counterparts, fans began to take notice.
Zenit supporters' group Landscrona wrote a "manifesto" in December 2012 espousing the "important tradition" of keeping black and foreign players off the squad. Based on the group's publications and leader Aleksandr Rumyantsev's words in local media, they don't see it as racist but simply upholding the club's historic customs.
Rumyantsev told Zenitbol that throwing a banana onto the field at Brazilian defender Roberto Carlos was nothing more than a poor joke. Landscrona found the person responsible and banned him from the group, he said.
"He said it was stupidity on his part," Rumyantsev said. "He did not have any racism in the thought."
But in the same interview, the leader continued to uphold the same type of ignorance in the manifesto.
"I was taught in school: the negro has to live in Africa; the Indian, if they were still there, in America; the Chinese, in Asia," he said. "They visit each other's homes. St. Petersburg is a city that was created to ensure that the tourists come here. I'm glad — but to go on a visit, not to bring his samovar and live by their own laws."
Bradley equated the Russian status quo to the racist behaviors in British stadiums in the 1980s. A rigorous educational initiative has all but cleaned up that racism, led by similar far-right groups, but Russian society as a whole has not had time to catch up, he said.
"That's not an excuse, and it's not an apology for them, but they haven't had that same work done with them," he said. "It's the responsibility of the Russian government, the Russian football federation, the clubs to now work with supporters, to speak with the supporters' groups, to rid themselves of these people from the far-right persuasion who are still associating themselves with football clubs."
'I'M WONDERING WHY THEY HAVEN'T DEFENDED CSKA'
The Russian Football Union, the national governing body of the game, has remained quiet on the racism among its clubs. The federation did not respond to email requests for an interview for this story.
"I'm wondering why they haven't defended CSKA in this situation because I can easily imagine that, instead of accusing and doing something," said Pavel Borisov, contributor to Russian Football News. "[Racism] happens in Russia not so often as somebody would imagine, but it happens."
Instead of taking the opportunity to take a heavy stance, UEFA simply treated the events during the match against Manchester City as a one-off incident. New regulations stipulate that only a partial stadium closure is required for the first offense, followed by a full closure and a fine for the second offense and possible disqualification the third time.
The egregious nature of the events, capped by CSKA Moscow president Yevgeny Giner's assertion that Touré fabricated his account of the incident, continue a troubling pattern that reaches across many of the widely followed clubs in the top flight.
In 2010, after Russian-raised Nigeria international Peter Odemwingie moved from Lokomotiv Moscow to West Bromwich Albion in England, fans unfurled a banner reading, "Thanks, West Brom" with a banana prominently displayed in the center. Alexei Sorokin, who headed up Russia's successful 2018 FIFA World Cup bid, wrote it off as a misunderstanding and claimed the country had no widespread racism problem.
"Fans were not happy with the fact that he plays better for Nigeria and worse for the club. That's why they have shown their satisfaction after he left. And there is nothing racial in it," he told the BBC. "In Russia, 'to get a banana' means 'to fail a test somewhere.' "
FIVE YEARS UNTIL FINAL JUDGMENT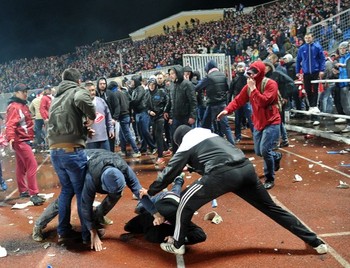 For a nation hosting the World Cup in five years, the repeated behavior and lack of reprimand for clubs is troubling. Lokomotiv received no sanction for the Odemwingie banner. The player, who was eligible to represent Russia internationally, has since moved on to Cardiff City, but the problems persist.
"When I started thinking about African teams being based in different cities around Russia and playing there [and] how they're going to deal with that, I'm scared of what's going to happen," Matusevich said. "They're not accepting the issue. They want to sweep it under the rug and make believe it never happened."
Bradley and Borisov equated the apprehension surrounding a Russian World Cup to the similar feeling when Poland and Ukraine hosted Euro 2012, which went off with hardly any trouble. Traveling Croatian fans provided the worst moment of the tournament when they racially abused Italian striker Mario Balotelli, but the hosts behaved themselves.
"I spent the summer in Kiev [and] didn't see one incidence of it or one instance of racism whatsoever," Bradley said. "When the world goes to Russia, we won't see any problems because all eyes will be on them, and I think that by that time, they will be a better level of understanding."
Borisov said his biggest fear is not of racism, but of widespread drug dealing and other criminal behavior.
"This is what I'm afraid of, that it could happen in Russia as well," he said, "[but] I don't think that there will be serious trouble because the World Cup is something very, very different."
The focus between now and then must be on educating the fan base and eradicating the problem, not just for a month during one summer five years in the future, but to change the way Russians view foreigners and people of other ethnicities in everyday life.
Maybe by then, anti-immigrant rallies and violence will stop — or at least decrease drastically — and the play on the field can become the focus, rather than the action in the streets and the stands.
"They'll probably try to ban the most hardcore fans from coming [to the World Cup] — they're the ones that are the most racist — and just try to control the situation and the image that they're sending," Matusevich said, skeptically. "They're not going to try to deal with the actual problem, and they're not going to make any efforts to. It's really about education. It's not about punishing certain people or not letting certain people into the stands; it's about changing the way people understand the world."