There was no shortage of standouts for Seattle tonight. Moving forward from the back: Djmii Traoré made some strong reads in central defense; DeAndre Yedlin got the best of Deshorn Brown down the right; Osvaldo Alonso gave his typically outstanding performance at the base of midfield; and Clint Dempsey had his best game as a Sounder.
But when thinking about Seattle's Man of the Match in Wednesday's win over Colorado, two players stand out: Brad Evans, who scored a wonderful opening goal, his right-footed blast in the 28th minute proving the game-winner; and Eddie Johnson, whose ability to go wide and open up Colorado's defense was vital, even before he scored the game-icing goal.
A Man of the Match post can only have one winner, so Eddie Johnson is our guy, but in any other space this should be a toss up. Both U.S. internationals played integral parts in Seattle's first round success.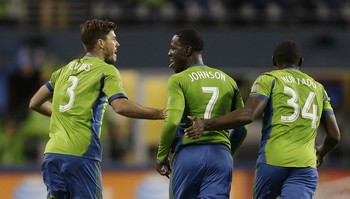 So why EJ over B-Rad? That 93rd minute goal helps, though that score was neither as important nor as difficult as Evans'. But between that, his part in the first goal, and the crucial role he played going into  wide areas to provide the width Seattle needed to stretch the Colorado back line, he may have done enough to transcend Evans' well-hit opener.
That's not to say the goal was the Seattle midfielder's only contribution. He was one of the main factors in Seattle's early success through the middle of the park, an aspect that allowed the Sounders to control the game while cutting off the connection between the Rapids' holders and playmaker Martín Rivero. In the 18th minute, a beautifully lofted ball over left-center back German Mera would have created a chance if Johnson didn't lose possession while trapping the pass. Evans was so much more than the goal.
But pressed into service at right back, Evans had some trouble with Deshorn Brown, who DeAndre Yedlin neutralized (and exploited) in the first half. Evans deserves huge credit for being able to drop back into defense, but when Brown got a step on him to launch a 56th minute shot toward goal, it looked like Evans would become a liability. (He did not. Brown was eventually subbed off.)
Johnson, on the other hand, was a force all night. He played a part in the third minute chance that saw Adam Moffat test Clint Irwin early. His holdup play helped Seattle transition the few times they couldn't work through Clint Dempsey. And perhaps most importantly, his ability to go wide and threatened helped create seems in a Colorado defense that seemed intent on staying narrow. Like Evans, Johnson's versatility was a virtue, forcing the Rapids out of their comfort zone.
In the 28th minute, that wide play helped Seattle get on the board. It was Johnson that was toward the left edge of the area (just outside the box) when Dempsey played out of midfield at the edge of the final third. Johnson played the ball wide for Leo González before trying to contribute to the chaos in the middle that drew attention away from Evans, who converted his chance.
In stoppage time, after Seattle had gone down a man, Johnson got his name on the scoresheet, icing the game in the process. While it originally looked like ball sent behind the right of Colorado's defense would give him a chance to waste valuable time, Johnson turned toward goal and killed the game off another way. One-on-one with Clint Irwin, Johnson finished inside the right post to make it 2-0.
Go ahead and take your pick between Evans and Johnson, but when you look at all of the Seattle striker's contributions, there's a case to be made that he did enough to pass Evans' all-important opener. Whether that's true or not, it's still a case we're buying …
Though as you can see, Evans is getting plenty of love elsewhere under the NBC umbrella:
[MORE: Evans blast, Johnson insurance sees Seattle past Colorado, into the Western Conference semifinals]
[MORE: How it happened: More details on Seattle's big win over Colorado]