When watching soccer on TV, have you ever sat there and wondered what the man behind the microphone really thinks?
Maybe this will go someway to helping with that.
In the latest edition of "View from the Booth" we chat with NBC Sports' lead soccer announcer Arlo White about Fernando Torres' revival, Joe Hart's demise, the biggy between Arsenal and Liverpool, MLS playoff action on NBC and much more.
You can hear Arlo calling live games this weekend on NBC Sports Network, and watch every single game available live online via NBC Sports Live Extra,
So, let's get to it.
Rumors suggest Joe Hart will finally be dropped after yet another calamitous mistake in a big game for Man City. Did Tim Howard give you an insight to what is going wrong? Should Manuel Pellegrini cast Hart aside?
Well, I mean, being alongside Tim for the Chelsea Man City game was a terrific experience. He brought all of his experience and knowledge about goalkeeping to the fore. He told us, he said on air that he had a chat with Hart after the game at the Etihad a few weeks previous when Man City had won 3-1 And he said, words to the fact of, and I'm paraphrasing, 'keep your chin up, put an arm round him and said, 'you're a very good goalkeeper, keep it going.'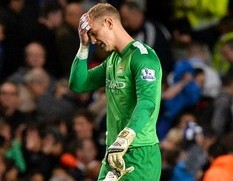 Hart's response was, 'don't worry, I'll be fine I love the pressure,' which suggests that he is a tough character mentally. But as we saw at the end of the game, it was another aberration on his part. I thought Tim, who was you know, in a slightly awkward position there, because he's a current player, commenting on a current player, they do talk about the goalkeepers union and those guys sticking together. But he was working for NBC on the day, and it was his job I suppose was to break down exactly what happened. And what he said was, and I thought this was very skillfully done by Tim. In regards to Joe Hart, 'You've got to let the defender, defend in that situation.' Which I thought was very telling. Obviously for Nastasic, with the crowd, it was just bedlam at Stamford Bridge. He's got his eye on the ball, he doesn't know that Hart is tearing out of the goal. And there's no need for him to be that far out, Nastasic seemed to have the situation under control.
Am I surprised that he's been relieved out his duties? Perhaps not for the time being. Although this may create a few headaches for Roy Hodgson in the buildup to the World Cup finals for England as well.
Fernando Torres has got everyone believing he has returned to his best form, can he spearhead Chelsea to success? Or is he a different player now to what he was at Liverpool? Big test at Newcastle for the Blues. 
I think he is a different player, and I've been monitoring him closely and talking to people about him all season and I mentioned on a Podcast a few weeks ago that I felt, even in a small cameo appearance against Fulham a few weeks ago. He almost scored a header from the corner, and he created havoc for the last twenty minutes or so when he came on. He has a renewed figure, renewed enthusiasm. He seems to be in a great frame of mind. If he still has that situation hanging over him that he's only scored one goal in the Premier League in 2013. We saw against Schalke that he's back and he's sharp.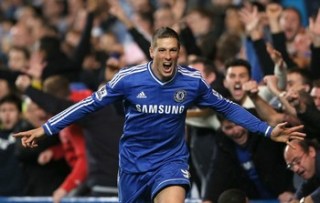 What was very telling against Man City was that he missed a very very good chance in the first half. And he could have gone either way and Tim Howard asked, 'Fernando Torres, is he going to go into a shell, or is he going to stick his chest out and try and make amends.' And he did, he set up the Schurrle equalizer, curled an audacious attempt off the cross bar and then he kept going and chasing and harrying Nastasic until that mistake at the end. He was absolutely brilliant and if he continues likes this then Chelsea have got themselves the $75 million man they bought.
Arsenal vs. Liverpool is the big game this Saturday, live on NBC at 1:30pm ET, is this a huge indicator as to which one of these teams has the better chance of challenging for the title?
It is an indicator. But there are so many indicators throughout the season, because there are so many teams that appear to be in the mix at this early stage. Arsenal have had a fantastic start to the season but they've been blessed with a less than arduous opening fixture list. Let's be honest. Although, they've gotten the job done. As we've seen, the 'smaller teams' are capable of producing surprise results.
Against Dortmund they came up a little bit short, against quality opposition. Against Crystal Palace, I thought they labored somewhat to a 2-0 victory and I thought Arsenal were a little bit off the pace and then they get beaten at home by Chelsea in the League Cup. This is a big game for Arsenal to really prove their start to the season was no fluke and they're not about to recede back into the pack. Now for Liverpool, if they get Coutinho back on the field, along with Suarez, and Sturridge and the players that are in form. They are a genuine force, whether they've got the depth to be able to sustain it, we'll wait and see. Right now, that's an absolutely fascinating match. We say each week, that has the potential of being the match of the season so far.
Cardiff vs. Swansea on Sunday marks the first-time these two Welsh clubs have met in the Premier League… what can fans expect when they tune into this one?
A contrast, I think. Cardiff will pull their sleeves up, and they'll get stuck in. Swansea are now an established Premier League team with an identifiable culture. They like to pass the ball. They play some lovely stuff and there not afraid of getting stuck in around the field as well. They're going to have to be, because they can't shirk anything against Cardiff at the weekend. It's going to be a brilliant atmosphere, it's going to be a ferocious game played at a terrific pace. Swansea have to live physically with Cardiff, because man for man they could play Cardiff off the park. But this idea that the heart and toughness that Cardiff are going to bring to the game could be a great leveller. I'm going to be fascinated to see how it shakes out, my head would say draw but let's see if one of the two sides can nick it. I'd say Swansea based on their quality, may just edge it.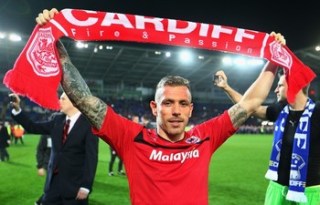 Finally, what are you most looking forward to this weekend?
I think the Arsenal vs. Liverpool game will be fantastic. I will be watching that from a hotel room in Houston. We're doing the MLS playoffs at the moment, so it's great to get back to the States for a little spell, I will miss my Premier League at the weekend but we are doing Houston vs. New York Red Bulls live on NBC on Sunday at 3:30pm ET, that's going to be fascinating after New York won the shield and Houston are always so good in the playoffs. It's a delight to be back, I really enjoy MLS and I always have done. I'm excited be at the Portland Timbers vs. Seattle Sounders game on Thursday, it will be the defining game in that series between the two great rivals in the Pacific Northwest. That's going to be fantastic.