It's one of those stories that you expect to see, but when you do, it still surprises you.
David Beckham's career as a professional soccer player has only just finished, but it seems as though his eldest son Brooklyn could be about to follow in his father's footsteps and sign for Manchester United as a teenager.
Reports suggest that Brooklyn, 14, has been on trial with United and current youth team managers Paul Scholes and Nicky Butt (who just happen to be two of Beckham's former teammates who came through the yanks at United ranks with him) have been impressed with what they've seen from young Brooklyn whilst he's been on a trial.
Son of an international superstar and global icon to billions through his actions on and off the pitch, Brooklyn certainly has a lot to live up to in the eyes of many. But perhaps a life at United being coached by some of Becks' closest friends is exactly what he will need to make it in the big time.
(MORE: David Beckham talks about Miami expansion)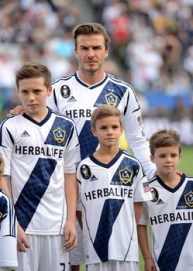 Bookmakers in the UK have been eying up the possibility of another Beckham becoming a soccer superstar for quite some time. Odds of 12-1 for Brooklyn to become an England international have been floating around, and if he does sign a deal to play for United's academy, expect those odds to dwindle. But isn't this all a bit much for a youth player?
It is, but this is the world we live in. And it's not like Brooklyn isn't taking his dream of playing soccer professionally seriously, he most certainly is. The eldest Beckham heir played for the LA Galaxy's academy whilst his Dad played in MLS and has also turned out for QPR's academy side recently after Beckham moved the family back to the UK. He has somewhere standing right next to him who can give him all the advice and wisdom he needs to succeed, as having your Dad being England's all-time outfield record cap winner and having played for United, Real Madrid, AC Milan, Paris Saint-Germain and LA Galaxy, he's got a good mentor.
Brooklyn is expected to sign with United in January, so expect the public glare to be watching his every move on the soccer pitch for the next few years as he aims to emulate his father by playing for Manchester United and England. It won't be easy, but with a gene pool like his, the kids got every chance.
Who knows, he could even be loaned out to his father's future MLS franchise in Miami for experience in a few years time?
Brand Beckham could soon have a new leading man.