Kickoff from Gillette Stadium outside Boston is set for 8 p.m. ET on NBCSN

Saturday is the first of two legs in the aggregate goals series
The Revolution is playing its firsts playoff match since 2009
Sporting Kansas City was the league's best road team this year, an 8-5-4 record, and also the best defensive team
Young scoring sensation Diego Fagundez, just 18, led the Revolution with 13 goals this year
In Saturday's Eastern Conference semifinal opener, we have a textbook instance of a playoff newbie in terms of the current roster and team makeup (New England) against an old hand at this MLS playoff business.
New England, a team with so much MLS playoff success in the previous decade, is back into the post-season swing for the first time since 2009.
Meanwhile, not only has Sporting Kansas City made the playoffs for the third consecutive season, but Peter Vermes' team delivered relatively strong post-season accounts the last two years. Sporting trounced Colorado in the 2011 conference semifinal before falling to Houston in a tight conference final.
And came the downfall from Houston again in 2012, although Vermes' team was strong in the return leg in the Midwest, dominating the Dynamo at Sporting Park (out-shooting the visitors 20-3) but falling a goal short on aggregate.
So a big edge in playoff experience goes to the visitors Saturday, a team that certainly doesn't mind playing on the road. Sporting KC's 28 points earned away from home this year (an 8-5-3 record) was best in MLS by some distance.
Kansas City is also the league's top defensive team, with just 30 goals allowed.
Plus, Sporting KC went undefeated in Group Stage of Champions League – in fact, only allowing two goals in four matches while advancing to next year's quarterfinals – while adding even more "big-game" largesse to this year's checklist of achievement. Mostly though, it's that feeling of being close to accomplishing something special the last two years, taking hardy sides into the playoffs but coming up short, that is providing all the drive to this year's post-season bid.
"We've got a good, core group of guys that have been through this the last three years," Vermes said this week. "That gives us, not comparing us to anyone else in the league, that just gives us a much better foundation as we move through the playoffs."
The "foundation" includes what is probably the top back five in the playoffs (back four plus goalkeeper Jimmy Nielsen, that is). Center back Matt Besler, a U.S. starter, provides the stabilizing arm alongside the more volatile side the duo, Frenchman Aurélien Collin. In fact, we talk so much about those two that we probably don't spend enough time commenting on right back Chance Myers and left back Seth Sinovic, both of whom are tough one-on-one defenders who can contribute a little punch to the attack, too.
Sporting KC's offense mostly goes through U.S. international Graham Zusi (pictured above), whose assist total was down this year (from 15 to 8), but who did drop a career-best in goals, with six. Zusi's recent return from a minor fall injury setback was among the reasons Sporting Kansas City finished on a four-game undefeated streak. Vermes' team also won six of its last eight matches – and that was all after Kei Kamara left for England in a summer transfer.
New England has a little momentum of its own, however. Jay Heaps' team from outside Boston looked a bit dead in the Back Bay about a month ago, staring at a tough schedule of road games, in need of a bunch of points to punch its way into the post-season. Well, punch they did, gathering up huge road wins at Montreal and Columbus, in addition to a draw at Supporters Shield winners New York, all in the month of October.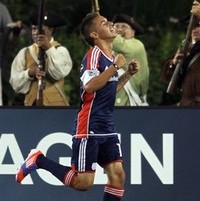 Heaps' team clinched its playoff spot just last weekend, in fact, with that 1-0 win at Crew Stadium.
One of the great things about having New England back in the playoffs is another chance to see Diego Fagundez, the Revs' 18-year-old scoring sensation. Fagundez, finished tied for fifth in league scoring – and imagine what he could have done had he been the Revs' PK taker, as league scoring leaders so frequently are.
He usually lines up wide (left lately) in the Revs' 4-1-4-1 arrangement.
At the other end of the experience spectrum is goalkeeper Matt Reis, who lost his place this year – a difficult year that included unfortunate family involvement in the Boston Marathon bombings. Reis got things together and will be big part of this playoff push. So will center back Jose Goncalves, one of the real finds of the Major League's Soccer's off-season.
Another intriguing figure in a team full of them is Juan Agudelo, a young U.S. international (a bit farther back in the pool) who shook off some late-season injury struggles to make the Revs' last four starts. In fact, his first goal since Aug. 25 was the playoff clincher last weekend against Columbus. Agudelo has already signed to play for Stoke City in January.
(MORE on MLS playoffs: ProSoccerTalk's post-season picks and predictions)