In case you didn't notice, this weekend's Premier League fixture list is positively bonkers.
The excitement kicks-off first thing Saturday with Newcastle v. Chelsea and continues straight through to the final match of the day when Liverpool try to dethrone Arsenal.
On Sunday, Everton and Tottenham serve as a tasty appetizer for the much-anticipated South Wales derby between Cardiff City and Swansea City.
So strap on in, it's going to be a wild one.
Here's how I have it all shaking out.
UPSET SPECIALS
Hull City v. Sunderland (Sat 11:00am ET on Live Extra; KC Stadium)
How on earth Jozy Altidore has gone eight matches without scoring is beyond comprehension. He's working hard, come agonizingly close to scoring on numerous occasions and is linking up well with his teammates.
It's cliché to say it but the man has simply been unlucky.
But this weekend, the fluke ends. I'm calling it now, Jozy breaks his duck before the halftime whistle blows and Sunderland march on to steal all three points from the rugby field that is the KC Stadium.
Write it down. Take it to the bank. Cash it.
Sunderland 1 Hull City 0
West Ham United v. Aston Villa (Sat 11:00am ET on Live Extra; Upton Park)
When asked for the team news on Thursday morning, West Ham manager Sam Allardyce responded: "[We have] quite a big problem in terms of numbers. We're very short of first team squad players available for Saturday so it's about getting on with the job and using the players we've got available."
Translation: 'Well, we're basically screwed but maybe the scrubs can put something together.'
Way to motivate the troops, Big Sam.
To be fair, it has to be difficult to shout instructions with a  mouth full of peanut butter.
West Ham 1 Aston Villa 2
Stoke City v. Southampton (Sat 11:00am ET on Live Extra; Britannia Stadium)
Southampton have shown they can knock-off top teams (Liverpool), equalize when losing to Champions (Manchester United) and wipe the floor with bottom dwellers (Crystal Palace, Fulham). But can they go into the depths of mortar and snatch three points from the frothing jaws of a Stoke City side with their back to the relegation wall?
Make no mistake about it, there will be blood. And in the end I think the Potters prevail and the Saints come crashing back to earth. You heard you.
Stoke City 1 Southampton 0
Arsenal v. Liverpool (Sat 1:30pm ET on NBC; Emirates Stadium)
Ultimately, this one feels like a 1-1 draw. But calling for a draw here is about as safe and boring as ordering the pad thai while on holiday in Bangkok. Philippe Coutinho is in, Mathieu Flamini is out and for me, that's the difference maker in this one. For a full match report, click here.
CAPTAIN OBVIOUS
Manchester City v. Norwich City (Sat 11:00am ET on Live Extra; Etihad Stadium)
After getting 'Nando'd by Chelsea last weekend it's safe to say that Manchester City is poised to dole out one of those quintessential bounce-back punishments they're so well known for. Sadly, those sweet, loveable Canaries find themselves in the firing line.
Manchester City 5 Norwich City 0
West Bromwich Albion v. Crystal Palace (Sat 11:00am ET on Live Extra; The Hawthorns)
When it comes to Crystal Palace playing on the road, things are relatively straightforward – they're going to lose. This is the sad reality of a club promoted to the Premier League one to two years before they were ripe to compete in the top flight.
West Brom 3 Crystal Palace 1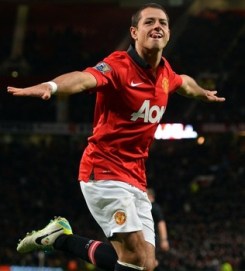 Fulham v. Manchester United (Sat 11:00am ET on NBCSN; Craven Cottage)
Has anyone else grown tired of Manchester United?
I have. No offense Red Devils fans, but I need a break. Or a morphine drip. Something to take away the pain that is the current state of the red side of Manchester.
I used to love watching United play but these days the only action coming out of Old Trafford is that whiny, suck-the-fun-out-of-life drama that a drunk ex-lover heaps on you at four in the morning when all you want to do is sleep. Admit it, you've been there.
But as much as I want to say Fulham can get a point in this one, I'm merely jaded, not delusional.
Fulham 0 Manchester United 3
SQUEAKY BUM TIME
Newcastle United v. Chelsea (Sat 8:45am ET on NBCSN; St James' Park)
Admit it, you were impressed with Chelsea's victory over Manchester City last week, weren't you?
Me too. But let's not get carried away, this Blues squad is still miles away from consistent football and reaching their full potential. It's their consistency that will be tested early Saturday and don't be surprised if Jose Mourinho's men find themselves behind early.
Ultimately I think they figure it out but not without some tense moments before doing so.
Newcastle 2 Chelsea 3
Everton v. Tottenham Hotspur (Sun 8:30am ET on NBCSN; Goodison Park)
Keep it moving. Nothing to see here, folks. Just the dark-horse match of the week hiding its pretty little head behind headline grabbers Arsenal/Liverpool and Cardiff/Swansea.
When these two sides met last year it was a battle royale at Goodison Park with Clint Dempsey's second-half opener being cancelled out by injury time strikes by Steven Pienaar and Nikica Jelavic. Having sat in the Gwladys Street end for that match, I can tell you it was positively bananas. Expect the madness to be reborn this year, with the same result.
Everton 2 Tottenham 1
Cardiff City v. Swansea City (Sun 11:00am ET on NBCSN; Cardiff City Stadium)
As you've probably heard, this will be the 55th league derby between Cardiff and Swansea but the first one played in the English top-flight and the first ever English top-flight fixture between non-English clubs.
And, as you've also probably heard, the last football fan on earth who you ever want to mess with is a drunk Welshman.
Discuss amongst yourselves.
Cardiff City 1 Swansea City 2