Five thoughts on the Houston Dynamo's easy 3-0 win over the Montreal Impact in the MLS Eastern Conference play-in game on Thursday night:
1) The Montreal Impact's epic meltdown doesn't make it look good. — Frustration with losing 3-0 is understandable, but a full-blown temper tantrum from one of the team's supposed leaders was tough to watch. Marco Di Vaio lost his mind a little bit at the end of the game, undoubtedly not helped by his lack of attacking support all game long.
Before Di Vaio put his hand around Corey Ashe's throat, and Andrés Romero kicked out at Kofi Sarkodie while he was on the ground after the whistle had already blown, Hernán Bernardello's strange lapse of judgment in giving away a penalty to Oscar Boniek García set the tone.
With two defenders in support, Bernardello had no need to lunge into a tackle on García, which ended up giving away the goal that effectively killed the game in the first half. It wasn't just the incidents themselves; it was the people making the mistakes — two Designated Players and a top young prospect — that was hard to swallow.
(MORE: Houston Dynamo 3-0 Montreal Impact: Quick start lifts Houston to next round)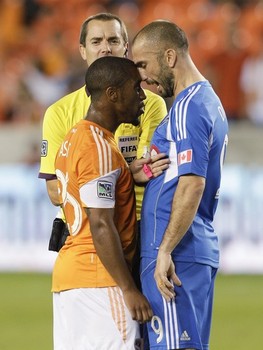 2) This was the Houston Dynamo everybody expects to see in the playoffs. — Despite a shaky regular season, head coach Dominic Kinnear knows how to win in the MLS playoffs, as does Los Angeles Galaxy coach Bruce Arena. Even if they finish in fourth or fifth place, those teams have proven they can be dangerous and claw their way to MLS Cup finals from anywhere.
It was an inspired performance all around, from Tally Hall staying focused and making two big saves on Di Vaio to keep the Italian frustrated, to Ricardo Clark playing like a 2009 version of himself, to Will Bruin rediscovering his Mr. Playoffs personality.
After just half an hour, the teams on the field were mirror images: Houston looked like a team that's been in playoffs before, while Montreal looked increasingly flustered and couldn't muster much more of an attack than kicking it toward an offside Di Vaio.
(MORE: Bruce Arena: 'I don't know if anyone has the formula' for MLS playoff success)
3) Center back experiments aren't working out in the two playoff games we've seen so far. — Nelson Rivas didn't play a minute in the regular season, largely due to his recurring injuries, and it showed on Thursday night. Like the Colorado Rapids playing German Mera at center back against Seattle Sounders FC on Wednesday, this gamble didn't pay off.
Rivas was lucky not to see a straight red card in the 35th minute after getting his arm in Giles Barnes' face, but he finished the deed when he received a second yellow for a similar infraction in the 70th minute. That began the wave of red cards for Montreal and ended the game, as Bruin scored again two minutes after Rivas left the field.
4) Will Bruin broke out of his slump in a big way on Thursday. — Forget the last five regular-season matches. Bruin scores goals in big games.
The young forward scored four goals in the 2012 playoffs, and his brace on Thursday gave him half that total already in 2013. He will need to be in top form for Houston to have any chance against the New York Red Bulls in the conference semifinals, where he will match up against behemoth center backs Jámison Olave and Markus Holgersson.
(MORE: PST Man of the Match: Will Bruin)
5) The Dynamo gives itself a chance to reverse poor regular-season results against the New York Red Bulls with that performance. — Kinnear's side can use the play-in game to create momentum and sustain a long playoff run, as it did in 2012. But this time, the next opponent will be tougher than last year.
New York owned Houston in the regular season in all three matches, at home and away. The Red Bulls won all three matches and put up an aggregate score of 9-1 across those games — two of which were at BBVA Compass Stadium. If they can get another good result in Texas this weekend, it will be a long road back.
To sustain a serious upset threat, Houston must win the first leg of the series, preferably by more than one goal. As is true throughout the playoffs, the Dynamo's biggest game of the season is just around the corner.